January 3, 2010
/
Spillane wins first World Cup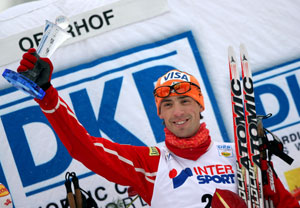 American nordic combined skier Johnny Spillane won his first career World Cup competition today (Jan. 3) in Oberhof, Germany. The win caps a great few weeks for the 29-year-old, Steamboat Springs, Colo. native who secured his spot on the 2010 Olympic Team by winning the Olympic trials in his home town on Dec. 23.
"I'm really excited. It was good jumping and good racing. I know when I can put the two together I can do well," Spillane said. "I just went for it today and fortunately it felt good and it worked out."
After finishing fourth in a World Cup event for the third time this season yesterday, Spillane, 2003 World Champion, had today all figured out. He claimed the day's second-best jump then charged to the third fastest cross country race time and the victory.
"I had a good jump, put myself in a good position, and just went for it right from the start of the race and didn't worry about where other people were. I just tried to ski my own race," Spillane said. "It's been nice to just be consistent. That's one of the big problems I've had over the last few years is I'd have really good weeks and really bad weeks."
Austrian Felix Gottwald had the day's fastest cross country time (27:42.1) to secure second place after taking 15th on the jump. German Bjoern Kircheisen took third with the second fastest cross country time and the 12th best jump. Gottwald who also finished second yesterday, led a strong Austrian showing with skiers finishing 2,7,8,9,10.
World Cup leader, Frenchman Jason Lamy Chappuis was just off the podium in fourth place.
American Bill Demong took 13th.
Image by Gepa