September 25, 2013
/
Speed in Portillo for US women's team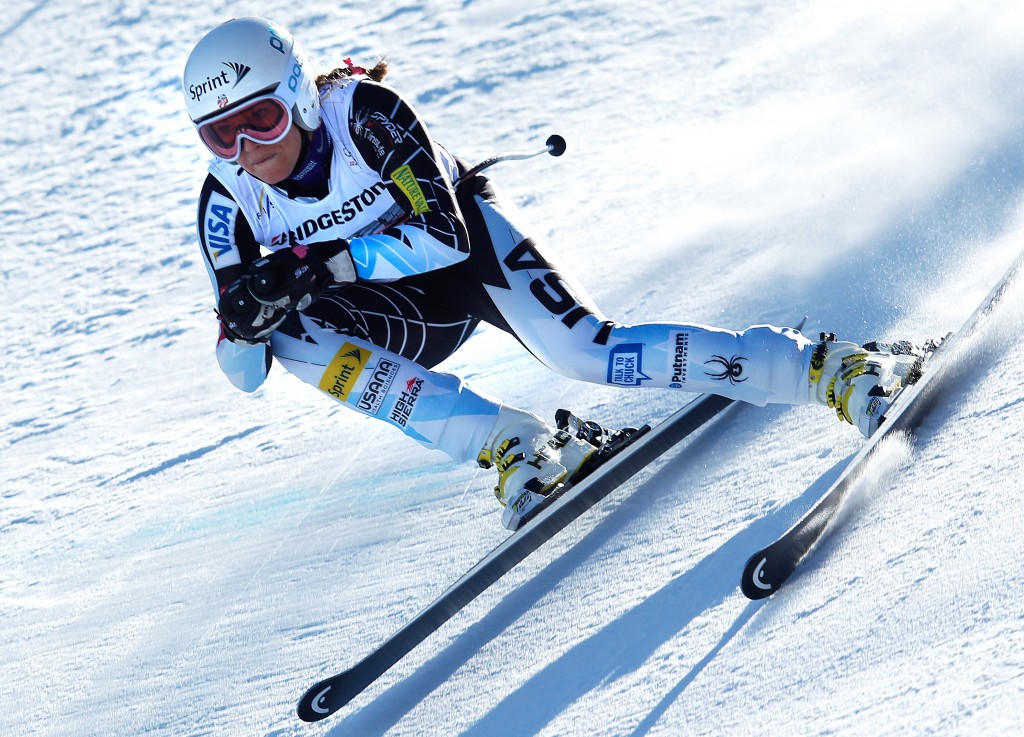 It was warm; then it was cold. It rained; then it snowed. But that's all part of the fun when you're training in South America.
The U.S. women's speed team ramped up intensity in its preparation period this month in Portillo, Chile. Conditions were something short of perfect, but the women accomplished a lot, said Head Coach Chip White.
"In El Colorado (last month), our focus was on technical, basic skills, freeskiing drills. GS was the main focus. This camp, here, is built around speed. Snow conditions were a little bit challenging. There wasn't a whole lot of it when we got there, so we had to be very creative with course setting around thin spots and rocks that were starting to poke up," said White.
High winds earlier in the season stripped down many of the domes and breakovers where the athletes were accustomed to jumping, giving the venue a different look than in previous years.
"That's not necessarily a bad thing," said White. "It made it like going to a different ski area, almost. We pretty much had a little bit of everything while we were there — really warm and hot conditions, a little bit of snow, a torrential downpour of rain, and then some snow after that."
The team ran almost full-length downhill and super G, aided by a snowmobile that protected athletes and their skis from a lower, rocky section of the mountain.
Of course, the big story of the camp was Lindsey Vonn's return to skiing. She wasn't able to run speed with the other girls, but she did manage to hop back into giant slalom gates toward the end of the trip.
"She was on a different program, a return-to-ski program, but she did extremely well, able to ski three days in a row," said White. "She had no swelling, no pain. She was chomping at the bit wanting to do more and more. According to her, she's ready to go."
After experiencing some challenges while transitioning to new equipment last season, Julia Mancuso and her team have things better dialed in this year, added White.
"This is some of the best skiing I've seen from her at this time of year," said the veteran coach. "She has new (less aggressive) boots that seem to be working extremely well for her. It looks like everything is lining up really well with her equipment, and she's in a good frame of mind."
Leanne Smith, who is reportedly skiing with more confidence in this early part of the season compared to previous years, had a small mishap to open the camp: A crash and a dislocated shoulder forced her off snow for a couple days. Fortunately, team physician Bill Sterett was on hand to knock it back into place.
"She just dropped her ski poles and skied straight down," Sterett recalled. "Coach was on the radio and said, 'I don't know why she threw her poles down, but she's heading down.' She skied right up to me and said, 'Dr. Sterett, can you put my shoulder back in place?'"
Smith was back on snow within just a few days, and Sterett does not expect any long-term issues to result from the injury.
"Over the past couple years, it seems she (Smith) feels this urgency, like she has to be skiing better and faster during the summer months when there's still plenty of time," said White. "This year, she's much calmer and skiing better."
Laurenne Ross is still in the process of dialing in her new ski and boot setup after switching to Volkl and Lange over the summer. She will wait until the November camp at Copper Mountain to select an exact setup for the season.
"At first, when I got on the stuff, when I was testing, it felt so natural. It felt really good. I felt more connected," noted Ross. "I continued that progression all the way through El Colorado, but I hadn't really trained speed yet."
Ross has had a relatively easy time with the switchover onto the new super-G skis; the downhill boards, however, require a little more work. The Lange boot, says Ross, is an "opposite world" from her previous Atomic boot in that it's less aggressive, more fluid, and she feels more connected.
"It's just taking a little bit of time to get used to the feeling and figure out exactly where I need to be," said Ross. "Every year, going to Portillo, you always have it in your mind that it's going to be pretty intense. It's always steep and it usually gets pretty icy over night."
Coach White concurred with Ross' self-assessment.
"(Ross) started off the camp a little bit nervous about some of the bumpy conditions and was skiing a little tentatively," he said. "But toward the end of the camp, she was skiing with much more confidence and started to charge like the Laurenne Ross that we've come to know."
Stacey Cook rounded out the group in Portillo. Although she didn't make a switch to any new companies, there's been some tinkering around with her Rossignol setups.
"Stacey is extremely fit, very strong, and very confident coming into the camp," said White. "She's just testing some different types of boots and some new skis that have come out this year and a new plate. There's been some positive feedback, but again, no decisions have been made for a exactly what setup she's going to be on until we get on some more aggressive snow that we'll find in Colorado."
Photo: Julia Mancuso runs her speed skis (credit: GEPA/Harald Steiner)