July 6, 2011
/
South Korea to Host 2018 Winter Games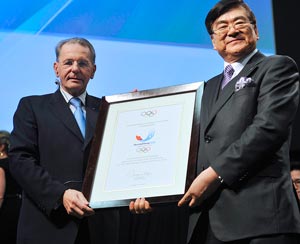 The International Olympic Committee (IOC) today (July 6) announced that the South Korean city of Pyeongchang will host the 2018 Winter Olympic Games, beating out Munich, Germany and Annecy, France.
Finally winning a bid after losing two previous attempts the town, found in the Taebaek mountains 80 miles east of Soel, won the favor of committee voters in the first round of voting.
IOC president Jacque Rogge said while introducing members of the winning team, "the lesson learned is that patience and perseverance paid off."
It was the third time Pyeongchang had submitted a bid for the winter games, having lost 51-47 to Sochi and previously to Vancouver 56-53. This time the win came on the first round of voting with 63 of the 95 votes. "I had some confidence, but I did not expect this number," said South Korean bid chairman Yang Ho Cho.
"Pyeongchang will provide a unique Olympic atmosphere with the compact layout of skiing and snowboarding venues in and around the host city. The proximity lends itself to both fans and athletes' ability to embrace the Olympic spirit," said U.S. Ski and Snowboard President Bill Marolt. "The entire nation has put an immense amount of effort behind the bid and we're confident we will see the same enthusiasm during the 2018 Olympic Winter Games."
Olympic gold medalist ski racer Ted Ligety is one of many athletes looking forward to returning to Korea – the site of his first career World Cup victory.

"Pyeongchang was a definite highlight of my career in a lot of ways. Up until that point I hadn't been on the giant slalom podium, let alone won a World Cup," said Ligety. "Going to new places is one of the highlights of our sport and it's cool to think about bringing such a big event like the Olympics to a new part of the world."
MORE TO COME