October 26, 2013
/
So Gut: Swiss claim first GS victory in 10 years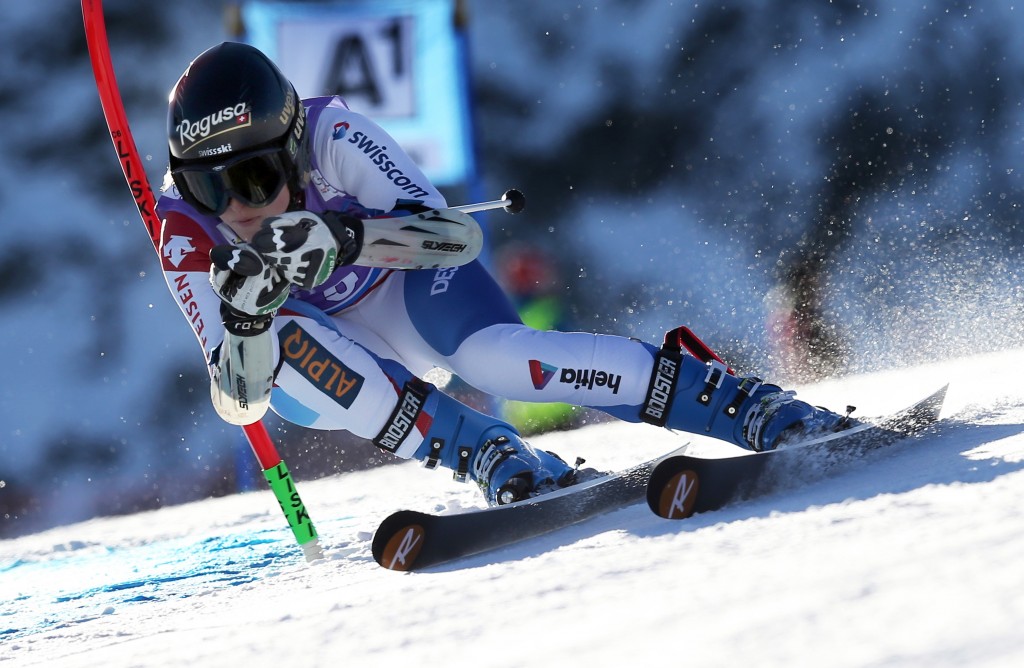 Cooler heads prevailed in the women's opening race of the 2013-2014 FIS World Cup season in Soelden, Austria, as Switzerland's Lara Gut laid down the fastest first run and held her lead in the second to claim the first giant slalom victory for a Swiss woman in a decade. Austria's Kathrin Zettel set a new women's record by landing on the podium in Soelden for the fifth time as she skied into second place, making the Rettenbach glacier her most successful World Cup venue in a single discipline. Germany's Viktoria Rebensburg rounded out the podium in third.
"It's the first race of the season and already a win, it's amazing," said Gut. "Soelden is always good to race and I am pretty happy to bring home a GS win to Switzerland again. I remember the first time I raced here about six years ago and Daniel Albrecht won, so it's pretty nice winning."
Gut's win was the first giant slalom victory for the Swiss women since Sonja Nef did so in Bormio, Italy, in 2003. Nef's husband, Hans Flatscher, is currently the head Swiss women's coach, though Gut more frequently trains with her father, Pauli.
"I felt confident (going into the second run) because I… like it when it's turnier and harder so I was confident the second run would be different. I just though about skiing fast and not what could happen…" added Gut.
"I am happy with my second place," Zettel confirmed. "I felt confident. I had a good start in New Zealand during the summer, and I have some new [coaches] which makes for a good atmosphere."
"This is a tough race so ending up on the podium is really good," noted Rebensburg."It is a tough slope and pretty steep."
American young gun Mikaela Shiffrin showed the world her giant slalom has certainly come together over the summer with a career best World Cup GS finish in sixth. The placing matches her giant slalom finish in the 2013 World Championships.
"I am pleased, it's a lot better than my first run last year that's for sure," said an excited Shiffrin between runs, referencing her experience in last year's race when she missed the second run cut by just one hundredth of a second. "But I just tried to attack the whole thing. I really like this hill so I just had some fun with it."
Was Shiffrin nervous?
"No, not really, I feel like it's just another training day but there's a lot more going on. I think I just knew that that was the spot where I needed to keep it going and I needed to knife it under the gate and if anything I wasn't going to let myself get late."
She had a great string of split times during her second run but made one small mistake on the lower flat that dropped her back. Still, the 18-year-old novice is learning.
"[I] did go for it most of the course but then at the bottom I scrubbed some speed right where I wasn't supposed to, but I got the award ceremony tonight and that does not really happen to me in GS that often," she said. "Just before the delay at the bottom on a right footer, I said to myself, 'Well, that wasn't fast.' Oh well, you live and you learn."
The defending giant slalom and overall champion from last winter, Tina Maze of Slovenia, looked stiff and unprepared for the early rhythm changes in the first run and overworked her skis down the pitch in the second. Her former technician and coach, Livio Magoni, who now works for the Italian team set the second run, and his courses have never particularly suited Maze. Additionally, her track record in Soelden shows that unless she wins the race (which she's done in 2002, 2005, and 2012), she does not finish on the podium.
Maze's result today, a certainly disappointing 18th at over three seconds back, shows that her dominance from last season is in doubt for the Olympic year. She may have had difficulty with her left ski which alternated between skidding and grabbing when loaded over the outside during the first run, but pilot error appeared to be at fault in the second. In the finish area after first run, Maze was visibly agitated and declined to comment for any members of the press.
It was also an unfortunate day for Germany's Maria Hoefl-Riesch who leaned in on an early section of the course and did not finish the first run in the morning, but she managed to salvage some positives from the race.
"It's better for me to take some risks than hold back and finish two, three seconds off the lead. I've watched the other girls and I am pretty sure I will be right there with the best in GS this season," she noted. "It's good for me to see that [Maze] is beatable again. You can't overrate a first race but she didn't start with a victory like last year."
Liechtenstein's Tina Weirather made the most of her second run opportunity and charged from bib 37 into fifth place.
It was a tough morning for the North Americans—aside from Shiffrin—as the U.S. Ski Team's Julia Mancuso only squeaked into the second run after Japan's Emi Hasegawa was disqualified due to the use of illegal equipment. Mancuso ultimately finished 27th while Megan McJames failed to qualify for the second run.
"The snow was good, I guess for me I wasn't in race mode," said a relaxed Mancuso who didn't seem all too disappointed in the finish. "I think still have a little bit of work [to do]. I just got a new model of boot, and the bad weather in Europe really didn't help me for my training. But I think everything's going in the right direction; I have good days of training, so next race."
Canada's Marie-Michele Gagnon brought an extra ray of hope to North American fans by cracking the top 10. Despite having to throw her skis sideways on the pitch to stay on line during the first run, she skied a clean and smooth lower flat in the second run to make up ground and move from 13th to ultimately finish 10th. Neither Canada's Marie-Pier Prefontaine or slalom specialist Erin Mielzynski qualified for the second run.
"Overall I'm really happy to start the season like that–attacking," said Gagnon. "Especially in the first run, I made quite a few mistakes but I was still charging. I'm really happy with 10th."
The Scoop
By Hank McKee
Women's World Cup Giant Slalom, Soelden, Austria, Oct. 26, 2013 (skis/boots/bindings)
1 Gut, Rossignol/Rossignol/Rossignol
2 Zettel, Atomic/Atomic/Atomic
3 Rebensburg, Nordica/Nordica/Marker
4 Fenninger, Head/Head/Head
5 Weirather, Atomic/Tecnica/Atomic
6 Shiffrin, Atomic/Atomic/Atomic
7 Pietilae-Holmner, Rossignol/Rossignol/Rossignol
8 Lindell-Vikarby, Rossignol/Rossignol/Rossignol
9 Gisin, Dynastar/Lange/Marker
10 Gagnon, Rossignol/Rossignol/Rossignol
Women's World Cup Giant Slalom, Soelden, Austria, Oct. 26, 2013… It is the first race of the 2013-14 World Cup season, the first of 32 women's races on the shedule and first of eight women's giant slaloms… It is the 30th Cup race hosted by Soelden, all of them giant slaloms in October… The first was held in 1993… Tina Maze is the defending race champion… and the defending GS title holder… 67 competitors from 21 countries.
It is the fourth career World Cup win for Lara Gut… her first in GS… She had been third in two previous GS's… at Semmering Dec. 28, 2008 and last season at Lenzerheide March 17… The last GS win by a Swiss woman was Sonja Nef Jan. 4, 2003… Gut's previous best finish at Soelden was fifth in 2008… It is the fourth Swiss win at Soelden, the first for a woman.
It is the 45th career World Cup podium result for Katharine Zettel… the 20th in GS… the fifth at Soelden… She was second a season ago.
It is the 19th World Cup podium placing for Viktoria Rebensburg, 17th in GS and her third straight at Soelden.
It is the tenth career World Cup top six placing for Mikaela Shiffrin… Her best career GS finish by two placings (was eighth at Semmering Dec. 28, 2012)… It is the 18th career World Cup top 10 for Marie-Michele Gagnon… fifth in GS… She was sixth at Soelden last season… It was the seventh time Julia Mancuso as scored at Soelden.
This article was updated throughout the day on Oct. 26 as new information became available.
Photo: Lara Gut on course in the opening race of the 2013/14 season (credit: GEPA/Christian Walgram)