August 15, 2011
/
Snowstorm challenging ski teams in New Zealand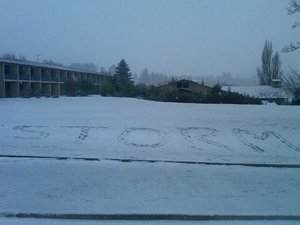 The snowstorm that has continued to hammer New Zealand since the weekend has been billed as "the Storm of the Century,"; or the "worst in 50 years."
But while member of the U.S. Ski Team are feeling some effects from the heavy snow fall, most of that has been a result of canceled flights or transportation issues. The bigger factor is that it has snowed in cities which rarely see any of the white stuff, let alone enough to require plowing. Winds have been estimated as high as 90kph.
"It just keep snowing down here," reported Julia Mancuso on her Facebook page. "Normally it just snows on the mountains, but this storm is bringing us snow everywhere. … I hope it clears soon, cause I am getting stir crazy."
Teammate Mikaela Shiffrin reported on her Fan Page that camp was awesome and she had expected to be heading home, "but I'm still sitting in our condo because the airports and roads are all closed. … It's been non-stop snowing for more than 24 hours and I don't think it's suppose to stop anytime soon."
According to Warner Nickerson, also on site in New Zealand, the valley around Queenstown rarely gets snow and was reeling trying to deal with eight inches of the white stuff. "(It) creates quite a bit of chaos for a country that doesn't use salt and very little sand (and had) very few means of getting snow off the road. One of the plows they use for the roads is a metal brush that spins and pushed snow off the road – one that is designed to push dirt from a walkway."
The women's team is attempting to drive to Christchurch, but an extremely low ceiling of clouds is not making the chances of air travel any better.
Snow is expected to continue "on and off" for another 24 hours.
Nickerson said some of the men's team was headed up the mountain "to see what we have got to deal with up there."
Aksel Lund Svindal photo.