April 1, 2014
/
SnowParkNZ reopens to offer innovative summer training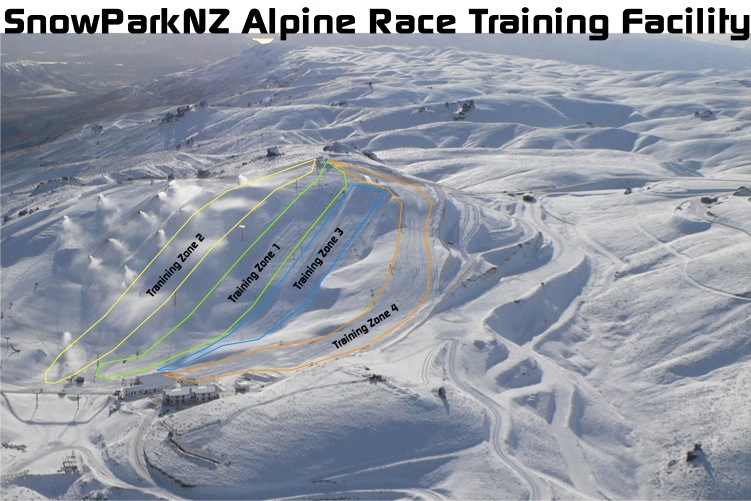 Snow Park NZ, once a dedicated snowsports terrain park in Cardrona, New Zealand which closed to the public last year, will reopen this summer to host private alpine training opportunities for national teams and camps with a focus on terrain use to promote fundamental development.
"With major Earthworks, new accessible training terrain will be available for national teams, academies and clubs," said Guenther Birgmann, director of Treble Cone Race Academy (TCRA) who is managing the lane space rentals at SnowParkNZ. "More than 10 training lanes will be available in four different terrain options."
Snow Park NZ was sold by the Lee family in 2013 to the neighboring vehicle and car testing facility, the Southern Hemisphere Proving Ground. Prior to the sale, it had been the first dedicated freestyle resort in the world and brought substantial international media exposure to the region, but Birgmann now believes the same will prove true for alpine ski racing athletes. 
"What is not on the market yet is terrain which is specially built for skill development training," noted Birgmann. "With the Earthworks, with the opportunities we have to create different terrain features, different inclination of the hill, water injection, ice boxes, gliding tracks, etc., we have an incredible opportunity with this new product to support the coaches, the programs, the national teams for stronger development of fundamental skills."
All four training zones at SnowParkNZ are accessible via a Doppelmayer fixed grip quad that takes four minutes to ride from base to summit and benefit from a state-of-the-art snowmaking system with 20 guns from SMI and Techno Alpine. Bombardier and Kassbohrer grooming machines as well as Alpina snow injection bars will be used to create optimal training conditions.
The available lanes are divided into four zones, described by Birgmann as best suited to very specific needs.
Zone 1: Easy moderate terrain, suitable for: free ski drill training, gate drill training, slalom drill training, slalom full gates, GS free ski drill training, GS full gate training.
 Zone 2: Moderate terrain with rolling terrain (four gentle rollers and start ramp at the top to generate more speed) suitable for: slalom drills in a gate environment, slalom full gates, slalom with timing, GS drills in a gate environment, GS full gates, GS with timing.
Zone 3: Terrain MODERATE-FLAT-MODERATE should be water injected and very firm surface suitable for: slalom and GS training in all variety based on water injected snow.
Zone 4: Very easy and flat terrain suitable for: free skiing drill training and refining fundamental technique, GS gliding turns, supporting gliding technique and aerodynamic position for GS and speed skiing, eventual jump training and equipment testing.
"We are excited to have the Snow Park area to grow our business," Tom Elworthy, managing director for the Southern Hemisphere Proving Ground, said last year at the time of the sale. "We are going to start assessing what opportunities exist within existing facilities and how we can expand them as well."
Hear more from Birgmann on the new SnowParkNZ plan: