November 11, 2013
/
Smith and Sejersted fastest in SG opener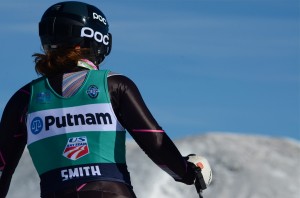 COPPER MOUNTAIN, Colo. — The women's World Cup speed opener at Beaver Creek is a little more than two weeks away. Today at Copper Mountain, the ladies of the U.S. speed team got a chance to kick things into sixth gear and see where they stack up.
"It was nice to get back into race mode again," said Leanne Smith after the win. "It's nice to get into some pace and the race mentality before Beaver Creek in a couple weeks."
Smith posted the second fastest time in the first of two FIS super G races Monday, followed with the win in the second. She traded places — one and two — in those races with four-event World Cup skier Lotte Smiseth Sejersted of Norway, who has also had access to the Speed Center's race hill recently. Stacey Cook had two good results in what has traditionally been her weaker discipline, finishing third in both super Gs.
"My first run, I held back a little bit, and I really wanted to come out the second run, ski well, push a line and see what I could pull off," said Smith. "It was a very nice step in the right direction, so I'm happy about it."
There wasn't a huge difference in terms of distance and offset from one course to the next, said Smith, who actually would have preferred more time to train prior to this opening speed race of the season.
The ladies will not have a chance to race downhill at the Speed Center this week, as the men did over the weekend, so Smith and others will have to speculate as to how their downhill racing stacks up.
"I think they're both (super G and downhill) going well," said Smith. "I'm just trying to make progress and get over that outside ski and push on it early. When you want to get to that higher level, all those tiny little details make a huge difference."
It was a good day all around for the Granite Staters, as Julia Ford picked up a podium result (on new equipment, her "agent" Willie Ford points out) in the first of two super combined races.
"I'm just feeling really comfortable right now with my new setup," said Ford, who battled an injured ankle and concussion last season. "I'm just looking to get a little faster every day, but there's definitely still a lot of time that I left out on the hill."
Ford hasn't been racing or training much slalom recently, but says she's hoping to race more super combined this season.
"I came up as a slalom skier," she said. "I don't train much of it, if at all really, but it's one of those tricks I have in my back pocket. … Today was awesome. It was great to be able to have these races. After that first super G, it was really nice to have those jitters out of the way."
Ford finished sixth and seventh in the super G races earlier in the day.
It was Norway's day, however, atop the super combined podium. Sejersted won the first of the two SC races, and her teammate Ragnhild Mowinckel claimed the second. American Stacey Cook finished second in the latter of the two races.
Super G No. 1 — Copper Mountain, Nov. 11
Super G No. 2 — Copper Mountain, Nov. 11
Super Combined No. 1 — Copper Mountain, Nov. 11
Super Combined No. 2 — Copper Mountain, Nov. 11