July 27, 2011
/
Skiing Community Mourns the Loss of a True Innovator in "Speedy" Peterson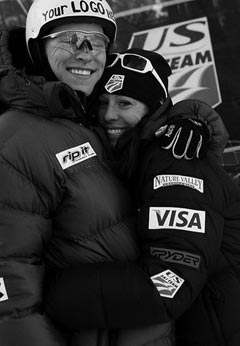 Memorial services for Jeret "Speedy" Peterson will be held Aug. 6 at 3 p.m. at the Boise State University student Union Ball Room.
Like his patented Hurricane jump, Olympic medalist freestyle skier Jeret "Speedy" Peterson's short life was filled with twists and flips as it awed and inspired many.
The 29-year-old, Boise, Idaho native's body along with a note was found in Utah's Lambs Canyon (Between Salt Lake City and Park City) by police Monday night after he took his own life with a gun.
News of the tragic loss of a skiing pioneer hit the close-knit skiing community hard, as his friends and fans learned they had lost such a powerful life.
"Speedy was an amazing athlete. I will always remember jumping alongside him as he pushed the sport, himself and his teammates to be the best," said his longtime friend and teammate on the U.S. Aerials Team, Emily Cook. "In addition to being the incredible athlete that we all knew, Speedy was a true friend. His loyalty and commitment to each of his teammates was unwavering and he will be missed by all who knew and loved him."
The three-time Olympian spoke openly about his turbulent past, which included deep depression, childhood abuse, the lose of his five-year-old sister caused by a drunk driver and witnessing a friend commit suicide only six month before the 2006 Torino Games, where he was sent home early after being involved in a bar fight. Most recently, he was arrested Friday near Sun Valley, Idaho under suspicion of driving under the influence of alcohol. His roller coaster-like life also included extreme highs like winning more than a half million dollars playing blackjack, setting a aerials high-score world record and standing atop seven World Cup podiums as well as claiming three national titles.
Never was he more publicly candid than after he won his silver medal at the 2010 Vancouver Games. "This medal represents me overcoming everything, it's my gift to myself," an emotional Peterson told a silent room of reporters the morning after his heroic performance. "I've done so many things in my life that have thrown me down and I feels good to finally do something that I can lift myself and my country and everybody up for. It's not so much about the medal, it's about everything that I have been able to overcome. It's what it represents to me."
Following his medal-winning performance in Vancouver, Peterson stepped away from the sport to focus on his studies in business at Westminster College in Salt Lake City. Though he was not a currently named member of the U.S. Ski Team, he had yet to officially retire, leaving his fans the hope they would see the Hurricane again at the 2014 Sochi Games.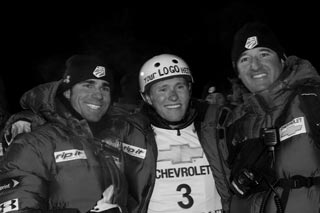 After learning of his passing, his U.S. Ski Teammates mourned the loss of their friend. "Heart broken, how such a cool cat can leave so quickly. My tears hurt so bad when you had so much hope for your friend," wrote alpine racer Resi Stiegler on her Facebook page. "We will all miss you. You are in my thoughts and prayers tonight," tweeted Julia Mancuso. "Speedy, I will miss you, rest in peace my friend," posted Lindsey Vonn.
"I have a distinct memory of the first time I was introduced to the athlete known as Speedy," said fellow Olympian Hannah Kearney. "I clearly remember watching him compete in the 2002 Olympics on television. This was my first impression of Speedy and seeing him hold up his gloves with the words "Hi Emily" written on them, was incredibly touching and memorable. He had been given Emily Cook's spot on the Olympic roster when she broke her feet right before the games. It was an authentically endearing gesture and a representation of the type of teammate that Speedy was. I appreciated his honesty and simply can't believe that his life is over. My thoughts go out to the friends and family he has left behind."
Perhaps one of the people that knew him best was his coach of 10 years Matt Christensen, to whom Peterson gave a special award for his role in helping him win his Olympic medal.
"I can sit here and remember all the stats and events he did well at, but the stuff that stands out most are the times we just hung out," said Christensen. "We had some long, brutal travel days on a tight budget. We made the best of every situation and just made fun of it."
"He wasn't afraid, you are always a little bit concerned up there no matter who you are, and sure he was too, but even in the worst conditions when most people would downgrade their jumps he stepped it up," continued Christensen.
According to Christensen, what set his friend apart as a champion was his personality. "It had nothing to do with his skill level, it was just the way he was and that is 90 percent of it," said Christensen. "He was such a good guy, he would have given the shirt of his back to anyone that needed it. And that is what I would tell anyone that wants to be number one, you need to be a good person and have that flare."
Images by Jonathan Selkowitz