March 14, 2010
/
Ski Cross: Schmid, Holmlund win in Meiringen-Hasliberg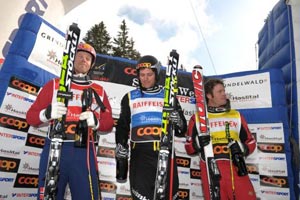 Switzerland's Ski Cross Week wrapped up today (March 14) in Meiringen-Hasliberg as local favorite and Olympic gold medalist Michael Schmid and Sweden's Anna Holmlund took the wins in the season's penultimate event.
After taking second in Ski Cross Week's first event down the road in Grindelwald, Schmid, who has already sealed this season's overall title, came into today's race with a his foot firmly on the gas pedal and won each of his four heats in a performance reminiscent of his Olympic showing.
Friday's winner and Olympic bronze medalist, Norway's Audun Groenvold took second on the day ahead of Canadian and X Games gold medalist Chris Del Bosco in third.
Canadian Stanley Hayer finished fourth for his second-best result of the season. He has one World Cup podium this year with a second-place finish in Les Contamines, France in January.
Del Bosco currently stands second in the overall standings, 47 points ahead of Groenvold in third.
American John Teller led the U.S. in 21st place after being eliminated in his first competitive heat.
"We're excited about John. He had the results he wanted today. He's gaining more confidence," U.S. Ski Cross Head Coach Tyler Shepherd said. "Unfortunately he didn't get on the right side of it out of the start and couldn't make anything happen on this course, but all in all it was a good try."
On the women's side, Holmlund held off six-time World Cup champion Ophelie David of France in both the semifinal and final heats for her third victory of the season.
This season's X Games champion and current overall leader, David finished second ahead of Norway's Marte Hoeie Gjefsen in third. The result marked Hoeie Gjefsen's second career World Cup podium.
Though she fell in the final, Swiss skier Katrin Mueller took fourth place, a career high for the 20-year-old.
Olympic gold medalist, Canadian Ashleigh McIvor couldn't keep up with Holmlund and David in her semifinal heat, but bounced back to win the small final and take fifth place.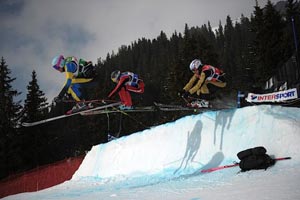 Fellow Canadians Danielle Poleschuk and Friday's winner Kelsey Serwa also cracked the top ten in fifth and seventh, respectively.
American racer Caitlin Ciccone marked a career high with a 15th-place results after being eliminated in her quarterfinal heat. Her previous high was set only three days ago when she finished 19th.
"Caitlin did awesome today. She finally got through the first round battle. She was able to get out of the start pretty much even, and that had been her weakness all year," said Shepherd. "That was a huge break in her skiing and something to certainly end the year well on. She had a solid day of skiing and 15th was a great finish for her."
The battle for the women's overall title will come down to McIvor and David in next weekend's final race in Sierra Nevada, Spain. David currently leads with 655 points to McIvor's 582. A World Cup win is worth 100 points.
Click the links below to see the complete brackets.
Men's Results
Women's Results