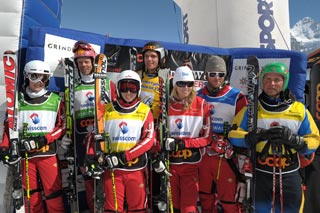 It didn't come in time for the Vancouver Games but the Canadian Women's Ski Cross Team will still take the World Cup podium sweep they scored today (March 12) in Grindelwald, Switzerland to kick off Ski Cross Week. Kelsey Serwa took the win ahead of Olympic gold medalist Ashleigh McIvor in second and Danielle Poleschuk in third. Teammate Chris Del Bosco was also on the men's podium with a third-place result behind Olympic medalists Audun Groenvold of Norway and hometown hero Michael Schmid.
As the top qualifier, McIvor led a group of four Canadian women into the finals and looked ready to top her third podium of the season as she won her first three heats. Serwa also arrived to the four-woman final with some steam having the second best qualifying time and two heat wins. In the end it was Serwa on top with her third victory of the season. McIvor collected her fifth World Cup podium of the season while the result marked Poleschuk's career first appearance in the top three at the sport's highest level.
Sweden's Anna Holmlund was also in the final heat, but couldn't keep up with the Canadians and finished fourth.
Six-time World Cup overall champion and last week's winner, France's Ophelie David was knocked out of contention in yesterday's qualifying round after she fell while racing down the course alone for a top 32 spot and a ticket to the finals.
American Caitlin Ciccone qualified tenth and, though she was unable to make it past her first heat, claimed 19th place for a new career high result.
"She didn't really get a chance to try to push through the transfer spot, but nonetheless it was another solid result from Caitlin," said U.S. Freestyle Ski Cross Coach Tyler Shepherd. "Certainly something to build off of, especially since she was significantly faster in qualifications then she has been."
David retains the overall lead in the World Cup standings, 38 points ahead of McIvor with two events still on this year's calendar. Serwa stands third.
World Cup leader and Olympic gold medalist Schmid was the top qualifier on his home course but was challenged all day long as he fell behind Del Bosco in their semifinal heat then couldn't keep up with Olympic bronze medalist Groenvold for the win. It was only the 34-year-old's third World Cup victory in seven years on the tour.
Schmid, who maintains a commanding 178-point lead in the standings, pulled in his fourth World Cup podium of the season, the other three were all wins.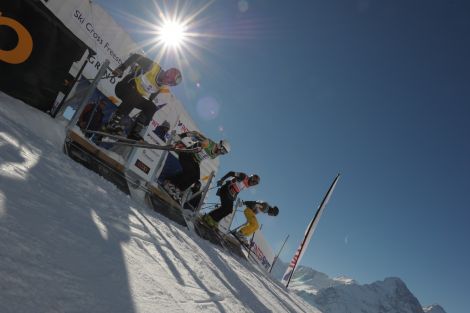 Del Bosco, who was in sniffing distance of the Olympic bronze medal when he fell off the second to last jump, stands second overall with four World Cup podiums this season including two wins.
Sweden's Lars Lewen, who won on the same hill in 2008, made it all the way to the final heat but landed short of the podium in fourth place.
Canadian Stanley Hayer was eliminated in his semifinal heat then finished fourth in the small final to claim eighth on the day.
American John Teller, who had a career-high result last week with an 11th-place finish, continued to show signs that he is the future of the sport in the U.S. making it to the quarterfinals today and finishing 13th.
"It's another solid finish to back up his 11th from Sweden," said Shepherd. "He's definitely knocking on the door to making a really big jump with the results."
The Ski Cross Week in Switzerland continues in Meiringen-Hasliberg on Sunday with men's and women's races.
Click the attachments below to see today's full race brackets.
Image of today's podium finishers by Grindelwald World Cup
Men's Results
Women's Results