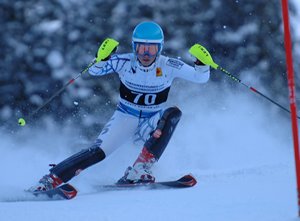 Mikaela Shiffrin got up out of her sick bed and collected the first U.S. medal of the FIS World Junior Alpine Championships in at Crans-Montana, Switzerland today (Feb. 3).
Austrian Jessica Depauli got the gold medal and Sweden's Anna Swenn-Larsson the silver while Shiffrin moved up one spot from her first run to knock doubled medalist Wendy Holdner of Switzerland off the podium. Canadian Brittany Phelan finished fifth.
It had been a rough 24 hours for Shiffrin who picked up a virus that forced her out of Wednesday's GS.
"I was throwing up and wasn't feeling too good," Shiffrin said of the experience. "Today just came as a rush. I felt good enough to race and was pretty determined to at least take the first run. Then, in the start, I realized I felt pretty good. … I made some mistakes and it wasn't my cleanest run, but it was pretty good so I can't complain at all."
"She was a little pale this morning, but wanted to race and is a strong girl. She skied well and fought through the illness," said coach John Dwyer.
The first run, in bib four, when the course was still firm, was good enough to keep her in the hunt with former medal winner (silver and bronze in 2010) and Europa Cup overall leader Depauli and Swenn-Larsson.
The second run took more tactical thinking. "The second run softened up quite a bit," said Dwyer. "It wasn't too bad, but there were definitely spots where you had to be on your line. You had to keep your line up the hill and ski smart."
"Now that I think about it," said Shiffrin, "it was only a 24-hour virus. I wish I had gotten it the day before. Shoot, I kinda wish it had been all or nothing. But I'm happy with today. I really couldn't have had a better trip. Everything so far in my career has gone pretty well."
Things had already gotten a little brighter for the U.S. forces at Champs in the men's downhill as Keith Moffat corralled a fourth, the best result of the title meet to that point. Canadian men went three-five, picking up the first North American medal of the fortnight, in the combined adding scores from the slalom, GS and downhills.
The downhill gold went to Slovene Bostjan Kline ahead of two Austrians, Frederic Berthold winning silver and Otmar Striedinger bronze.
It was the second World Jr downhill medal for Kline in a year, barely. He earned bronze in last season's competition Feb. 4. Berthold matched his performance in last season's title downhill. It was Striedinger's first World Junior competition.
The Swiss were celebrating the combined results. Reto Schmidiger got his second gold medal of the event in the combined and Justin Mursier his second silver giving the hosting Swiss a two place sweep. Canada got the bronze medal from Philip Brown with Erik Read in fifth.
It didn't take too long to calculate the women's combined as just nine skiers completed the three races. Wendy Holdner earned the gold, Andrea Thuerler the silver and Joana Haehlen the bronze for a full podium brooming.
Outside of Moffat the men's downhill result featured Americans in 18th (Nick Daniels), 33rd (Ryan Cochran-Siegle), 35th (Michael Ankeny), 36th (Keiffer Christianson) and 44th (Brennan Rubie). The Canadians had Brown in 14th, Trevor Philip 16th, Tyler Werry 17th, Andy Trow in 27th and Read 31st.
In men's combined Ryan Cochran-Siegle was 12th, Michael Ankeny 15th and Kieffer Christianson 19th.
The U.S. women had no combined finishers and only Maisie Ida in the slalom who did not finish the first run.
Place
Crans
Montana (SUI)
Discipline
Downhill
Date
03.02.2011
Category
FIS Junior World Ski Championships
Race codex
1428
Gender
M
Valid for FIS Points
YES
TD Name
Fossoud Gilles (FRA)
Rank
Bib
FIS Code
Name
Year
Nation
Total Time
FIS Points
1
9
561216
KLINE Bostjan
1991
SLO
1:37.34
15.84
2
12
53968
BERTHOLD Frederic
1991
AUT
1:37.38
16.39
3
10
54005
STRIEDINGER Otmar
1991
AUT
1:37.78
21.85
4
13
934551
MOFFAT Keith
1991
USA
1:38.16
27.04
5
2
202290
ACKERMANN Marvin
1991
GER
1:38.43
30.73
6
21
511847
MANI Nils
1992
SUI
1:38.53
32.10
7
25
422177
OLSEN Joern Lunn
1992
NOR
1:38.55
32.37
8
6
53980
KRIECHMAYR Vincent
1991
AUT
1:38.74
34.97
9
26
511981
WEBER Ralph
1993
SUI
1:38.75
35.11
10
14
54075
KARELLY Mario
1992
AUT
1:38.83
36.20
11
8
53981
KROELL Johannes
1991
AUT
1:38.95
37.84
12
3
194542
GIRAUD MOINE Valentin
1992
FRA
1:38.96
37.97
13
31
202525
SCHMID Manuel
1993
GER
1:39.24
41.80
14
1
103676
BROWN Philip
1991
CAN
1:39.25
41.94
15
4
6290350
RAVELLI Andrea
1992
ITA
1:39.30
42.62
16
36
103865
PHILP Trevor
1992
CAN
1:39.35
43.30
17
17
103762
WERRY Tyler
1991
CAN
1:39.38
43.71
18
15
934518
DANIELS Nick
1991
USA
1:39.42
44.26
19
24
481196
BYSTROV Andrey
1991
RUS
1:39.50
45.35
20
30
690161
BREAN Alessandro
1991
ITA
1:39.52
45.63
21
59
202535
DRESSEN Thomas
1993
GER
1:39.53
45.76
22
50
561255
CATER Martin
1992
SLO
1:39.65
47.40
23
49
422001
BRATH Joergen
1991
NOR
1:39.69
47.95
24
32
561217
KOSI Klemen
1991
SLO
1:39.74
48.63
25
16
422039
KYLLINGSTAD Christoffer
1991
NOR
1:39.76
48.91
25
11
202323
LINDEBNER Anton
1991
GER
1:39.76
48.91
27
28
103752
TROW Andy
1991
CAN
1:39.82
49.73
28
5
511896
MURISIER Justin
1992
SUI
1:39.84
50.00
29
40
511908
SCHMIDIGER Reto
1992
SUI
1:39.87
50.41
29
35
512014
NIEDERBERGER Bernhard
1993
SUI
1:39.87
50.41
31
20
103729
READ Erik
1991
CAN
1:39.88
50.55
32
23
6290151
BERETTA Carlo
1992
ITA
1:40.09
53.41
33
19
6530319
COCHRAN-SIEGLE Ryan
1992
USA
1:40.13
53.96
34
41
511753
ANTHAMATTEN Gabriel
1991
SUI
1:40.22
55.19
35
37
934502
ANKENY Michael
1991
USA
1:40.26
55.74
36
62
6530115
CHRISTIANSON Kieffer
1992
USA
1:40.37
57.24
37
42
180627
MALMSTROM Victor
1991
FIN
1:40.48
58.74
38
63
194262
BUFFET Robin
1991
FRA
1:40.51
59.15
38
29
180666
TORSTI Samu
1991
FIN
1:40.51
59.15
40
7
194495
FAIVRE Mathieu
1992
FRA
1:40.57
59.97
41
51
422139
KILDE Aleksander
1992
NOR
1:40.61
60.52
42
39
350087
KINDLE Nicola
1991
LIE
1:40.62
60.66
42
38
6290708
FRANZELIN Hubert
1993
ITA
1:40.62
60.66
44
22
934568
RUBIE Brennan
1991
USA
1:40.63
60.79
45
43
422134
BJERTNESS Endre
1992
NOR
1:40.88
64.21
46
57
194457
GALEOTTI Greg
1992
FRA
1:40.92
64.76
47
47
422082
SOLEVAAG Sebastian-Foss
1991
NOR
1:41.17
68.17
48
33
690571
ROMANO Francesco
1991
ITA
1:41.21
68.72
49
18
660021
DANILOCHKIN Yuri
1991
BLR
1:41.28
69.67
50
45
20324
OLIVERAS Marc
1991
AND
1:41.32
70.22
51
34
6290540
DE VETTORI Matteo
1993
ITA
1:41.41
71.45
52
44
202437
LUITZ Stefan
1992
GER
1:41.46
72.13
53
54
501557
PIETILAE HOLMNER Johan
1991
SWE
1:41.48
72.41
54
68
202469
RENZ Fabio
1992
GER
1:41.51
72.82
55
65
194686
FABRE Jonas
1993
FRA
1:41.88
77.87
56
74
561244
KRANJEC Zan
1992
SLO
1:41.96
78.97
57
66
380318
BRIGOVIC Sebastian
1992
CRO
1:41.97
79.10
58
61
20328
RUIZ ANTUNA Nil
1991
AND
1:41.99
79.38
59
71
481327
TRIKHICHEV Pavel
1992
RUS
1:42.26
83.06
60
55
20359
PALLAS NOMEN Artur
1993
AND
1:42.42
85.25
61
93
501814
OESTER Carl-johan
1992
SWE
1:42.87
91.40
62
69
400237
MEINERS Maarten
1992
NED
1:42.92
92.08
63
76
481322
ANDREEVSKIY Alexey
1992
RUS
1:42.95
92.49
64
73
501540
JANSSON Emil
1991
SWE
1:43.05
93.86
65
53
501804
MONSEN Sam
1992
SWE
1:43.31
97.41
66
100
430617
CHRAPEK Adam
1993
POL
1:43.43
99.05
67
98
410364
FEASEY Willis
1992
NZE
1:43.54
100.55
68
64
501736
HEDMAN Bjoern
1992
SWE
1:43.70
102.74
69
46
92570
GEORGIEV Svetoslav
1991
BUL
1:43.91
105.61
70
83
151024
KOTZMANN Adam
1993
CZE
1:43.98
106.57
71
52
370031
ALESSANDRIA Arnaud
1993
MON
1:44.21
109.71
72
97
40506
ROBERTSON Sam
1993
AUS
1:44.35
111.62
73
91
700879
ZAMPA Andreas
1993
SVK
1:44.45
112.99
74
67
60198
VAN DEN BROECKE Robin
1992
BEL
1:44.46
113.12
75
86
60207
FIERENS Thomas
1993
BEL
1:44.60
115.04
76
80
680054
GEDEVANISHVILI Dimitri
1993
GEO
1:44.78
117.50
77
78
170131
FAARUP Christoffer
1992
DAN
1:44.83
118.18
78
60
40553
CHEVALIER Luc Henri
1992
AUS
1:45.01
120.64
79
72
700868
FALAT Matej
1993
SVK
1:45.13
122.28
80
82
491501
ROCAMORA Pol
1991
SPA
1:45.17
122.82
81
77
430550
KLUSAK Jakub
1992
POL
1:45.31
124.74
82
84
60236
VAN DEN BROECKE Dries
1995
BEL
1:45.44
126.51
82
79
340248
ACHI Ghassan
1993
LIB
1:45.44
126.51
84
102
304242
NARITA Hideyuki
1993
JPN
1:45.90
132.80
85
92
491859
MATEU Miquel
1994
SPA
1:45.93
133.21
86
94
491853
DEL CAMPO Juan
1994
SPA
1:45.94
133.35
86
81
680053
GELASHVILI Jaba
1993
GEO
1:45.94
133.35
88
75
250292
HALLDORSSON Sigurgeir
1991
ISL
1:46.05
134.85
89
87
110269
CARVALLO Nicolas
1991
CHI
1:46.62
142.64
90
89
690694
KOVBASNYUK Ivan
1993
UKR
1:46.75
144.41
91
90
110324
VON APPEN Henrik
1994
CHI
1:47.46
154.11
92
103
304139
SHIN Masanori
1993
JPN
1:48.57
169.28
93
96
92639
PARLAPANOV Yani
1993
BUL
1:51.35
207.26
Disqualified 1st run
101
304099
MITSUI Kyohei
1993
JPN
95
40503
COULL Jackson
1993
AUS
85
430560
RZEPECKI Filip
1992
POL
58
561254
ZERAK Misel
1992
SLO
56
501529
GUNNARSSON Henrik
1991
SWE
Did not start 1st run
99
700843
KUTLIK Matej
1991
SVK
88
54031
LEITINGER Roland
1991
AUT
70
481428
NOVIKOV Vladislav
1993
RUS
48
550054
ZVEJNIEKS Kristaps
1992
LAT
Did not finish 1st run
27
303758
SUGAI Ryo
1991
JPN
Place
Crans
Montana (SUI)
Discipline
Slalom
Date
03.02.2011
Category
FIS Junior World Ski Championships
Race codex
6336
Gender
L
Valid for FIS Points
YES
TD Name
Vestri Manuela (ITA)
Rank
Bib
FIS Code
Name
Year
Nation
Run 1
Run 2
Total Time
FIS Points
1
12
56059
DEPAULI Jessica
1991
AUT
48.98
51.34
1:40.32
6.00
2
2
506146
SWENN-LARSSON Anna
1991
SWE
49.33
51.89
1:41.22
11.47
3
4
6535237
SHIFFRIN Mikaela
1995
USA
49.41
51.86
1:41.27
11.78
4
1
516280
HOLDENER Wendy
1993
SUI
49.44
52.59
1:42.03
16.40
5
3
107068
PHELAN Brittany
1991
CAN
48.72
53.41
1:42.13
17.01
6
9
206444
HOESL Simona
1992
GER
50.86
51.62
1:42.48
19.13
7
16
516156
ROTHMUND Jasmin
1991
SUI
50.57
52.00
1:42.57
19.68
8
8
425880
SEJERSTED Lotte Smiseth
1991
NOR
49.87
53.42
1:43.29
24.06
9
19
56126
ZELLER Lisa-Maria
1992
AUT
50.94
52.69
1:43.63
26.13
10
7
506341
WIKSTROEM Emelie
1992
SWE
50.69
53.24
1:43.93
27.95
11
5
506399
HECTOR Sara
1992
SWE
51.50
52.56
1:44.06
28.74
12
23
206408
WEINBUCHNER Susanne
1991
GER
51.21
53.40
1:44.61
32.09
13
50
197497
MIRADOLI Romane
1994
FRA
52.68
52.07
1:44.75
32.94
14
33
197616
ALPHAND Estelle
1995
FRA
51.67
53.28
1:44.95
34.15
15
71
56159
REISS Lisa-Maria
1993
AUT
53.29
52.04
1:45.33
36.46
16
35
185317
SOPPELA Merle
1991
FIN
52.76
53.09
1:45.85
39.63
17
34
516289
THUERLER Andrea
1993
SUI
52.11
54.13
1:46.24
42.00
18
41
425921
HAUGEN Kristine Gjelsten
1992
NOR
52.32
54.00
1:46.32
42.48
19
38
516185
HAEHLEN Joana
1992
SUI
53.05
53.70
1:46.75
45.10
20
27
56087
SIEBENHOFER Ramona
1991
AUT
53.32
53.48
1:46.80
45.40
21
54
516219
NUFER Priska
1992
SUI
53.28
53.55
1:46.83
45.58
22
56
155699
PAULATHOVA Katerina
1993
CZE
53.63
53.99
1:47.62
50.39
23
37
425916
FAUSA Chloe Margrethe
1992
NOR
53.19
54.60
1:47.79
51.42
24
31
705394
KANTOROVA Barbara
1992
SVK
53.40
56.57
1:49.97
64.68
25
36
565401
BUCIK Ana
1993
SLO
55.24
54.85
1:50.09
65.41
26
46
298084
AGERER Lisa Magdalena
1991
ITA
54.27
56.10
1:50.37
67.11
27
57
485631
YAKOVISHINA Elena
1992
RUS
54.63
56.60
1:51.23
72.34
28
69
25133
JUAREZ Sofie
1991
AND
54.84
56.60
1:51.44
73.62
29
59
65090
VAN BUYNDER Isabel
1991
BEL
54.99
56.84
1:51.83
75.99
30
58
705423
VLHOVA Petra
1995
SVK
57.07
55.28
1:52.35
79.15
31
67
298904
CILLARA ROSSI Valentina
1994
ITA
56.53
57.04
1:53.57
86.57
32
43
485637
ALOPINA Ksenia
1992
RUS
52.65
1:02.84
1:55.49
98.24
33
83
255309
GUDMUNDSDOTTIR Fanney
1992
ISL
57.78
57.82
1:55.60
98.91
34
81
245059
DOEME Zsofia
1992
HUN
57.33
59.39
1:56.72
105.72
35
66
155727
CAPOVA Gabriela
1993
CZE
58.87
58.02
1:56.89
106.75
36
73
355056
FRICK Joana
1993
LIE
57.28
1:00.30
1:57.58
110.95
37
92
175043
MOE-LANGE Yina
1993
DAN
58.94
58.79
1:57.73
111.86
38
68
298694
PICHLER Karoline
1994
ITA
56.76
1:01.75
1:58.51
116.61
39
94
255357
EINARSDOTTIR Freydis-Halla
1994
ISL
59.30
1:00.41
1:59.71
123.90
40
60
155697
ZEMANOVA Andrea
1993
CZE
57.54
1:02.21
1:59.75
124.14
41
84
235230
VALCAREGGI Nicole
1991
GRE
1:03.19
59.41
2:02.60
141.47
42
87
255352
ASGEIRSDOTTIR Erla
1994
ISL
1:01.77
1:01.09
2:02.86
143.06
43
80
45331
SMALL Greta
1995
AUS
57.58
1:07.96
2:05.54
159.35
44
104
555030
BERZINA Beate
1994
LAT
1:07.89
1:08.47
2:16.36
225.14
45
105
395013
VALJAOTS Elise Marie
1994
EST
1:08.30
1:08.07
2:16.37
225.20
46
103
245062
HELLNER Donata
1993
HUN
1:08.50
1:08.33
2:16.83
228.00
47
101
235241
VLACHOU Anna Afroditi
1994
GRE
1:07.64
1:09.27
2:16.91
228.49
48
100
235195
KOKKINI Anastasia
1992
GRE
1:11.86
1:12.98
2:24.84
276.71
49
108
345062
DARIANE Tracy
1991
LIB
1:13.88
1:17.79
2:31.67
318.24
Disqualified 2nd run
10
297910
CURTONI Elena
1991
ITA
Did not start 1st run
28
56125
PUCHNER Mirjam
1992
AUT
Did not finish 2nd run
95
495988
GUERRA Lucia
1993
SPA
89
35177
SIMARI BIRKNER Angelica
1994
ARG
88
175041
LEMGART Charlotte Techen
1993
DAN
85
415169
MILLER-BROWN Harriet
1991
NZE
76
435334
GASIENICA DANIEL Maryna
1994
POL
70
255284
KRISTJANSDOTTIR Katrin
1991
ISL
63
298050
SCHENK Janina
1991
ITA
61
355058
BUEHLER Anna-Laura
1994
LIE
51
516319
SUTER Corinne
1994
SUI
44
385052
PALIC Tea
1991
CRO
39
307009
HASUMI Konatsu
1992
JPN
32
425982
WINQUIST Annie
1993
NOR
24
565398
HAFNER Ula
1993
SLO
22
355055
BUEHLER Rebecca
1992
LIE
15
107044
IRWIN Madison
1991
CAN
14
506350
EKLUND Nathalie
1992
SWE
11
506583
SAEFVENBERG Charlotta
1994
SWE
6
425887
LOESETH Mona
1991
NOR
Did not finish 1st run
107
345070
EKMEKEJIAN Sarah
1991
LIB
106
555028
KRUMINA Katrina
1994
LAT
102
235190
PAPAIOANNOU Natalia
1992
GRE
99
285015
KIEK-GEDALYAHU Ronnie
1993
ISR
98
695105
GORBUNOVA Anastasiiya
1995
UKR
97
285014
HIRSHFELD Yom
1991
ISR
96
25159
ALTIMIR SIMO Carla
1993
AND
93
695101
TIKUN Tetyana
1994
UKR
91
85022
HARRISSON Maya
1992
BRA
90
485731
ROMANOVA Anastasia
1993
RUS
86
685018
TSIKLAURI Nino
1993
GEO
82
35156
BANCORA Salome
1993
ARG
79
45268
PILAT Elizabeth
1992
AUS
78
206367
HRONEK Veronique
1991
GER
77
225525
TILLEY Alexandra
1993
GBR
75
435313
MAJERCZYK Sabina
1993
POL
74
155698
RUDOLFOVA Veronika
1993
CZE
72
225459
STEGGLES Harriet
1991
GBR
65
45267
BAMFORD Emily
1992
AUS
64
297876
BORGIS Michela
1991
ITA
62
565379
OMAN Anja
1992
SLO
55
307120
ARAI Makiko
1993
JPN
53
107312
ROTH Julia
1993
CAN
52
385069
MISAK Iva
1993
CRO
49
539656
IDE Maisie
1993
USA
48
155728
DUBOVSKA Martina
1992
CZE
47
565400
HORVAT Katja
1993
SLO
45
197124
FRASSE- SOMBET Coralie
1991
FRA
42
197357
MONCENIX Laurie
1993
FRA
40
705377
SAALOVA Kristina
1991
SVK
30
565369
KOBAL Ana
1991
SLO
29
565417
PLUT Eli
1994
SLO
26
705378
SKVARKOVA Jana
1991
SVK
25
506664
FJAELLSTROEM Magdalena
1995
SWE
21
485665
KEDRINA Anastasia
1992
RUS
20
107156
MCLEISH Madison
1992
CAN
18
206436
ERHART Maria
1992
GER
17
197319
BAUD Adeline
1992
FRA
13
425914
TEFRE Elise-Woien
1992
NOR
Place
Crans
Montana (SUI)
Discipline
Combined
Date
03.02.2011
Category
FIS Junior World Ski Championships
Race codex
6981
Gender
M
Valid for FIS Points
NO – Waiting reports
TD Name
Fossoud Gilles (FRA)
Rank
Bib
FIS Code
Name
Year
Nation
Total Time
FIS Points
1
511908
SCHMIDIGER Reto
1992
SUI
2
511896
MURISIER Justin
1992
SUI
3
103676
BROWN Philip
1991
CAN
4
194495
FAIVRE Mathieu
1992
FRA
5
103729
READ Erik
1991
CAN
6
561217
KOSI Klemen
1991
SLO
7
53980
KRIECHMAYR Vincent
1991
AUT
8
511847
MANI Nils
1992
SUI
9
511753
ANTHAMATTEN Gabriel
1991
SUI
10
690571
ROMANO Francesco
1991
ITA
11
561244
KRANJEC Zan
1992
SLO
12
6530319
COCHRAN-SIEGLE Ryan
1992
USA
13
194457
GALEOTTI Greg
1992
FRA
14
6290350
RAVELLI Andrea
1992
ITA
15
934502
ANKENY Michael
1991
USA
16
400237
MEINERS Maarten
1992
NED
17
422134
BJERTNESS Endre
1992
NOR
18
430617
CHRAPEK Adam
1993
POL
19
6530115
CHRISTIANSON Kieffer
1992
USA
20
700879
ZAMPA Andreas
1993
SVK
21
410364
FEASEY Willis
1992
NZE
22
304242
NARITA Hideyuki
1993
JPN
Place
Crans
Montana (SUI)
Discipline
Combined
Date
03.02.2011
Category
FIS Junior World Ski Championships
Race codex
6982
Gender
L
Valid for FIS Points
NO – Waiting reports
TD Name
Vestri Manuela (ITA)
Rank
Bib
FIS Code
Name
Year
Nation
Total Time
FIS Points
1
516280
HOLDENER Wendy
1993
SUI
2
516289
THUERLER Andrea
1993
SUI
3
516185
HAEHLEN Joana
1992
SUI
4
298084
AGERER Lisa Magdalena
1991
ITA
5
425921
HAUGEN Kristine Gjelsten
1992
NOR
6
56087
SIEBENHOFER Ramona
1991
AUT
7
565401
BUCIK Ana
1993
SLO
8
705394
KANTOROVA Barbara
1992
SVK
9
155697
ZEMANOVA Andrea
1993
CZE