March 7, 2010
/
Shiffrin adds second gold at Topolino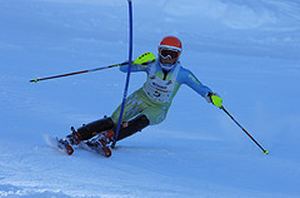 With back to back wins Mikaela Shiffrin made some young history at the Topolino Games Sunday (March 7). Six days shy of her 15th birthday the Vail skier attending Burke Mountain Academy had crushed Saturday's international slalom field. In the GS she needed to come from behind to earn gold and that just fired her up more.
This is not a young lady who is satisfied with second place. In six JIII races this season she won five and didn't finish the other and no matter who she was racing against in Italy she was going for the win.
She powered past Adriana Jelinkova of the Netherlands and Louise Jansson of Sweden with a second run a half second faster than the rest of the field for her second gold medal in as many days.
"I had heard it was crazy being in Europe, I mean there are 40 different countries here and each brings six kids. It was so much fun and such a good experience," Shiffrin said from the Panarotta, Italy.
"It was a much tighter race today. I think a lot of people are better in GS. I was caught by surprise and I really needed to put the hammer down on the second run. It was great."
On Saturday Shiffrin took the slalom by more than four seconds on a tightly set course that called for a high level of skill. "I was definitely surprised yesterday, and it was nice." she said. "I try to distance myself, but there's always someone else who's going to be fast. I really went for it."
Trip leader Terry DelliQuadri said what Shiffrin had accomplished was of historic importance. "no one has ever done this before. No American certainly."
Shiffrin reflected on her stay in Italy while waiting for the final awards ceremony and a ride to Munich to catch a flight home.
"The food is great. I enjoyed every single meal. And the people are so nice. I thought maybe they wouldn't be as welcoming to Americans, but every person I talked to was so nice and so supportive of ski racing."
Photo by Jeff Shiffrin
To see results go to: http://www.trofeotopolino.net/classifiche2009/GSAF.pdf