December 21, 2009
/
Schmid, Holmlund win World Cup ski cross opener, Puckett third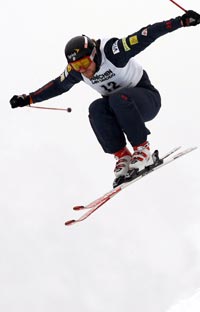 Switzerland's Michael Schmid and Sweden's Anna Holmlund won the season's first World Cup ski cross races today (Dec. 21) in Innichen San Candido, Italy. American Casey Puckett survived four heats to come away with a podium finish in third.
"Casey's been healthy all summer and worked really, really hard," said U.S. head ski cross coach Tyler Shepherd of Puckett, who recently stared in a documentary film about his quest to the Vancouver Games. "It's great to see that pay off."
The win was Schmid's second World Cup victory. He also won last week's Europa Cup ski cross race in Geilo, Norway. It was Puckett's fourth World Cup ski cross podium as he climbs for that elusive first win. Fance's Xavier Khun took second on the day for his best result since 2004.
"Any time you're on the podium you have to be happy," said Puckett. "But I'm hungry for my first World Cup win."
Last season's World Cup champion Tomas Kraus missed the
semi finals and world champion Andreas Matt wasn't able to finish in the quarter final.
American Daron Rhalves made it through the first heat but fell in the second to claim 13th place.
"There's no reason he shouldn't have been in the semis," said Shepherd of Rhalves. "What would have been great is he would have then skied the heat with Casey and they could have worked together to make the finals. But watch for Daron tomorrow. He's cleaned up a few things with his line and I would expect him to qualify higher and be a factor."
Canadians Davey Barr (21st), Nick Zoricic (22nd) and Stanley Hayer (24th) made their way into the top 30.
On the women's side, Holmlund had to beat out Canadian Ashleigh McIvor (second) and ski cross legend French Ophelie David (third) for her first career World Cup victory. At 33-years-old David climbed on her 32nd World Cup podium. She has won the overall World Cup ski cross globe for the last six years.
Canadians Kelsey Serwa and Danielle Polesschuk made it as far at the quarterfinals finishing 12th and 16th, respectively.
American Caitlin Ciccone was knocked out in the first round of competition for a 28th-place finish.
The sport of Ski Cross makes its Olympic debut in two months at the Vancouver Games.
There will be another men's and women's World Cup ski Cross race tomorrow in Innichen San Candido. -Eric Williams
To see the brackets of today's races click the attachments below.
Image by USSA
Men's Results
Women's Results