October 4, 2009
/
Schlierenzauer brilliance in Grand Prix Ski Spisprung
By Peter Q. Graves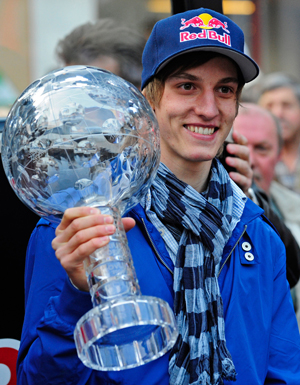 Ending the Summer plastic ski jumping competitions this weekend in Klingenthal, Germany, Austrian wunderkind jumper Gregor Schlierenzauer not only won his fifth summer tournament, but also demonstrated he will, again, be the one to beat when the snows of winter roll in. By winning the title last winter Schlierenzauer, at 19, became the youngest champion since the days of Slovenia's Primoz Peterka, who was only days younger.
Last year's FIS World Cup Jumping title holder outdistanced Robert Kranjec, who had the lead following the first round of competition at the fabled Vogtland Jumping Arena, with a jump of 140.5 meters.
Schlierenzauer won the tounament with 265.2 points, while Krajec was a scant 0.9 points behind him. Finland's Harri Olli with 250.1 points finished third. Olli took the breath away of fans Friday, when he flew to a hill record on the plastic mats of 146m, the previous record sent by Schlierenzauer back in February of 2007 at 143 m.
France's Emmanuel Chedal was fourth, while Russia's Denis Kornilov was fifth. Neither, Simon Ammann or Janne Aahonen took part.
Austrian Manuel Fettner was sixth,
On the Germany hill—that was rebuilt in the summer of 2006— it was a tough day for the home team, that did not put much of a smile of the Bundestrainer for the German team, Werner Schuster. Andreas Wank was a solid seventh, while Michael Uhrmann was 20th and Severin Freudn was 22nd.
Norway demonstrated some team depth with Johan Evensen in ninth, Ken Gangnes 12 and Bjoern Einar Romoeren was 13th. Romoeren
still holds the world's ski flying jump crown of 239 meters in Planica.
Not the best of days for Austrian world champion Andreas Kuettel who was 23rd.
Without Poland's Adam Malysz on hand, their top ski jumper was Grzegorz in 28th.
Schlierenzauer told reporters following the event he was a bit surprised by his result. "I did still have some difficulties, but I like this hill a lot and it's great to win here for a fifth time. But I am never completely satistified yet."
With additional reporting from berkutschi.com
Image by GEPA