January 12, 2010
/
Schild wins Flachau World Cup slalom; Vonn out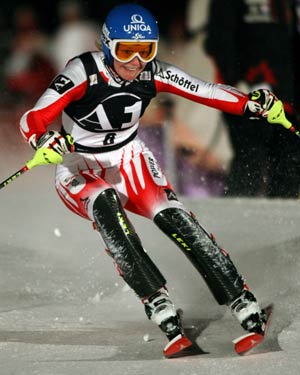 FLACHAU, Austria – Marlies Schild made everyone's day in the first World Cup night slalom in Flachau … at least stirred up a lot of noise from the thousands of Austrians in attendance when she blazed through her second run to victory on Tuesday.
The night race on the home hill of ski racing icon Hermann Maier throbbed with the energy of about 10,000 spectators, frantically waving their Austrian flags as Schild, who also won on home turf in Lienz last month and finished second in Aspen, landed her 22nd World Cup victory. The night ended with a massive display of fireworks as the 28-year-old was named Snow Space Princess 2010. Her success comes just over a year after breaking her leg training in Soelden in 2008. After five operations and a lot of rehab and training, Schild is burning it up anew on the World Cup, focusing exclusively on slalom this season.
"I didn't believe i could do it after the first run. I was very far back behind the German racers," Schild said. "But I tried to ski fast and I had a good run. I tried to do my best in the second and it worked out really well."
Schild came into the second run in fifth place, more than a second behind then-leader Susanne Riesch. Maria Riesch, who was trailing her sister by just .12 seconds after the first run, had a bobble in the second run that cost her several tenths but she still came through for second place, finishing .34 seconds behind Schild. She now leads the Cup slalom standings again, taking the red bib away from French racer Sandrine Aubert, who missed a gate in the first run in Flachau. Riesch leads slalom with 373 points, while Marlies is now in second with 320 and Aubert third with 316. Another local favorite and forever a face on the podium, Kathrin Zettel was third Tuesday, .42 seconds back for her seventh podium this season.
Susanne Riesch, the last racer on course, was leading throughout her second run, just a few gates away from her first World Cup victory, but missed a gate near the bottom.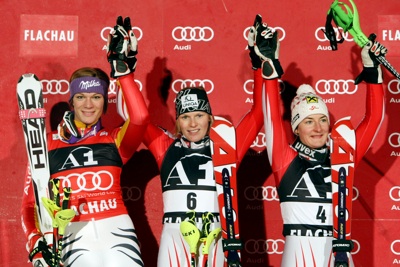 The course, which racers described as fun, fast and in perfect condition as far as snow consistency, eliminated several racers, including Lindsey Vonn, who hooked a tip about a third of the way down the first run and crashed.
Sarah Schleper was once again the top American finisher in another Austrian tech race, taking 17th after starting 38th. She came into the second run in 18th place and described the first course set as "a highway" – open and welcoming for speed.
"I was supporting the whole team on the second run and I didn't execute as well as I could have, a couple mistakes here and there," Schleper said. "It was set like a highway again, so you had to go full-risk and I think I probably risked it 80 percent when I should have been going 120. But I'm psyched to get points."
Vonn was not injured in her crash … just disappointed, though she still has a healthy lead in the overall Cup standings with 894 points to Riesch's 782.
"It's just a bummer," Vonn said. "I don't often hook tips. Normally if you hook a tip it will go one way or the other, but it kind of just stopped me. I felt like I was going, going, going and then … I wasn't going. Then I was on the ground. Thankfully my binding released and I didn't have too bad of a crash."
Vonn landed on her right side and said the crash didn't affect her injured left arm. The fall happened right before the first split but she said she felt fast and the hooked tip took her by surprise.
"The snow was perfect today and the course was really fun … some quick combinations. I felt like I was skiing better than I have been since my hand injury, but … things like this happen," she said. "It can't always go well. I'm just going to stay positive and train some more before Maribor and keep working hard."
About a dozen racers straddled gates in the first run, including Anja Paerson, who didn't crash but came close to it and sat on the side of the course for several minutes holding her leg.
Canadian Brigitte Acton was the only other North American to finish the race. She was 24th.
"The hill is awesome," Acton said. "The conditions are amazing. My first run I held too much, that was really costing me. The second run, I just tried to release it more but it didn't work to my advantage. I think the course was a little bit too straight for me. The girls who can ski a straighter line can really rip it."
The FIS Audi women's World Cup continues Saturday and Sunday with giant slalom and slalom in Maribor, Slovenia.
– by Shauna Farnell
Photos by GEPA
The SCOOP
By Hank McKee
Equipment
Women's night slalom, Flachau, Austria, Jan. 17, 2010
Skier, skis/boots/bindings
1 Schild, Atomic/Atomic/Atomic
2 Riesch, Head/Lange/Head
3 Zettel, Atomic/Atomic/Atomic
4 Poutiainen, Volkl/Tecnica/Marker
5 Duerr, Fischer/Fischer/Fischer
6 Chmelar, Head/Lange/Head
7 Zahrobska, Head/Head/Head
8 Noens, Salomon/Salomon/Salomon
9 Geiger, Rossignol/Rossignol/Rossignol
10 Moelgg, Rossignol/Lange/Rossignol
Women's night slalom, Flachau, Austria, Jan. 12, 2010. … It is the 18th race of the women's 32race 2010 World Cup schedule. … The sixth of eight scheduled slaloms. … It is the 15th World Cup held at Flachau. … the seventh slalom and third women's slalom at the site. … It will be the first women's slalom at Flachau not won my Janica Kostelic. … It is the first race at the site since 2004.
It is the 22nd career World Cup win for Marlies Schild and 20th in slalom. … It is her second win of the season having previously won at Lienz Dec. 29.
It is the 35th career World Cup podium for Maria Riesch. … Her 12th in slalom. … It is her seventh podium of the season and fourth in slalom. … Her lone win this season came in slalom at Levi Nov. 11.
It is the 30th career World Cup podium for Kathrin Zettel. … her 13th in slalom. … It is her seventh podium of the season and fourth in slalom. … She has been in the top five of every slalom and GS she has completed so far this season.
It is the 64th time Sarah Schleper has placed 17th or better in a World Cup race. … the 37th time in a slalom. … It is her third best result of the six tallied this season and her second completed slalom. … It is her career best slalom result at Flachau. … It is the 19th best of 28 Cup scoring results for Brigitte Acton. … Her 11th best in slalom. … It is her fifth score of the season, all coming in slalom.
Lindsey Vonn (1st run DNF) maintains her lead in the World Cup overall standings 894-782 over Riesch. … Zettel is third at 629. … Emily Brydon (did not race) is the top Canadian ranked 15th with 231pts. … Riesch holds on to the lead in the slalom standings 373-320 over Schild. … Sandrine Aubert (DSQ 1st) is third with 316pts, Zettel fourth at 310. … Vonn is the top U.S. skier on the slalom list in 13th with 125pts. … Anna Goodman (did not race) the top Canadian 21st with 64pts. … Austria leads the women's Nations Cup 2149-1998 over Germany with France third at 1537 and the U.S. fourth at 1436. … Canada is eighth with 637pts.