December 29, 2010
/
Schild survives Riesch second-run attack to win second consecutive slalom in Semmering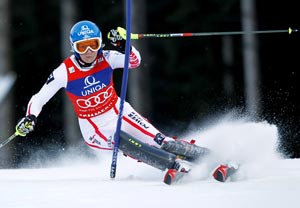 Thousands of Austrian ski racing fans who made the hour drive from Vienna to Semmering for today's (Dec. 29) women's World Cup night slalom got what they came for – an exciting race and an Austrian victor. Mariles Schild collected her third win of the season as fans produced a defining amount of encouragement .
Schild, in the red slalom leader's bib, was just the second racer out of the start house and set the tone with a first-run time that was 1.20 seconds faster than any other. Her only real competition in the second run came from a racer that was both surprising and not surprising at all. Overall World Cup leader, German Maria Riesch made a huge mistake at the bottom of her first run that caused her to slip to the 17th position at half time. An attacking, risky second run from the six-foot-tall, two-time Olympic champion took her to the leaders circle through the next 15 racers until Schild appeared in the start and the boisterous crowed of 14,000 rang bells, lit flares and shouted for all it was worth.
Schild, the last racer down the course, edged Riesch by 0.32 seconds of combined time for her second consecutive World Cup slalom win (she also won last week in Courchevel, France) and her third of the season after opening the slalom tour with a win in Levi.
"It's my third victory now here, this is an amazing feeling," said Schild, who won World Cup GS and slalom races here in 2004. "I wanted to win this race, I knew that I had a lot of advantage and I had some really hard problems in the upper part so I just wanted to ski down. It's very special, it's a great audience."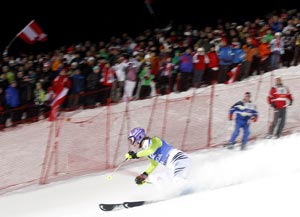 German Christina Geiger grabbed the last podium spot, 0.52 seconds back with a combined time of 1:42.38. It was the 20-year-old, Junior World Championships gold medalist's best career finish, her previous high came in 2009 with eighth-place finishes in both Aspen and Lienz. Geiger also performed some second-run heroics putting down the third-fastest second run to jump from seventh in the first run.
Riesch's second run was fastest second run by almost a full second (0.97) and was enough to earn her 49th career World Cup podium and a 121-point advantage on American Lindsey Vonn in the overall standings. She also finished second in yesterday's GS.
"It was great days for me, being on the podium twice in Semmering makes me really happy," Riesch told Fisalpine.com. "It's important when you want to go for the overall podium that you're consistent. Sometimes some mistakes are happening like the first run in the slalom, but still, with this end result, I'm really, really happy."
Just missing the podium was World Cup veteran Tanja Poutianen in fourth place, 0.63 seconds off the winning pace.
It was a tough day for the American team. After Vonn fell at the top of the first run and Julia Mancuso, Resi Stiegler and Hailey Duke didn't qualify for a second run, it was all on Sarah Schleper who charged to ninth-place in the first run. The second run was going great for the Vail, Colo. native, who was 0.27 seconds in the lead at the second-to-last split when she skied off course. She stuck with it, hiking for several seconds up to the missed gate and finished 28th, 24.18 seconds behind the winner.
"It's very, very disappointing because [Schleper] would have been on the podium easily today," said U.S. women's head coach Alex Hoedlmoser. "She was here to race and be on the podium and not just top 30 and that is how she skied – fantastic. She shouldn't be disappointed because she knows she has the speed to be on the podium again."
Canadians Erin Mielzynski and Eve Routhier notched scoring results in 20th and 23rd, respectively. The result marked Mielzynski's career high in a World Cup race. Brittany Phelan, Narie-Michele Gagnon and Anna Goodman all failed to qualify for the second run.
The women's and men's World Cup tours will converge next week at a special parallel slalom race in downtown Munich, Germany Jan. 2.
The SCOOP
By Hank McKee
Women's World Cup slalom, Semmering, Austria, Dec. 29, 2010
Skier, skis/boots/bindings
1 Schild, Atomic/Atomic/Atomic
2 Riesch, Head/Lange/Head
3 Geiger, Rossignol/Rossignol/Rossignol
4 Poutiainen, Fischer/Fischer/Fischer
5 Borssen, Fischer/Fischer/Fischer
6 Noens, Salomon/Salomon/Salomon
7 Kirchgasser, Atomic/Atomic/Atomic
7 Zettel, Atomic/Atomic/Atomic
9 Zuzulova, Salomon/Salomon/Salomon
10 Zahrobska, Head/Head/Head
Women's World Cup slalom, Semmering, Austria, Dec. 29, 2010. … It is the 14th race of the women's 37 race 2010-2011 World Cup season, the 13th to be held. … It is the fourth of ten scheduled slaloms with three more scheduled by Jan. 16. … It is the 18th Cup race hosted by Semmering. … the 11th slalom.
Winning margin is .32 of a second. … top five skiers are within the same second. … It is the 27th career World Cup win for Marlies Schild. … Her 24th in slalom. … It is her third win at Semmering having swept the slalom and GS Dec. 29, 2004. … It is her third victory of the season all in slalom and second straight.
It is the 49th career World Cup podium result for Maria Riesch. … her 17th in slalom. … It is her third podium at Semmering, and second in two days having also placed second in the GS. … It is her seventh podium of the season all of them first or second place results coming in four different disciplines.
It is a career first World Cup podium for Christina Geiger among 11 Cup scoring results, all in slalom.
It is a career best Cup result for Erin Mielzynski and just her second, the first coming at Aspen in slalom last season. … It is the second career scoring result for Eve Routhier, her first coming at Aspen in slalom this season. … Sarah Schleper will not receive points for her 28th place finish as she was too far behind the winner's time.
Riesch pads her lead of the World Cup overall standings to 738-617 over Lindsey Vonn (DNF 1st in race). … Tanja Poutiainen (4th in race) is third overall with 430pts. … Marie-Michele Gagnon (did not qualify for 2nd run) is the top Canadian overall in 21st place with 130pts. … Schild leads the slalom standings 300-250 over Poutiainen with Riesch third at 240. … Vonn is the top American in the slalom rankings in 13th with 72pts. … Gagnon leads the Canadians in 24th place with 31pts. … Austria leads the women's Nations Cup 1960-1692 over Germany. … The U.S. is third with 1213pts. … Canada is 10th with 196pts.
Rank
Bib
FIS Code
Name
Year
Nation
Run 1
Run 2
Total Time
FIS Points
1
2
55590
SCHILD Marlies
1981
AUT
48.78
53.28
1:42.06
0.00
2
5
206001
RIESCH Maria
1984
GER
51.18
51.20
1:42.38
1.91
3
9
206279
GEIGER Christina
1990
GER
50.39
52.19
1:42.58
3.11
4
1
185140
POUTIAINEN Tanja
1980
FIN
50.05
52.64
1:42.69
3.77
5
23
505610
BORSSEN Therese
1984
SWE
50.70
52.19
1:42.89
4.96
6
12
196806
NOENS Nastasia
1988
FRA
49.98
53.18
1:43.16
6.57
7
25
55759
KIRCHGASSER Michaela
1985
AUT
51.05
52.35
1:43.40
8.01
7
6
55838
ZETTEL Kathrin
1986
AUT
50.27
53.13
1:43.40
8.01
9
22
705287
ZUZULOVA Veronika
1984
SVK
50.76
52.82
1:43.58
9.08
10
4
155415
ZAHROBSKA Sarka
1985
CZE
50.25
54.04
1:44.29
13.33
11
24
505679
HANSDOTTER Frida
1985
SWE
52.22
52.17
1:44.39
13.93
12
11
205168
DUERR Katharina
1989
GER
51.01
53.49
1:44.50
14.58
13
40
506341
WIKSTROEM Emelie
1992
SWE
51.88
52.69
1:44.57
15.00
14
53
355040
NIGG Marina
1984
LIE
51.04
53.56
1:44.60
15.18
15
13
206160
RIESCH Susanne
1987
GER
50.21
54.44
1:44.65
15.48
16
29
56032
SCHILD Bernadette
1990
AUT
51.34
53.32
1:44.66
15.54
17
8
206035
CHMELAR Fanny
1985
GER
51.80
52.95
1:44.75
16.08
18
44
196928
WORLEY Tessa
1989
FRA
51.97
52.81
1:44.78
16.26
19
26
185271
LEINONEN Sanni
1989
FIN
51.65
53.34
1:44.99
17.51
20
50
106961
MIELZYNSKI Erin
1990
CAN
52.22
53.01
1:45.23
18.95
21
7
195972
AUBERT Sandrine
1982
FRA
51.33
54.11
1:45.44
20.20
22
21
385032
JELUSIC Ana
1986
CRO
51.73
53.88
1:45.61
21.22
23
42
105615
ROUTHIER Eve
1988
CAN
51.97
53.81
1:45.78
22.23
24
17
55576
GOERGL Elisabeth
1981
AUT
51.17
54.85
1:46.02
23.67
25
27
296354
COSTAZZA Chiara
1984
ITA
51.10
54.96
1:46.06
23.91
26
69
297171
FANCHINI Sabrina
1988
ITA
52.16
54.52
1:46.68
27.61
27
20
295435
GIUS Nicole
1980
ITA
51.76
1:06.71
1:58.47
98.08
28
32
536481
SCHLEPER Sarah
1979
USA
50.73
1:15.51
2:06.24
144.52
Disqualified 1st run
51
196179
BERTRAND Marion
1984
FRA
Did not start 1st run
70
106825
PREFONTAINE Marie-Pier
1988
CAN
18
205993
HOELZL Kathrin
1984
GER
Did not qualify 1st run
68
385041
NOVOSELIC Sofija
1990
CRO
67
565333
BRODNIK Vanja
1989
SLO
66
305944
KIYOSAWA Emiko
1983
JPN
64
155194
KURFUERSTOVA Eva
1977
CZE
63
65038
PERSYN Karen
1983
BEL
60
297601
BRIGNONE Federica
1990
ITA
57
565268
DREV Ana
1985
SLO
56
206355
DUERR Lena
1991
GER
55
516280
HOLDENER Wendy
1993
SUI
54
537792
DUKE Hailey
1985
USA
52
506146
SWENN-LARSSON Anna
1991
SWE
49
55977
THALMANN Carmen
1989
AUT
48
515587
PUENCHERA Jessica
1982
SUI
46
196726
BARTHET Anne-Sophie
1988
FRA
43
206099
PERNER Nina
1986
GER
41
515692
GRAND Rabea
1984
SUI
39
107068
PHELAN Brittany
1991
CAN
37
196725
BARIOZ Taina
1988
FRA
36
537772
STIEGLER Resi
1985
USA
35
515619
GINI Sandra
1982
SUI
34
515997
FEIERABEND Denise
1989
SUI
33
206290
HUEBNER Monica
1990
GER
31
537545
MANCUSO Julia
1984
USA
30
105269
GAGNON Marie-Michele
1989
CAN
28
106633
GOODMAN Anna
1986
CAN
16
505483
PAERSON Anja
1981
SWE
Did not finish 2nd run
10
565243
MAZE Tina
1983
SLO
3
505760
PIETILAE-HOLMNER Maria
1986
SWE
Did not finish 1st run
73
35089
SIMARI BIRKNER Macarena
1984
ARG
72
35079
SIMARI BIRKNER Maria Belen
1982
ARG
71
435210
GASIENICA DANIEL Agnieszka
1987
POL
65
56059
DEPAULI Jessica
1991
AUT
62
206444
HOESL Simona
1992
GER
61
306249
HASEGAWA Emi
1986
JPN
59
55914
NOESIG Michaela
1988
AUT
58
196803
MOUGEL Laurie
1988
FRA
47
196793
MARMOTTAN Anemone
1988
FRA
45
516005
HANGL Celina
1989
SUI
38
296509
CURTONI Irene
1985
ITA
19
296259
MOELGG Manuela
1983
ITA
15
55690
HOSP Nicole
1983
AUT
14
537544
VONN Lindsey
1984
USA