June 14, 2011
/
SARS Racer Awarded Fast Skier Scholarship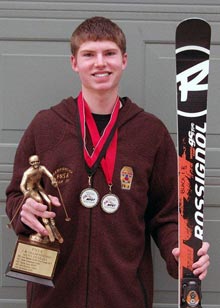 World Cup Supply (WCS), Ski Racing Development (SRD), and Shred announced at the end of May, that Schweitzer Alpine Racing School (SARS) racer Andrew Black of Spokane, Wash. was awarded the 2011 "Fast Skier" Junior Alpine Scholarship Fund .
"Andrew has not only posted solid results on the race course, but also exemplifies the personal characteristics that the award represents: excellent academic achievement, extensive community involvement, and incredible drive and focus as an athlete," read a news release from the award presenters.
Black, a second-year J3 racer out of Schweitzer Mountain, had a stellar season highlighted by a trip to the Topolino Shootout, making the J3 Junior Nationals as a first seed for the PNSA and winning the PNSA Overall J3 Men's title.
As the recipient of the third annual scholarship award, Black will receive $1,000.00 cash, an Athlete's pack and a 2012 speed suit from SRD, a Winter Storm Coat from WCS, and a Shred race helmet and goggle package.
"Once again the equality of applicants this year reinforces the growing significance of this award," said Barry Levinson of SRD. "Andrew's results this past season, his goals of attending a high-caliber university and his understanding of the many sacrifices required to reach his goal of being an Olympic skier will go a long way to helping him develop into an outstanding skier and person."
In its third year, the Fast Skier Scholarship recognizes a J3 racer who is well rounded athletically as well as academically and gives back to his or her community.
"The caliber of applicants was extremely high this year and Andrew really stood out amongst the 80 plus athletes who we heard from," said Brad Williams of World Cup Supply. "He is truly a well-rounded individual who has his 'head in the right place': solid race results on the hill, a 4.0 GPA, Eagle Scout, and a long list of community service activities. We had difficulty figuring out when he sleeps. What is really encouraging to see as we make this third scholarship award is the fact that the kids involved in the sport today are setting themselves up not only for success on the hill, but more importantly success later on in life and that is what we are trying to promote."