October 27, 2013
/
Same old Soelden, Ligety in lead despite shortened course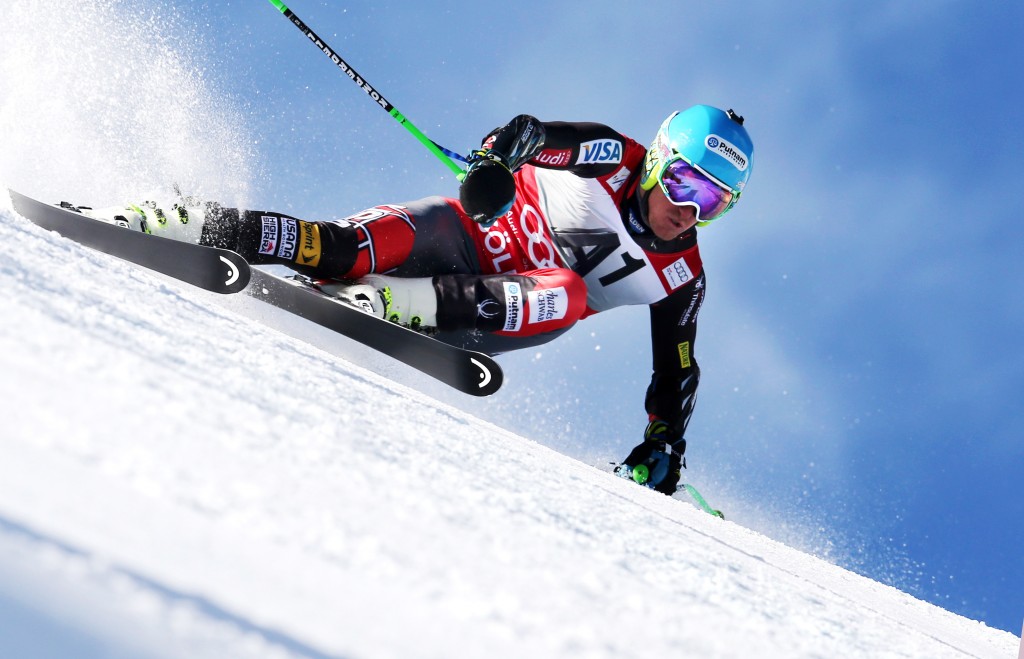 If there were any doubts that Ted Ligety is still the master of giant slalom racing, those hesitations were laid to rest in the first run of the World Cup opener in Soelden, Austria, where "Shred" carved his 35 meter radius skis down a shortened course and still claimed nearly a second advantage over his closest competitors.
"The strategy doesn't change at all," said Ligety after his dominating first run despite a lowered start due to high winds. "I mean that top little bit I have been able to figure out the past couple years just because you have to skate the whole way… so that's definitely an advantage I normally have on this hill. It's just a ski race, you don't have to change that much just because of a different start. The track was good. I mean I ran third, but it's pretty slushy, they definitely… need to salt next run, but we'll see."
The question everyone has been asking all week in Soelden is whether the rest of the GS world has caught up to Ligety during months of summer training. The answer is not really for most, but possibly for a few.
France's rising star Alexis Pinturault and Austrian Marcel Hirscher gave Ligety the closest chase, and both sit within striking distance less than a second out. While Pinturault utilized a smooth style that seemed to favor pressure control, Hirscher hopped and pounced his way down the pitch to a similar end result.
Germany's Felix Neureuther, who had a late start to summer training after undergoing ankle surgery in June, managed to squeeze into seventh but is still over two seconds behind Ligety.
"No surprise on Ligety, he is maybe the best GS skier," said Neureuther. "I don't know if you can compare him to Stenmark, but it's close. He's the best in the world the past year, incredible skier, same age as me, very good friend, good guy."
Softening conditions on the Rettenbach glacier produced conditions that have been described as less than ideal for the current GS skis, and second run qualification for higher bib numbers proved impossible as the track broke down and racers had to negotiate a challenging 8 meter offset with 27-28 meters between gates.
Despite cracking the top 10 from bib 28, American Tim Jitloff was less than satisfied with his first race run of the season.
"Everyone's like, 'Oh, you're in ninth, that's great!' but that's not what I wanted out of that run," noted Jitloff. "I'm definitely better than what I showed right there, so next run I am going to do a better job, ski a little better, move up."
All eyes were on Bode Miller in the opening run of the first race of his comeback season. It wasn't very pretty, but Miller's adjustments in his physique were evident as he pulled off athletic moves throughout the run and seemed rather nimble. Although he still attacked the top of the turns more directly than most, he managed to pull the ski through turn completion without slowing down all too harshly.
"I haven't felt that bad probably since I skied here maybe six years or so ago, I just bounced the whole way down," Miller remarked. "You know it's nerves really. I've been skiing well, I've worked really hard, it's been a long time away and I was prepared to go out and win. I know I can ski with Ted, and I was ready to do it but it's the same thing as usual. This hill doesn't really suit someone who goes 100% unless they get really fortunate with their turn shape…. I felt like quitting after 10 gates, I don't quit anyway, I try as hard as I can."
Miller is the only other North American who will have a shot at second run, where he will likely look to move up from his current position in 13th at 2.81 seconds behind Ligety. From the higher bib numbers, Robby Kelley and Tommy Biesemeyer failed to qualify along with Canadians Phil Brown, Erik Read and Dustin Cook. In their debut World Cup race, both Kieffer Christianson of the U.S. and David Donaldson of Canada failed to finish the first run.
Photo: Ligety races in the opening GS of the season (credit: GEPA/Andreas Pranter)