December 5, 2009
/
Russian wins Dusseldorf sprint, Newell 7th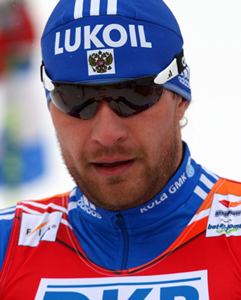 Russian Alexey Petukhov outsped a quartet of Norwegians to claim the Dusseldorf one klic sprint in a World Cup cross country event Saturday and American Andy Newell got his second seventh place finish of the season.
Anders Gloeersen, Eirik Brandsdal, John Krisitan Dahl and Ola Vigen Hattestad were the Norwegians who finished in that order in the two through five spots. Six went to Russians Nikolay Morilov.
Petukhov moved into second in the sprint standings behind Kuusamo winner Hattestad.
Swede Hanna Falk took the women's race preventing a Russian sweep as Natalia Korosteleva was second with Slovene Vesna Fabjan third. Chandra Crawford of Canada was the top North American in 12th. Kikkan Randall led the U.S. in 28th.
Falk leads the women's sprint standings 136-100 over Kuusamo winner Justyna Kowalczyk of Poland.
Alexey Petukhov photo by GEPA.
Place
Düsseldorf
(GER)
Discipline
SP 1.0 km F Final
Date
05.12.2009
Category
World Cup
Race codex
2575
Gender
L
Valid for FIS Points
NO – Waiting reports
TD Name
Jons Tomas (SWE)
| | | | | | | | |
| --- | --- | --- | --- | --- | --- | --- | --- |
| Rank | Bib | FIS Code | Name | Year | Nation | Time | FIS Points |
| 1 | 4 | 3505405 | FALK Hanna | 1989 | SWE | | |
| 2 | 9 | 3485032 | KOROSTELEVA Natalia | 1981 | RUS | | |
| 3 | 10 | 3565002 | FABJAN Vesna | 1985 | SLO | | |
| 4 | 15 | 3505090 | INGEMARSDOTTER Ida | 1985 | SWE | | |
| 5 | 14 | 3425275 | BRUN-LIE Celine | 1988 | NOR | | |
| 6 | 5 | 3185005 | PERAELAE Kirsi | 1982 | FIN | | |
| 7 | 13 | 1283116 | ANDERSSON Lina | 1981 | SWE | | |
| 8 | 2 | 1303777 | BJOERGEN Marit | 1980 | NOR | | |
| 9 | 1 | 1138877 | FOLLIS Arianna | 1977 | ITA | | |
| 10 | 3 | 1255471 | MURANEN Pirjo | 1981 | FIN | | |
| 11 | 6 | 3205224 | KOLB Hanna | 1991 | GER | | |
| 12 | 27 | 3105013 | CRAWFORD Chandra | 1983 | CAN | | |
| 13 | 12 | 1276714 | MAJDIC Petra | 1979 | SLO | | |
| 14 | 20 | 1139071 | MORODER Karin | 1974 | ITA | | |
| 15 | 23 | 3425177 | GJEITNES Kari Vikhagen | 1985 | NOR | | |
| 16 | 16 | 1250524 | GENUIN Magda | 1979 | ITA | | |
| 17 | 18 | 3295167 | VUERICH Gaia | 1991 | ITA | | |
| 18 | 21 | 3515055 | GRUBER Bettina | 1985 | SUI | | |
| 19 | 24 | 3425157 | BJELLAANES Karianne | 1986 | NOR | | |
| 20 | 29 | 1220648 | NYSTAD Claudia | 1978 | GER | | |
| 21 | 7 | 1345390 | VINA Emilie | 1982 | FRA | | |
| 22 | 11 | 3485221 | SHAPOVALOVA Evgenia | 1986 | RUS | | |
| 23 | 22 | 3395048 | OJASTE Triin | 1990 | EST | | |
| 24 | 25 | 3485340 | CHUIKOVA Ekaterina | 1986 | RUS | | |
| 25 | 28 | 1169432 | NATSUMI Madoka | 1978 | JPN | | |
| 26 | 8 | 3565005 | VISNAR Katja | 1984 | SLO | | |
| 27 | 17 | 3505013 | JOHANSSON NORGREN Britta | 1983 | SWE | | |
| 28 | 19 | 1365857 | RANDALL Kikkan | 1982 | USA | | |
| 29 | 26 | 1256732 | SACHENBACHER -STEHLE Evi | 1980 | GER | | |
| 30 | 30 | 3425349 | KRISTOFFERSEN Marthe | 1989 | NOR | | |
| 31 | 31 | 3485461 | TURYSHEVA Elena | 1986 | RUS | | |
| 32 | 32 | 3515087 | VAN DER GRAAFF Laurien | 1987 | SUI | | |
| 33 | 33 | 3695000 | MALETS LISOGOR Marina | 1983 | UKR | | |
| 34 | 34 | 3425365 | FALLA Maiken Caspersen | 1990 | NOR | | |
| 35 | 35 | 3105019 | JONES Perianne | 1985 | CAN | | |
| 36 | 36 | 3195056 | CUINET Aurore | 1985 | FRA | | |
| 37 | 37 | 3295000 | BROCARD Elisa | 1984 | ITA | | |
| 38 | 38 | 3395005 | SIRGE Kaili | 1983 | EST | | |
| 39 | 39 | 3505260 | PAJALA Magdalena | 1988 | SWE | | |
| 40 | 41 | 1350628 | FUKUDA Nobuko | 1980 | JPN | | |
| 40 | 40 | 1373617 | FESSEL Nicole | 1983 | GER | | |
| 42 | 42 | 3485170 | ILJINA Natalja | 1985 | RUS | | |
| 43 | 43 | 3205075 | HERRMANN Denise | 1988 | GER | | |
| 44 | 44 | 3485062 | MELINA Viktoria | 1981 | RUS | | |
| 45 | 45 | 3195059 | BARTHELEMY Laure | 1988 | FRA | | |
| 46 | 46 | 1113754 | HENKEL Manuela | 1974 | GER | | |
| 47 | 47 | 3195080 | LOCATELLI Manon | 1989 | FRA | | |
| 48 | 48 | 1181848 | JATSKAJA Oxana | 1978 | KAZ | | |
| 49 | 49 | 3665000 | LOPATINA Viktoria | 1981 | BLR | | |
| 50 | 50 | 3515071 | PICHARD Lena | 1986 | SUI | | |
| 51 | 51 | 3395010 | PORMEISTER Piret | 1985 | EST | | |
| 52 | 52 | 1274580 | ISHIDA Masako | 1980 | JPN | | |
| 53 | 53 | 1319976 | KOLOMINA Elena | 1981 | KAZ | | |
| 54 | 54 | 3705001 | KOTSCHOVA Daniela | 1985 | SVK | | |
| 55 | 55 | 3705007 | GARAJOVA Katarina | 1987 | SVK | | |
| 56 | 56 | 1105509 | JOHANSEN Katarina | 1976 | SVK | | |
| 57 | 57 | 3665046 | NEDYUKHINA Maryia | 1992 | BLR | | |
| 58 | 58 | 1191354 | ROCHAT Laurence | 1979 | SUI | | |
Place
Düsseldorf
(GER)
Discipline
SP 1.0 km F Final
Date
05.12.2009
Category
World Cup
Race codex
2577
Gender
M
Valid for FIS Points
NO – Waiting reports
TD Name
Jons Tomas (SWE)
Rank
Bib
FIS Code
Name
Year
Nation
Time
FIS Points
1
1
3480021
PETUKHOV Alexey
1983
RUS
2
2
3420376
GLOEERSEN Anders
1986
NOR
3
4
3420365
BRANDSDAL Eirik
1986
NOR
4
14
3420002
DAHL John Kristian
1981
NOR
5
16
3420077
HATTESTAD Ola Vigen
1982
NOR
6
5
3480280
MORILOV Nikolay
1986
RUS
7
3
3530005
NEWELL Andrew
1983
USA
8
17
1175058
KOUKAL Martin
1978
CZE
9
19
1192130
FREDRIKSSON Thobias
1975
SWE
10
24
1223267
PASINI Renato
1977
ITA
11
13
3500407
MODIN Jesper
1988
SWE
12
20
1067485
ZORZI Cristian
1972
ITA
13
22
1268566
EIGENMANN Christoph
1979
SUI
14
8
3480436
KRIUKOV Nikita
1985
RUS
15
25
3180228
PAAKKONEN Lasse
1986
FIN
16
29
3190142
GAILLARD Cyril
1986
FRA
17
30
3190070
MIRANDA Cyril
1985
FRA
18
9
3500330
PETERSON Teodor
1988
SWE
19
10
3510206
TAMBORNINO Eligius
1986
SUI
20
18
3510207
KINDSCHI Joeri
1986
SUI
21
26
3290007
HOFER David
1983
ITA
22
6
3180221
JYLHAE Martti
1987
FIN
23
7
3420519
CLAUSEN Kent-Ove
1985
NOR
24
21
1345875
GAILLARD Jean Marc
1980
FRA
25
23
3500409
EDIN Johan
1987
SWE
26
11
3150035
KOZISEK Dusan
1983
CZE
27
15
3420089
PETTERSEN Oeystein
1983
NOR
28
27
1370707
LIND Bjoern
1978
SWE
29
28
3480287
DEVJATIAROV Mickail Jun.
1985
RUS
30
31
3390003
KUMMEL Peeter
1982
EST
31
32
3300021
NARUSE Nobu
1984
JPN
32
33
3180114
STRANDVALL Matias
1985
FIN
33
34
1093869
KREZELOK Janusz
1974
POL
34
35
3480739
PANZHINSKIY Alexander
1989
RUS
35
36
3390008
SAAREPUU Anti
1983
EST
36
37
1310470
KRECZMER Maciej
1981
POL
37
38
3190025
DARRAGON Roddy
1983
FRA
38
39
3150070
RAZYM Ales
1986
CZE
39
40
3290004
SCOLA Fulvio
1982
ITA
40
42
1235877
VON ALLMEN Peter
1978
SUI
40
41
3200014
WENZL Josef
1984
GER
42
43
1298054
PASINI Fabio
1980
ITA
43
44
3510249
JAEGER Martin
1987
SUI
44
45
3420822
BACH Ole-marius
1988
NOR
45
46
3480322
PARFENOV Andrey
1987
RUS
46
47
3390050
SIMONLATSER Timo
1986
EST
47
48
3670000
CHEBOTKO Nikolay
1982
KAZ
48
49
3180146
LASSILA Kalle
1985
FIN
49
50
1276617
ONDA Yuichi
1980
JPN
50
51
3190029
DUVILLARD Robin
1983
FRA
51
52
3200025
HAENEL Lars
1985
GER
52
53
3200015
REICHELT Tom
1982
GER
53
54
1221036
FILBRICH Jens
1979
GER
54
55
3390001
JALLAI Erkki
1981
EST
55
56
1365954
KOOS Torin
1980
USA
56
57
3390033
EINASTE Kein
1985
EST
57
58
1116470
FAFALIS Lefteris
1976
GRE
58
59
3200057
WUENSCH Oliver
1986
GER
59
60
3660029
KARNEYENKA Leanid
1987
BLR
60
61
3050043
WURM Harald
1984
AUT
61
62
3660013
LASUTKIN Alexander
1983
BLR
62
63
3200012
HAENEL Erik
1984
GER
63
64
1125588
DOLIDOVICH Sergei
1973
BLR
64
65
3420131
KJOELSTAD Johan
1983
NOR
65
66
3200111
BERGMANN Max
1989
GER
66
67
3200072
KATZ Andreas
1988
GER
67
68
3300241
KASHIWABARA Nobuhito
1988
JPN
68
69
3200091
SCHNURRER Manuel
1986
GER
69
70
3670007
POLTARANIN Alexey
1987
KAZ
70
71
3670005
KOSCHEVOY Yevgeniy
1984
KAZ
71
72
3670006
CHEREPANOV Sergey
1986
KAZ
72
73
3570001
KRAAS Oliver
1975
RSA
73
74
3660021
KUZMENKO Sergej
1986
BLR
74
75
3360000
PETERS Kari
1985
LUX
75
76
3920002
BAENA Cesar
1986
VEN
Disqualified
12
3500170
BRYNTESSON Robin
1985
SWE