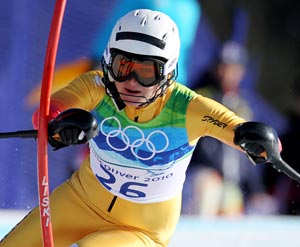 After five seasons, including two Olympic campaigns, on the Canadian Alpine Ski Team, Shona Rubens (23) announced her retirement from ski racing yesterday (April 27).
Rubens is a six-time Canadian national champion and competed in both the 2006 Olympic Winter Games and in the Vancouver Games two months ago.

"It's one of the toughest decisions of my life, but I am very proud of what I accomplished in my ski racing career," said Rubens. "Being a part of the 2010 Vancouver Olympics is very special to me."

Rubens won three consecutive national slalom titles between 2007 and 2009. A rare five-event skier, she won the downhill, super-G and slalom national titles in 2007. In 63 World Cup starts, Rubens' top result was a 10th-place finish in the super combined in St. Moritz, SUI last season.

"I want to thank my sponsors, particularly Bombardier and Rossignol, for their support. I also owe a lot to my family, my coaches and teammates for supporting me throughout my career," Rubens said. "I am going to be cheering the team on as they rip it and achieve amazing results this coming season and well into the future. It's a great group of teammates and they are going to do really well."

Rubens plans to travel with her boyfriend before pursuing post-secondary studies in the near future, potentially in the field of earth sciences.