March 25, 2011
/
Riml tabbed to rejoin US team as Alpine Director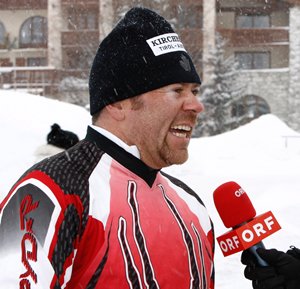 Patrick Riml is moving back across the 49th parallel to return to the U.S. Ski Team, this time as Alpine Director, a position left vacant since Jesse Hunt retired in May of 2009.
Riml spent seven years with the U.S. team and was named head women's coach in 2003 before transfering his talents to Canada in 2008 to lead the women's alpine coaching staff. Last April he was tabbed as Alpine Canada's Athletic Director.
According to the USSA's Executive Vice President, Athletics Luke Bodensteiner, Riml will take over all aspects of the alpine program from grassroots development programs through the national team.
"Patrick has demonstrated both strong leadership abilities and outstanding expertise at numerous levels of our pipeline. He's shown in his tenure here that he truly understands our American system in the world vision," said Bodensteiner. "A major initial focal point for him will be our development programs, using our Alpine Training System as a centerpiece to develop athletic performance at all levels, through programming, education, athlete management and competitions."
Riml, a native of Soelden, Austria rejoins a strong U.S. Ski Team led by men's Head Coach Sasha Rearick and women's Head Coach Alex Hoedlmoser that accounted for eight Olympic medals in Vancouver and nine Audi FIS Alpine World Cup titles in the past two seasons.
"We are fortunate to have a strong national team program in place which will allow me to focus on our development system and USSA clubs," said Riml. "Our educational programs which develop strong clubs and coaches, coupled with specific programming and athlete management systems are essential to our success."
Riml also felt the two-year old USSA Center of Excellence would play a pivotal role in future success. "The Center of Excellence is an amazing facility – there's none like it in the world," said Riml. "It will be an important part of both our development and national team programs."
Riml originally joined the U.S. Ski Team in 2001 as Europa Cup Head Coach before moving up to lead the women's Head Coach position in 2003. During his earlier tenure, he led Julia Mancuso to 2006 Olympic gold and multiple World Championship medals.
He was also a part of Lindsey Vonn's historic 2008 season in which she claimed the first of what became three consecutive Audi FIS Alpine World Cup overall titles and her first of four consecutive downhill titles. The overall crown was the first for the women's program since 1983.
Riml will join the USSA staff immediately and will be on hand in Winter Park, Colo., for the Putnam U.S. Alpine Championships Mar. 31- Apr. 3. He will relocate to the Center of Excellence in Park City along with his wife Jodi and young daughter Raina.