October 10, 2013
/
Remembering Amy Dombroski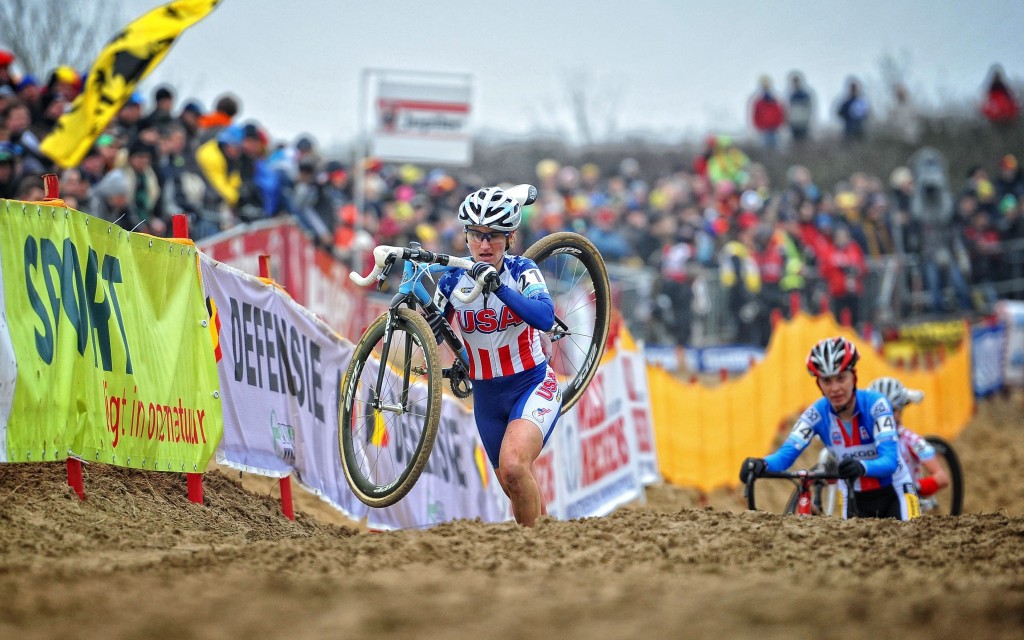 At the time of her death on Oct. 3, Amy Dombroski was an international cycling star who was literally riding into the prime of her life. A former alpine racer and Burke Mountain Academy alumna, she was 26 years young, and she passed away after colliding with a truck while training behind a pace scooter in the suburbs of Brussels, Belgium.
My wife, Kim, and I first met Amy in the fall of 2002 when she matriculated as a sophomore alpine racer at Burke Mountain Academy, where we were working at the time. We spent the next three years getting to know Amy as a student, an advisee, an athlete and as a boarder in our dormitory. We didn't know it then, but we'd remain in touch for the remainder of her too-short life.
In high school—a difficult time for all while we're growing and trying to reconcile our expectations for the world with its disparate realities—Amy endured more than her fair share of vicissitudes, having lost both her mother and one of her best friends in very unexpected deaths along the way. Because of those losses, we occasionally worried about Amy, as she could be understandably sullen, brooding and withdrawn. Peeling back the bouts of melancholy, though, she was also a kid with a gigantic smile who could be crazy-hilarious; she was a diminutive (in stature alone) young lady who had a predilection for cursing like a sailor when she thought we weren't around (and, later, even when she knew we were around); and she was a profound, gentle soul with beyond-her-years capacities for compassion and appreciation.
More than anything, we remember someone who absolutely, positively worked harder than any single student-athlete we knew or have since known—a compliment of the very highest order, especially given how many hard-working student-athletes we've had the privilege of knowing at ski academies across the country. Amy worked so hard that it was, in fact, often a detriment to her short-term success: she would charge, charge, charge until she couldn't go at all, then reboot after an injury or an illness and the cycle would start anew.
I was a young teacher and coach in those days and as I now approach middle age, I confess that most of my memories from that time have been reduced to lasting impressions. Nevertheless, a few vivid images still play:
On a crisp, clear autumn day in Vermont's Northeast Kingdom, I remember Amy grinding her way through a high school cross-country running race. She was doing everything in her power to keep pace with her faster teammates, some of whom have since become World Cup nordic racers and Olympians. Of course, as an alpine skier, Amy's training was more squat rack than distance track, and her stumpy-strong legs manifested that inherent disadvantage as she slogged past gazelle-like competitors. I have no recollection of where she finished, I just remember that Amy's taxed and shockingly red face—painted a hue so bright it was matched only by the surrounding foliage—evidenced the toughest damn kid in the race.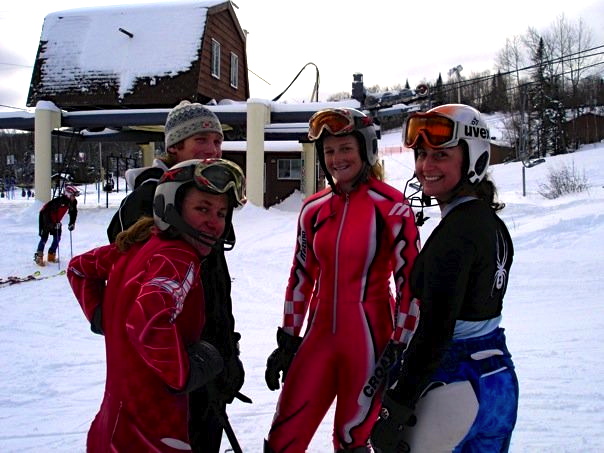 Mired in sub-zero temperatures on a grim, gray, winter afternoon at Burke Mountain probably sometime in December, I remember Amy's coach telling her she had to stop training GS because we had to pull the course—it was getting dark, and everyone else had disappeared from the hill, it seemed, an hour earlier.
On more occasions than I can recount here, and these are perhaps the most vivid memories, I remember Amy saying, "Thank you," both in person and in writing. I remember these occasions best because, with Amy, you always knew she meant it. Some untold force in the universe leapt straight into your heart and you positively knew that she wasn't saying thank you to be polite, or because someone else encouraged her to do so, or because you would later discover a caveat or an angle. She was genuine, earnest, appreciative.
Amy's capacities for compassion and appreciation are the reasons, I think, she remained a part of our lives well beyond the time we all spent together in East Burke, Vt. For whatever small part we played in her adolescence (and she gave all of us at Burke too much credit for helping her), Amy kept bouncing into our lives to say thanks and check in. The teenager my wife and I admired ultimately metamorphosed into an even more inspired and inspiring adult, which we didn't fully realize until 2009 when she, racing up the world cycling ranks at the time, came and spent an evening at our home in Northern California.
Kim and I had just adopted a German shepherd puppy who, incidentally, came with the name Aimee. Amy was in the Bay Area visiting her sponsors and competing at a World Cup criterium in San Jose. As Kim and I prepared dinner and conversed with Amy about her world travels, she kept Aimee entertained by swinging her across and around our hardwood floors on a towel. In a moment when our little black-and-tan terror got a bit too rambunctious, my wife and I simultaneously shouted, "Aimee!"—action ceased and both our puppy and Amy looked up, a bit surprised.
"How 'bout we call this one A-Dog while I'm around?" she said, smile a mile wide, gently scratching our pup's floppy ears.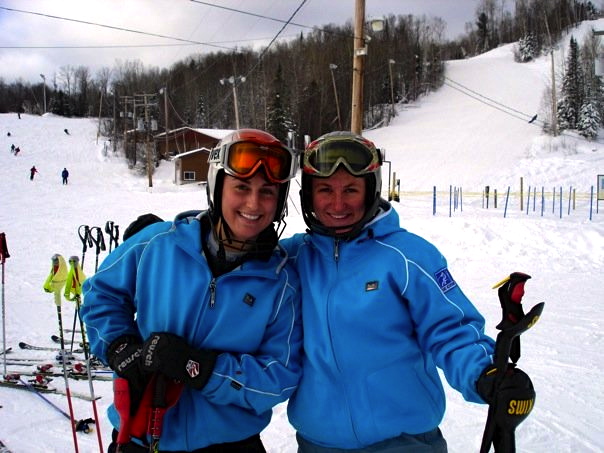 Aimee has been known as "A-Dog" since, and while Kim and I happily recounted that moment after hearing of Amy's passing a couple days ago, something else far more endearing remains with us from that exact same night: Amy Dombroski was happier than we'd ever seen her and, so there was no mistaking it, she asserted as much over the course of her hours in our home.
For those unfamiliar with Amy's journey to that point, the short story goes like this: Amy jumped on a bike as a 19-year-old ski racer to rehabilitate an injury; what she discovered was a sport and satisfaction she'd never known. She eschewed the safer, more conventional path of a full-time college education to pursue her new passion, and she was sitting before us a few years later as one of the best stories in her sport. Somewhere along the way—perhaps in part because of the early-life tragedies she'd endured, or the grit she incessantly manifested, or finally having found an ability to pace herself as an athlete and person, or a combination of those things and a million more—Amy had found a sort of peace and security I've only seen in people who are lucky enough to do what they truly, truly love for a living … and again, as I approach middle age, I have only known a few of them.
A couple weeks later, I was assigned an article for Ski Racing magazine in which we featured Amy alongside Levi Leipheimer, another former alpine racer who, at the opposite end of his career, was hot off podium finishes at the Tour de France and the Beijing Olympic Games. The highlight of the piece was all Amy.
"My single greatest goal—and I think the one that's helped me the most—is to get on the bike each day and be happy. I think less about results now than I did when I was a ski racer. I just strive to enjoy myself and it's made all the difference. I have the best job in the world."
Since her accident last week, obituaries across the cycling, sporting and even mainstream press are laden with deserved superlatives about Amy, citing a meteoric rise from her first-ever bike race in 2006 to, in just a few years' time, competing with and against the world's best professional cyclists across road, mountain bike and cyclocross racing. But, for me—more than any cycling highlights or anecdotes or speculation about her future conquests—a quote from John Henderson's article in the Denver Post best described the impact Amy had on people around her, "whether she knew it or not."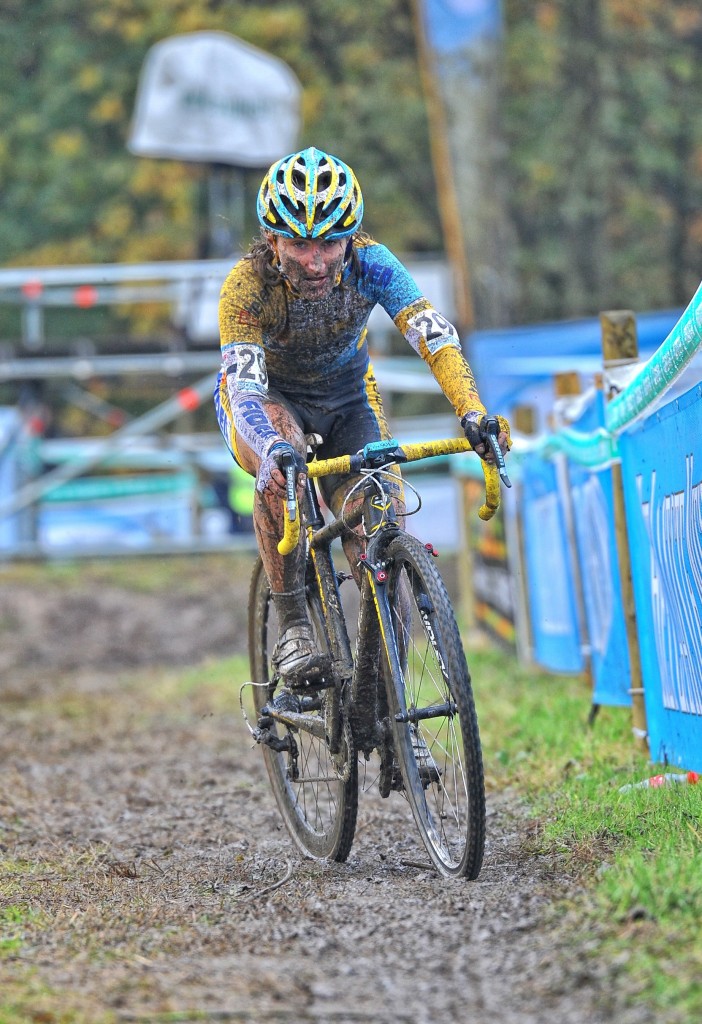 "When I decided to come back to cycling [after a year away], I came back specifically wanting to live as an athlete like Amy Dombroski," Mara Abbott, the first American woman to win the Giro Rosa grand tour, told the Denver Post. "So many of us waste time hemming and hawing and not doing what we should be doing and what our heart says. Amy didn't do that… I told myself if I come back, I'd be proud to be an athlete like Amy. I'd be joyful and in tune with what made me happy, and I'd take care of people I love the same way Amy did. Whether she knew it or not, she was my role model to come back to cycling."
I wish I could say that I'd long ago (even) adequately processed my understanding of and appreciation for Amy and the ways she affected myself, my family, our colleagues, her peers and the greater world beyond. But I can't. Sadly, it took Amy's sudden departure to inspire the breadth of that thinking.
Of course, there's also no doing justice to what we know Amy meant to her father, Ed, and her brother, Dan, and all they must be feeling at this time—even casual observers could see they are a loving and tight-knit family. As someone who taught literature and occasionally writes for a modest wage, I also feel like I'm supposed to avoid platitudes in contemplating Amy's death, but I surrender here because there's no better option: Amy Dombroski's premature passing is a reminder for us all—coaches, teachers, parents, athletes, families and all people, really—to step away from the busy business of our lives and express, before it's too late, the value we find in knowing and helping one another. Ironically, Amy Alison Dombroski was among the few who needed no reminders.
Thank you, Amy, for so often finding a way to say thank you—even when you were young and had plenty of good reasons to be angry at the world and the hand it dealt you.
And thank you, Amy, for being a person who didn't simply talk about risking dreams but instead went about the business of pursuing them. Most of us, even those many years your senior, can only hope to find similar courage before we leave this world—wish I was able to crystallize and articulate that when you were still racing among us.
In the meantime, we miss you, Amy D.—ride on and charge, charge, charge.
Former Ski Racing contributor Bryce Hubner first wrote about Amy Dombroski in the March 18, 2009, edition of Ski Racing magazine—an article wherein he profiled Amy's rising cycling career alongside road racing legend Levi Leipheimer, also a former alpine ski racer.
Competition photos courtesy of Kris Claeye.
Ms. Dombroski spent a great deal of time advocating for women in sports and supporting charities like World Bicycle Relief. To honor her giving spirit, friends and family have set up a memorial fund in her name. Interested parties can send donations to the following address:
Memorial of Amy Dombroski
c/o Wells Fargo Deposits
1242 Pearl Street
Boulder, CO 80302
In recent days, media outlets around the world—from cycling rags to Bloomberg, The Denver Post, and the L.A. Times—have all reported on Ms. Dombroski's passing. For a bit more about her exploits in cycling and other remembrances, here are links to a few of our favorites: