January 5, 2010
/
Rahlves second in ski cross World Cup; Stickl, David win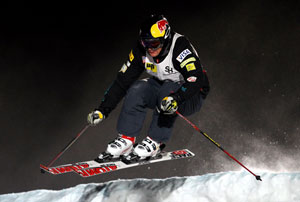 German Simon Stickl and France's Ophelie David won the third competition of the World Cup ski cross season today (Jan. 5) in St. Johann/Oberndorf, Austria. The drama took place under the lights as the world's best ski cross athletes continued to tune up for the sport's Olympic debut in Vancouver.
American Daron Rahlves took second place ahead of Canadian David Duncan in third. Rahlves started off hot, winning his first two heats before taking second in the semifinals and finals. The result was Rahlves first ski cross World Cup podium, he logged 28 alpine World Cup podiums before retiring and taking up ski cross in 2008. It was also Duncan's first career World Cup podium.
"Despite a very poorly built course, that was injected, the race went well," said U.S. ski cross coach Tyler Shepherd. "Daron had some of his best starts to date, hands down. And like I've said from the beginning, you get him out front, people won't catch him, and he showed that tonight in the first two heats."
"In the final Daron had to break out some of his injection know how and make some awesome passes to move from fourth to third, and then to second," said Shepherd. "He was the only guy to make two passes let alone one on that course tonight."
American Casey Puckett, who grabbed his fourth career World Cup podium in the season opener Dec. 21 in Innichen, Italy, took 13th today after being eliminated in the quarterfinal heat. Rahlves and Puckett now stand fifth and sixth in the overall ski cross World Cup standings.
"Casey ran into some typical ski cross action in his quarterfinal, and narrowly avoided getting taken out by another skier, only to make up the ground he lost to catch up to transfer position to nearly pass him in the finish," recounted Shepherd. "He lost the photo finish decision by a very narrow margin."
World Cup overall leader, Swizerland's Michael Schmid, who won the first two events of the season, was just off the podium in fourth. He is now 84 points ahead of Norway's Audun Groenvold in second. With his first career win Stickl jumped to third overall, 110 points behind Schmid. Stickl's previous best finish was a 10th place at this season's opening event.
On the women's side, it was six-time overall World Cup champion David with the win, the 21st of her nine-year career. Teammate Meryll Boulangeat followed in second ahead of Canadian Julia Murray in third. It was Boulangeat's ninth career podium and Murray's second.
David is leading the overall World cup race, 40 points ahead of Sweden's Anna Holmlund in second. Canadian Ashleigh McIvor (12th today) is in third, 93 points behind David.
American Caitlin Ciccone finished 31st.
"Caitlin Ciccone qualified for the women for the third straight World Cup, and she really showed me something tonight with how she skied," said Shepherd. "Despite not moving on, she attempted passes just like we had spoken about in inspection, and I'm proud of the aggression she showed on this difficult course. Not many athletes can really ski well on this kind of injection, and she skied really well, and I know she has some better results coming."
The ski cross World Cup is back in action next week (Jan. 9) in Les Contamines, France.
Click the attachments below to see the full brackets.
By Eric Williams
Image by Gepa
Men's Results
Women's Results