June 28, 2010
/
Pum, Giger will continue to lead Austrians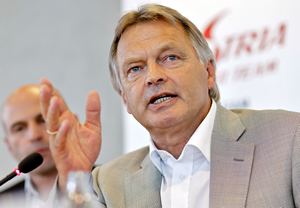 According to reports out of Europe the Austrian Ski Federation has restructured the top end of the organization with long time alpine boss Hans Pum moving up to serve as the sports director for all disciplines.
The move was announced at a Friday press conference in Vienna.
In addition, Toni Giger, the head alpine men's coach for the past 11 years, has been tabbed to head the department of Development, Research and Innovation.
Federation President Peter Schroecksnadel said the move was not a compromise but a new beginning. "We start again, like we were at the bottom. We are still first, but we are so close to the to second turn."
The entire organization has been handed a new slogan to work by: "As a team together for success" is the rough translation. The president said he expects alpine (under Mathias Berthod and Herbert Mandl), jumping and Nordic combined (under Ernst Vettori), cross country and biathlon (under Markus Gandler), the snowboarder (under Christian Gall) and the ski cross (under Sabine Wittner) teams to work together.
"They all have a plan," Schroecksnadel said, "and they also have a boss – Hans Pum."
Pum joined the federation in 1977 and said he had long seen a need for better cooperation between the Austrian ski teams.
"We need to combine knowledge and power, that synergies are achieved." He said relaxation exercises for the ski jumpers or concentration exercises of the biathletes might translate well to other disciplines for example.
Giger said he was enthusiastically looking forward to his new position and will oversee a group of 35 to 40 employees ranging from sport science to service. He will be centered in the competence center in Bramberg.
"We are no worse than the others, but we have no longer an advantage," Giger said, indicating he would pursue regaining an advantage.