January 26, 2010
/
Pranger leads night race, U.S. has 4 in 2nd run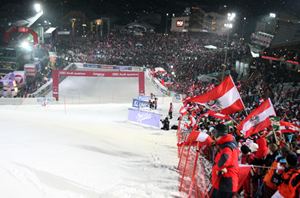 The Austrians have won the Schladming night race in five of the last six seasons, a streak they look ready to continue after the first run Tuesday (Jan. 26) with Manfred Pranger, Reinfried Herbst and Benjamin Raich in the 1-2-4 positions. Swiss skier Silvan Zurbriggen sits third.
Though the course did not appear to break up the three Austrians all had very early start numbers, Pranger going first, Herbst second and Raich fourth, in just the order they wound up. Canadian Julien Cousineau produced one of the best runs from later in the start order, placing sixth from the 25th start.
The Americans did push four men into the second run with Jimmy Cochran getting 12th more than two seconds out, but right behind Wengen slalom winner Ivica Kostelic. Ted Ligety was 16th. Bode Miller survived a hand to the snow slip to get 26th and Nolan Kasper continued to amaze with 29th place, from the 56th start, despite slipping to a hip on the Planai course.
Known for the noise the crowd of more than 50,000 can generate in the Schladming stadium, the first run was conducted in a light snowfall.
Schladming finish photo by GEPA