March 18, 2010
/
Paralympics: Woolstencroft adds second gold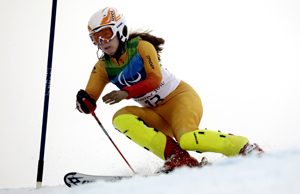 Canadian Paralympian Lauren Woolstencroft (slalom gold medalist) scored her second gold medal of the Vancouver Games today in the women's standing giant slalom event to successfully defend the gold she won in the discipline at the 2006 Torino Games.
Woolstencroft, who had the fastest time in both of today's runs, had a combined time of 2:34.03 to pull in the Canadian Paralympic Ski Team's sixth medal of these Games, surpassing their Torino haul of five with many more medals still to be awarded.
More than seven and half seconds back was silver medalist Andrea Rothfuss (the silver medalist in the slalom) with a time of 2:41.63. Slovakian Petra Smarzova was only three hundredths of a second behind Rothfuss to collect the bronze.
The win marks Woolstencroft's fifth career Paralympic gold and her seventh overall.
"Giant slalom is one of my favorite events so I'm really happy with what happened today and repeating what I did in Torino," said Woolstencroft, who was born missing her left arm below the elbow as well as both legs below the knees. "I'm obviously happy that I was able to win two races in a row and I definitely hope to keep on going. I haven't had a good World Cup season. I lost a lot of races so that just motivated me coming here."
Canadian Karolina Wisniewska just missed the podium in fourth with a time of 2:44.03.
American Allison Jones led the U.S. in ninth place after finishing the first run only 1.19 seconds behind Rothfuss.
The three-time Paralympian nearly fell during her second run while attempting to climb the result sheet.
"That was it," said Jones. "I threw an aggressive run and lost it. That's what you do in the sport, you go or blow. I'd rather go out proud than take it easy and not fall."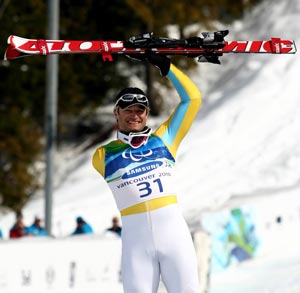 German Gerd Schonfelder claimed his 15th career Paralympic gold on the men's side with a two-run combined time of 2:23.93. Austrian Robert Meusberger earned the silver ahead of France's Vincent Gauthier-Manuel with the bronze medal.
Bradley Wasburn led all North American men in 16th place.
"I was going for it on that run," said Washburn after his second run. "I felt like I didn't have too big of mistakes on that run. It was pretty good for me. The course was holding up a lot better than the first run. I think they put some salt down or something. The course was a lot smoother, for me at least. I felt like I skied it a lot better than my first run."
"The GS was tough," said U.S. Adaptive Alpine Head Coach Ray Watkins. "The course conditions were rough and bumpy, but you know what? We can make all the excuses that we want, but this is the Paralymic Games and this is the chance you have to get it done. Either you do or you don't. Tomorrow's the downhill. I like our chances there. Today is over, so we move on and go forward."
The top Canadian was Jeff Dickson in 18th place.
Paralympic alpine racing will continue in Whistler with men's and women's downhill races in all three categories.
Images by Gepa.
Women's Results
Men's Results