March 15, 2010
/
Paralympics: Canadians Woolstencroft, Wisniewska medal in standing slalom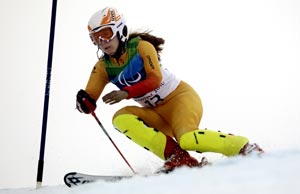 After grabbing Paralympic medals in yesterday's women's visually impaired and men's sit-ski slalom races, the Canadian skiers were back on the podium today (March 15) as standing skiers Lauren Woolstencroft and Karolina Wisniewska earned gold and bronze medals.
Woolstencroft, who was born without legs below the knee and without her left arm below the elbow, led in both runs and had a combined time of 1:51.97 to beat silver medalist Andrea Rothfuss by more than six seconds.
"Slalom definitely hasn't been my best event this year at all and having Karolina on the podium with me today makes this win even more special," said Woolstencroft, who began the 2010 Paralympics with five career medals (three gold). "I just want to ski my best and I think I did that today so I'm really happy. I also think that skiing my best can put me on the podium so I hope I can keep this going."
"I didn't think I was going to podium today. My focus since my comeback was to become a better skier and focusing on the process," said Wisniewska, who temporarily retired after the Paralympic Games in 2002 with four medals. "I have always said that if I can ski like I know how and be able to lay down some good runs, I am sure the results will come and it happened today so I'm really happy."
Allison Jones, the defending Paralympic slalom gold medalist, was the top American in fifth place with a time of 2:01.19. Teammate Hannah Pennington finished 16th.
"The first run I didn't like," said Jones. "The second run I definitely came back knowing that I had nothing to lose and I felt like I put down a pretty good run. Two little mistakes and that's about it. Otherwise I felt really good. I wish I would have gone up further, but it is what it is. I felt like I came back and had a strong run. I felt like I showed everybody what I can do."
On the men's side, New Zealander Adam Hall took the men's gold by .57 seconds ahead of German Gerd Schonfelder with the silver. Australian Cameron Rahles-Rahbula earned the bronze just more than two seconds off the winning pace.
Austrian Robert Meusburger, who stood in third place after the firs run, slipped off the podium in fourth place, only six hundredths of a second behind Rahles-Rahbula.
Americans Monte Meier and Bradley Washburn led the North American effort, finishing eighth and ninth.
"I had to lay it all down on the line," Meier, who has said he will retire after these Games. "This was my last slalom run of my life, that's how I'm looking at it. I just had to let it all hang out. I did that. There were a couple bobbles, but you're going to get that when you're racing. I was definitely satisfied with my run, definitely."
Paralympic competition continues tomorrow with men's and women's giant slalom races for sitting and visually impaired skiers.
Image of Woolstencroft by Gepa
Women's Results
Men's Results