February 15, 2010
/
Olympics: Moguls skier Bilodeau brings Canada first home gold; Wilson bronze
VANCOUVER (Feb. 14) – Olympic history was made tonight at Cypress Mountain. Canadian moguls skier Alexandre Bilodeau became the first Canadian to win an Olympic gold medal on home soil. The 22-year-old Montreal native earned a score of 26.75 to bump defending gold medalist and World Cup leader, Australian Dale Begg-Smith to the silver medal spot. American Bryon Wilson shocked many with his bronze-medal performance, only a day after his female teammates claimed the gold and bronze medals on the same slope.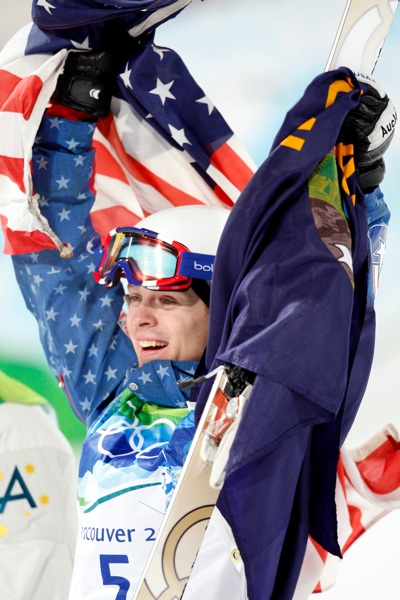 "I don't think I realize it yet it's just too good to be true," said Bilodeau who had three World Cup podiums this season but no wins. "There are so many goals to come. Canada is so strong right now. I'm going to be in the stands cheering for [my teammates]. I'll try to keep a bit of voice for them."
The mostly Canadian crowd of more than 8,000 kept the energy and volume high the entire event as Quebec skier Vincent Marquis (fourth), the seventh skier to run, grabbed the lead and held on until Wilson edged him by .20 points. Fellow Canadian Pierre-Alexandre Rousseau followed in fifth.
For Bilodeau, at his second Winter Games (11th in Torino) the victory was extra specials as his brother, who has cerebral palsy, stood in the crowed with his arm raised to cheer on his brother. "My brother is my inspiration," said Bilodeau. "Growing up with handicapped people puts everything back in perspective and I think he taught me so many things in life."
Bilodeau's success came at an opportune time as Canadians only had to wait 24 hours after what looked like would be the country's first home gold slipped through female moguls skier Jennifer Heil's fingers last night as American Hannah Kearney took home the gold.
Begg-Smith, who grew up in Vancouver, seemed unstoppable this season and came to the Games as a favorite for the gold. He won three consecutive World Cup events then took second place in two more leading up to the games. The momentum wasn't enough as Begg-Smith's speed, .55 seconds slower than Bilodeau's, cost him the top spot. "I skied the way I wanted to ski today and that's all I can control," said Begg-Smith. "I think it was great that Canada won gold, the crowd was really happy with it and everybody went crazy. We are here to put on a show and I think everyone enjoyed what they saw."
Wilson, who admitted the idea of even going to the Olympics at the beginning of the season was a long shot, made the jump to the U.S. A-Team and the Olympic squad with his first two career podiums at the season opener in Suomu, Finland.
"It was all the training throughout the summer I was at the gym quite a bit and I felt really strong coming into the season," said Wilson of the large strides he has made this season.

Wilson's rise took seed at last season's nationals. The 21-year-old entered nationals needing to requalified for the U.S. Ski Team turned it around with a national title that earned him a B-Team spot. He climbed higher at the season opener where he only intended to train, when an injury sidelined another U.S. starter. Wilson got the nod and two second-place finishes. Now, only three months later, he is an Olympic medalist.
"A year ago I was just hoping to make the Olympics," said Wilson, who runs a wood carving business that is backordered on the decorative fish he makes by hand. "When I was sitting down there, I knew I had laid down a good run I saw the score and it was a big one. It put me into second place and I sat down on the bench and just hoped it held on and it did and it was pretty amazing."
Wilson's success was the only real bright spot for the all-Olympic-rookie U.S squad on the night. Nate Roberts lost his way in the middle moguls section and Patrick Deneen lost his balance in his bottom air and launched through a course panel near the bottom of the course, neither were given scores. Michael Morse's low airs scores and slow speed landed him in 15th place.
Top qualifier Guilbaut Colas of France was last to compete but lost points on the bottom jump when he drifted away from his line and slipped to sixth place. His coach was shone on the jumbo-sized TV at the start with his hand over his mouth in obvious disappointment.
Prior to the start of competition at Cypress, the story surrounding Cypress has been weather. What is known as the pineapple express, a weather pattern that brings warm air to BC from Hawaii, has wreaked havoc on Cypress Mountain, the site of all freestyle skiing and snowboarding events. Course workers have had to use every trick in the book and then write a new one to keep the moguls run, ski cross course and half pipe covered with white stuff that is only a few inches deep in some areas atop mounds of dirt and hay.
Photo by GEPA