January 16, 2010
/
Olympic freestyle site closed to public due to rainfall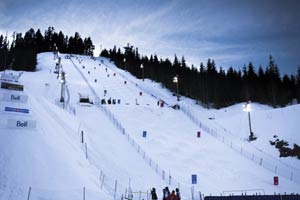 Vancouver news website, North Shore News, reported yesterday (Jan. 15) that Cypress Mountain, the site of Olympic freestyle skiing and snowboarding events, has closed its alpine runs to the public until after the Games, which begin less than a month from now. The closure is part of an effort to conserve the area's limited snow cover. Recent, unseasonably warm weather and rainfall have left bare patches on the mountain's moguls and aerials hills.
The closure was scheduled to happen just two weeks prior to the Games but rain, which caused another closure Monday, hasn't let up and forced organizers to pull the plug early.
"Everything we're facing here is something that was expected and planned for," said VANOC's vice-president of sport, Tim Gayda in the report. "If you take a look around, you'll see the areas where we've started to farm the snow, put it into piles and cover it up so it's there, ready in wait when we want to go back and get it. We can build what we need to build."
According to Gayda, there are stockpiles of thousands of cubic meters of snow being kept frozen in mounds for just such an occurrence. The snow was produced in December when temperatures were low enough to make artificial snow, something that would be impossible in current temperatures.
"Come Games time if we get large amounts of natural snow, we actually pull that off the course because we want to get down to the hard base of the artificial snow," Gayda was quoted in the report. "Artificial snow is our friend in ski racing."
Gayda said additional snow could be brought from nearby Black Mountain and Mount Strachan, should the warm weather continue.
Gayda admitted that the International Ski Federation (FIS) could postpone some snow events if rainy weather lead to safety concerns, but he is confident no event would be outright canceled due to poor weather. "We have 17 days to get every race off and every Games has been able to do it," he said.
Image by Vanoc