November 29, 2009
/
Northug wins, Freeman fourth in Kuusamo 15k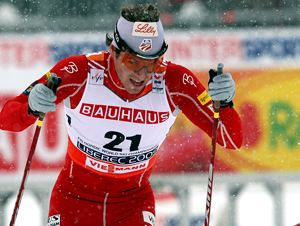 Norway's Petter Northug roared from more than eight seconds back over the final two kilometers of a 15k-classic World Cup at Kuusamo, Finland Sunday (Nov. 29) to snatch a victory away from Russian Maxim Vylegzhanin and take early command of the World Cup cross country standings.
American Kris Freeman was a career best fourth on the day behind another Russian, Alexander Legkov to bolster U.S. rankings as he moved into the top 10 in the standings.
Freeman said and he was just ticked it wasn't at least one placing better, but said, " … whenever you ski your best race, it's a good feeling. Overall it really was what I had hoped to do today, except I would have liked to have been 10 second faster and have won."
The result was the best in a non-sprint World Cup for a U.S. skier since 1983 when Tim Caldwell notched second on American soil.
"He (Freeman) finished really strong," said head coach Peter Vordenberg, "and that's been a huge focus for us to have them finish the last five K strong. Regardless of his placce, just the fact that he finished so strong I would have been happy with."
Freeman agreed after saying he had been able to pass competitors over the last portion of the race. "This is exactly what I have been working on doing."
In the women's 10k-c Finn Aino-Kaisa Saarinen cruised to the lead and easily held off contenders as Irina Khazova of Russia was second and Norwegian Vibeke Skofterud third. Kikkan Randall led the North American forces in 18th.
Saarinen takes over the lead in the women's standings 179-158 over Poland's Justyna Kowalczyk, winner of the Kuusamo sprint Saturday.
Kris Freeman, shown earlier this season, had best U.S. result in 25 years. GEPA photo