January 1, 2010
/
Northug, Majdic win Tour de Ski prologue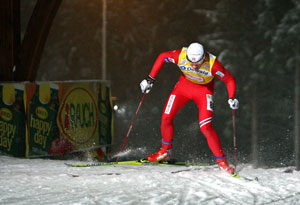 Norway's Petter Northug and Slovenia's Petra Majdic won the prologue of the fourth edition of the Viessmann FIS Tour de Ski today (Jan. 1) in Oberhof, Germany.
Three-time world champion Northug, who is currently leading the World Cup overall standings, led all men skiers, finishing the 3.7 km freestyle course with a time of 7:34.4. Swede Marcus Hellner claimed second with a time of 7:38.2, followed by last year's tour winner, German Axel Teichmann in third (7:39.4).
Canadian George Grey led the North American men in 17th place, followed by teammate Alex Harvey in 18th. Andrew Newell was the lone American finishing 48th.
Majdic finished the 2.8 km course with a time of 6:35.3. Russian skier Natalia Korosteleva finished second, 2.1 seconds behind Majdic. Poland's Justyna Kowalczyk finished third 6.3 seconds off the winning pace. Italy's Arianna Follis was just off the podium in fourth.
Canadian skier Sara Renner finished 27th. No American women competed today.
The Tour de Ski is an eight-stages event that crosses three countries over ten days. The overall winner gets 400 World Cup points and 150,000 Swiss francs (147,000 dollars). Competition continues tomorrow in Oberhof with a men's 15km race and a women's 10km race.
Image by Gepa
Men's Results
Women's Results