September 24, 2013
/
North American men rack up results in El Colorado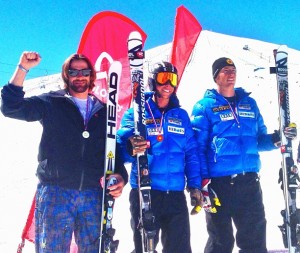 An assortment of North American men put a noticeable dent in a pair of FIS giant slalom races hosted at El Colorado, Chile on Sunday (Sep. 22). After two straight days of snowfall, Canadian development team athlete Morgan Megarry, who skied last season for the University of Vermont, picked up a 13-point result in his victory ahead of teammate William St-Germain of Quebec in the first of two races. In the second race, Megarry found the podium once again, this time in second place behind Ontario Ski Team's David Donaldson, the former ace from Middlebury College who secured a World Cup giant slalom spot for this winter after finishing second in the NorAm standings last season.
"After three weeks of intense, high quality training here in La Parva and El Colorado, it was great to see the hard work pay off with two podium finishes on Sunday," said Megarry. "At this point in the season I try not to focus too heavily on points and results; however, it's certainly encouraging to put down two career scores as we approach the Colorado NorAms."
American sweetheart Warner Nickerson rounded out the podium in third during the first race, and the U.S. Ski Team's Rob Cone, also formerly of Middlebury, landed in third during the second race of the day.
"There was a great surface under the new snow which made for surprisingly good conditions," remarked Nickerson, who also noted that athletes and organizers took numerous slip runs in order to pull off the races on schedule that were originally questionable given the weather. "This camp is all about training, so adding a couple starts in one day was just a fun way to break it up," Nickerson continued. "I am finding good speed here and there in my skiing and just need to tie it together. As for Morgan, he is skiing really well right now. He does such a good job keeping his skis grounded."
Donaldson was charging hard and clearly demonstrated his intentions for victory after faltering in the first run of the first race on Sunday. He fought back to tie with Megarry for the fastest second run despite ultimately finishing more than 10 seconds out in 41st position. "Donnie," as he is affectionately known on the circuit, dropped the hammer in the second race and claimed the fastest time on both runs for a conclusive win. His 9-point result will be handsomely added to the 6-point race he scored at the Nakiska NorAm last March.
Photo: Podium shot from the first race with Nickerson (left), Megarry (center), and St-Germain (right). Credit: Warner Nickerson (Instagram)