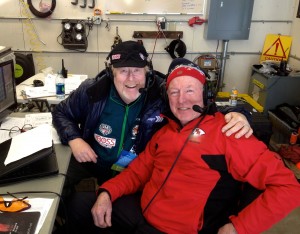 The Eagle's flight is over. American nordic icon Mike Gallagher has died, ironically, on the very day of his 72nd birthday, Oct. 3.
A fierce competitor in the '60s and a successful coach, Gallagher was also a highly skill bicycle racer. He served as Nordic director at Mountain Top Inn and taught skiing at Mountain Meadows. It is not an exaggeration to say that if you nordic ski raced in the U.S., you likely passed through his sphere of influence, as Gallagher was mentor to hundreds. A visionary of the sport, he was a big proponent of skate skiing.
Gallagher raced in three Olympics, three World Championships, and won nine U.S, championship titles. His license plate read: "XC1." He was head coach of the U.S. cross country team from 1980-86, a highlight era in American sport if ever there was one. Bill Koch won the first World Cup title during that stretch.
Gallagher's early exposure to the sport came before he graduated from high school in Rutland, Vt., when he attended a national training camp run by John Caldwell. There was no snow, so the team was running. "I'm looking over my back the whole time at these guys who are training for the Olympics," he told Alex Matthews a few years ago, "They can't keep up. I said, 'Whoa, this looks like the doors are open'."
Shortly thereafter, when it was obvious the U.S. training methods were not preparing racers for skiing, Gallagher visited Norway, discovered roller skis and began importing all manner of nordic gear.
Gallagher is survived by his wife, Tyna, and sons, Jessie and Sean. A Celebration of Life will be held at the family's homestead in Pittsfield, Vt., on Sunday, Nov. 3, 2013 at 12 p.m. Memorial contributions may be made to: Rutland Public School Scholarship Fund, Ref: Michael Gallagher, 6 Church Street, Rutland, VT 05701.
This article was updated on Oct. 9 to include information about services.
Photo: Gallagher provides commentary on the 2013 NCAA championships alongside Peter Graves