January 16, 2011
/
Nordic Combined: Moan earns his first season win in Seefeld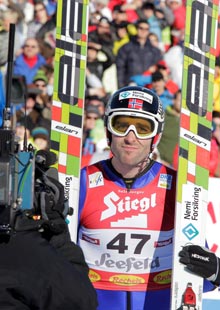 Norway's Manguns Moan fought back after standing in 24th on the jumping hill to win a World Cup nordic combined competition today (Jan. 16) in Seefeld, Austria.
Moan had to start the cross country portion of today's competition one minute after top jumper and yesterday's winner Jason Lamy Chappuis of France. The duo swapped place on the podium today as Moan, who finished second yesterday, stepped up to his first World Cup victory of the season and the 18th of his career.
"Today, my strategy was to catch Jason Lamy Chappuis as soon as posible and to look what would happen on the last meters. When I broke away, Jason wasn't able to follow, today, I was stronger," said Moan. "I'm very happy about these results, they show that I'm on the right track again," said Moan. "I had a very difficult start in this 2010/11 season, but now I'm confident in view of the World Championships in Oslo."
Third went to Austria's David Kreiner, who, after jumping into 22nd place, recorded the fifth-fastest 10K.
Taylor Flecher led the American men today in 29h place after jumping to 32nd and skiing to 24th. Teammates Johnny Spillane and Bryan Fletcher followed in 35th and 36th, respectively.
Lamy Chappuis remains in control of the overall lead with a 639-469 advantage on Norway's Mikko Kokslien who finished 12th today with the fastest cross country time.
"It looks like I could win the overall in Chaux-Neuve, we'll see," said Lamy Chappuis. "There is still a lot of work to do."
Image by Gepa
Rank
Bib
FIS Code
Name
Year
Nation
Result
1
24
973
MOAN Magnus-H.
1983
NOR
24:36.8
2
1
610
LAMY CHAPPUIS Jason
1986
FRA
24:38.4
3
22
137
KREINER David
1981
AUT
24:39.4
4
8
1464
RUNGGALDIER Lukas
1987
ITA
24:40.5
5
10
351
EDELMANN Tino
1985
GER
24:40.6
6
13
1050
FRENZEL Eric
1988
GER
24:40.8
7
7
590
RYDZEK Johannes
1991
GER
24:49.7
8
11
459
LACROIX Sebastien
1983
FRA
24:57.2
9
12
591
KAMMERLANDER Tobias
1986
AUT
25:03.3
10
16
1650
SCHMID Jan
1983
NOR
25:03.5
11
41
35
GOTTWALD Felix
1976
AUT
25:06.2
12
46
1149
KOKSLIEN Mikko
1985
NOR
25:08.0
13
39
592
KLAPFER Lukas
1985
AUT
25:09.1
14
30
1136
WATABE Akito
1988
JPN
25:12.3
15
19
214
DENIFL Wilhelm
1980
AUT
25:15.8
16
20
419
KLEMETSEN Haavard
1979
NOR
25:18.4
17
3
609
LAHEURTE Maxime
1985
FRA
25:22.4
18
33
257
KIRCHEISEN Bjoern
1983
GER
25:25.6
19
34
203
HEER Ronny
1981
SUI
25:26.2
20
6
727
KATO Taihei
1984
JPN
25:27.0
21
17
606
BRAUD Francois
1986
FRA
25:27.3
22
9
1669
STORLIEN Gudmund
1990
NOR
25:36.8
23
45
768
MINATO Yusuke
1985
JPN
25:42.9
24
52
1029
PITTIN Alessandro
1990
ITA
25:46.3
25
27
347
BEETZ Christian
1984
GER
25:46.4
26
37
349
HURSCHLER Seppi
1983
SUI
25:46.6
27
38
715
ORANIC Mitja
1986
SLO
25:51.4
28
4
683
RIAN Espen
1981
NOR
25:53.4
29
32
1439
FLETCHER Taylor
1990
USA
25:55.3
30
2
111
BIELER Christoph
1977
AUT
25:58.8
31
29
252
GRUBER Bernhard
1982
AUT
25:59.1
32
31
1003
DVORAK Miroslav
1987
CZE
26:03.4
33
14
1296
BOESL Wolfgang
1989
GER
26:06.5
34
47
643
MICHIELLI Giuseppe
1985
ITA
26:11.2
35
48
247
SPILLANE Johnny
1980
USA
26:15.0
36
43
1067
FLETCHER Bryan
1986
USA
26:18.8
37
21
216
TAKAHASHI Daito
1980
JPN
26:21.6
38
49
100002
GRAABAK Joergen
1991
NOR
26:22.6
39
50
1015
PICHLMAYER Marco
1987
AUT
26:22.9
40
44
294
GUENTER Andreas
1988
GER
26:29.1
41
54
594
KREINER Benjamin
1985
AUT
26:36.0
42
18
1418
BERLOT Gasper
1990
SLO
26:41.0
43
53
1410
BAUER Armin
1990
ITA
26:42.6
44
40
623
HUG Tim
1987
SUI
26:43.9
45
42
416
SLAVIK Tomas
1981
CZE
26:55.9
46
35
1528
LAFARGE Geoffrey
1989
FRA
27:01.7
47
15
960
MASLENNIKOV Sergej
1982
RUS
27:07.0
48
25
1689
NABEEV Niyaz
1989
RUS
28:24.1
49
36
1444
SCHMID Tommy
1988
SUI
29:05.9
Did not start
55
1192
DRUML Tomaz
1988
AUT
51
205
KOBAYASHI Norihito
1982
JPN
28
1059
REUSCHEL Sebastian
1988
GER
26
27
LODWICK Todd
1976
USA
23
215
CHURAVY Pavel
1977
CZE
10
1168
KARJALAINEN Joni
1987
FIN
5
1152
RYYNAENEN Janne
1988
FIN