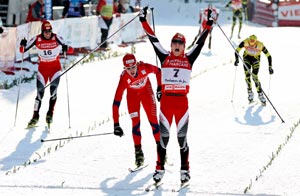 Austrian nordic combined skier David Kreiner became the 55th man to win a World Cup contest with his carer first victory in Chaux-Neuve, France today (Jan.22).
After starting in more than 140 World Cup events, Kreiner (29) grabbed the top of the podium today with the 7th best jump and fifth-fastest cross country time to edge Norway's Mikko Kokslien in second and Austrain teammate Felix Gottwald in third. Kokslien had the day's fastest cross country time (21:01.8) on the 10 k track.
Overall World Cup leader, Jason Lamy Chappuis of France just missed the podium in fourth after leading the way in the jumping portion with a 113.5-meter leap.
"This is a very special day for me, and a really great moment. The first World Cup victory is always something important," said Kreiner who had collected four World Cup podiums before today. "Thanks to the great crowd here in Chaux-Neuve, they cheered for everybody and were really fair."

The American men were again led by Bryan Fletcher who turned in yet another strong performance, moving up from 25th in the jump to finish 21st overall
The race also marked the return to action of Olympic champion Billy Demong following the birth of his baby boy Liam a week ago. Demong struggled in the jump, finishing 49th, but blistered the cross country with the third fastest time to finish 22nd. It was Fletcher's sixth time in the points this year.
"Bryan is solid and it was tight today," said U.S. nordic combined head coach Dave Jarrett. "He jumped solidly and had four and a half out of five good laps and almost managed to stay in the top 20, which was the goal for the day. A few more meters on his jump and he could be challenging for the top 10."
While Demong's jump was off pace, he picked up great confidence in cross country.
"Bill had quite a bit more presence in the race and looked more and more like his normal self," said Jarrett. "Today will make him feel better and more confident for tomorrow. At least on the cross country side he's more like normal. That could take the pressure off on the jump."
It was Johnny Spillane's (31st overall) third event back from a knee injury and he, too, saw great strength in his cross country with the 13th fastest time. "Every race for Johnny is getting stronger and stronger," added Jarrett. "Johnny is good enough in cross country and if he jumps well he can hold his own. He hasn't been jumping that much since the comeback. He needs more consistent jumps to get into a rhythm and to feel confident."
Action continues in Chaux-Neuve Sunday with another large hill event before the World Cup takes a long break for the World Championships which start in a month. The U.S. team will be named this week.