December 18, 2010
/
Nordic Combined-Austria's Stecher wins Ramsau World Cup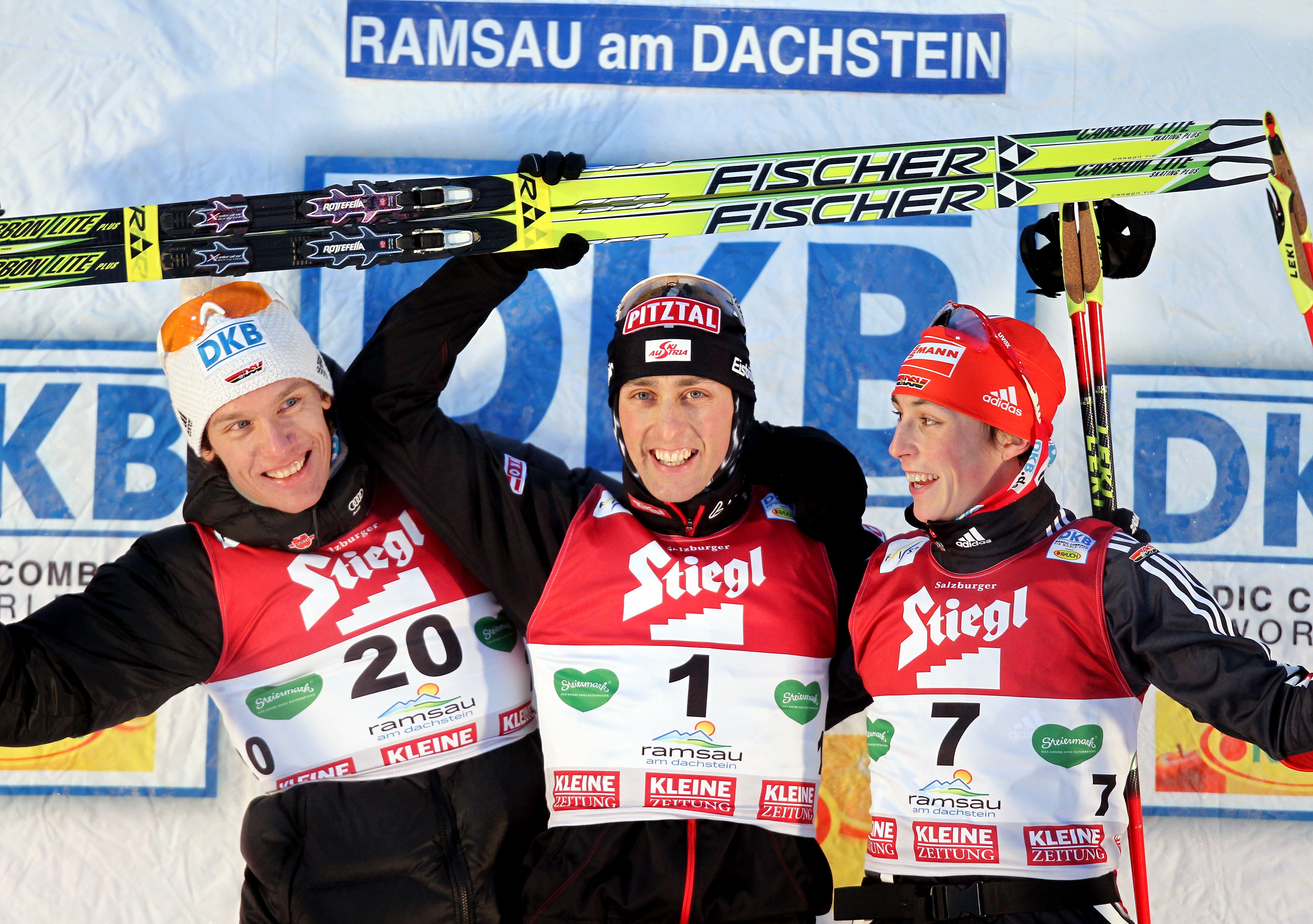 Olympic Champ Mario Stetcher (AUT) celebrated his eleventh World Cup Victory in the DKB FIS Nordic Combined World Cup in Ramsau today (Dec.18). Bjoern Kircheisen of Austria took second and Joahnnes Rydzek saw his first podium finish in third. American Todd Lodwick returned to World Cup with success after spending the fall at home, finishing in fourth, with World Cup leader Jason Lamy Chappuis (FRA) in fifth.
In the jumping portion, Norway's Espen Rian took the lead with a jump of 94.5 meters (111.2 points). Johannes Rydzek soared to an equal length, but was penalized by the wind compensation system and was awarded 108.9 points. Bjoem Kircheisen was in third with 95.5 m and 1907.2 points.
During the cross-country race, Rian was easily caught by Stecher, Kircheisen, Rydzek, Lodwick and Lamy Chappuis. The five athletes worked together to hold off racers on their heels and finished in the lead. "We worked very well together on the track, and I was able to match Mario's speed when he tried to go way. I'm happy whith what I've achieved today," said Kircheisen
The fastest athletes on the track, Mikko Kokslien finished in 24:53.5 minutes and improved from rank 24 to finish 6th.
"The race was tough and interesting, I tried to break away and I knew that I had a 50-50 chance to win against Kircheisen. I did, and I'm happy. This victory means a lot to me," said Stetcher.
American Bryan Fletcher joined Lodwick in the points again this week finishing 23rd.
In the overall World Cup standings, Jason Lamy Chappuis leads with 385 points; Mikko Kokslien is second (329), Mario Stecher third (286).
Nordic combined will continue in Ramsau with another World Cup race tomorrow (Dec.19).