September 30, 2010
/
NCAA Ski Racing Facing New Highs and Lows
The NCAA Division I ski racing circuit has evolved dramatically over the last ten to fifteen years. The level of competition is now so high that the few respective team spots, roughly six to eight on each of the twenty Division I programs, are highly sought after. With only a few scholarships available on each team and the more and more recruiting being done over seas, ski racers from around the world are charging harder than ever to grab one of those limited spots.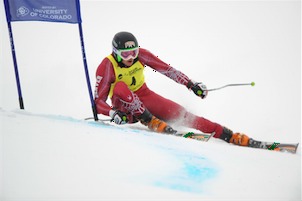 The NCAA skiing circuit is a great way to get an education, still race at a high-level, and potentially earn a National Team nomination. With penalties last season regularly in the mid-teens and an NCAA athlete (Norwegian Leif Kristian Haugen from the University of Denver) qualifying for the 2010 Olympic Games in Vancouver, going to school and racing NCAA has turned into a great option without shutting the door on dreams of making the World Cup.
It is not uncommon to see athletes qualify for the U.S. Ski Team out of college. Paul McDonald, Jimmy Cochran, David Chodounsky and Leanne Smith are some of the recent athletes to make the jump from NCAA to the World Cup. Some athletes are even foregoing their nomination to the U.S. Ski Team in order to race for a college team and start their college education.
In order to compete at this level, athletes feel they need to train all year round and put in the time off-season. Many top NCAA athletes traveled to New Zealand this summer for winter-conditions training and to compete in some low-penalty races to get ready for the upcoming NCAA season. Most of the top NCAA athletes train at least 20-25 days in the summertime, forcing others to match the commitment level.
But what's really interesting about the current state in NCAA racing is, as we all watch the level of competition rising, the support for the sport seems to be falling. The current recession has forced budget cuts within most schools and critical fundraising has fallen to record lows due to the personal woes of would be donors. It is ironic to see that just as the college circuit is beginning to thrive competitively, we may see teams follow suit, and begin disbanding, leaving the most talent compiled on the NCAA tour with no home.
The University of Nevada Reno is just one example of a top-level team that was dropped at the end of last season due to funding.
It will be interesting to see what the NCAA season holds for the teams still involved. Heavy recruiting and relentless training over the summer has kept teams busy preparing to put their best team forth, come the first of the year.
The first RMISA university race will be held in Park City, Utah on January 8, 2011. The first EISA university race is the St. Lawrence Carnival on January 14, 2011. Watch for coverage at Skiracing.com
— Claire Abbe
Image: A.J. Avrin helping the University of Denver Pioneers win their 21st National Championship