October 25, 2013
/
Men's race preview: No sure thing in Soelden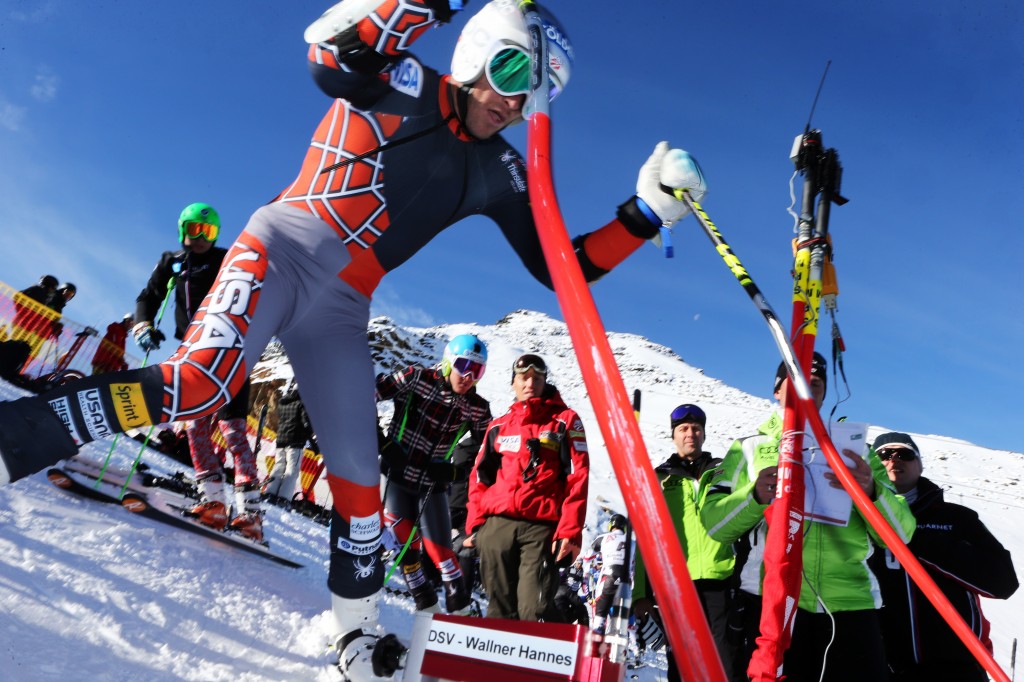 There's no shortage of confidence for the U.S. men's team heading into the opening World Cup contest of the season, the annual glacier race high above Soelden, Austria.
"I think it's going to be a big day for America," says coach Adam Cole.
It was a big day for America at last season's race simply because of Ted Ligety's amazing margin of victory that hadn't been seen in 30 years. The only other scoring result from an American that day was a 19th-place finish from Tim Jitloff. After training alongside Jitloff, Warner Nickerson expects him to make the top 10 this season.
The Americans send six men to the start: Ligety, Jitloff, Tommy Biesemeyer, Robby Kelley and Kieffer Christianson. Also racing in his return to the White Circus after a year off to let his surgically repaired knee heal will be Bode Miller.
Miller has been screamingly fast in training, which is certainly a good sign, but won't mean anything until race day has come and gone. But he seems more relaxed, his tone more even and there is no doubt he is fired up to race again. Sitting on the sidelines last season seemed abnormally long to him.
"I feel old and nervous and tired, same as I always do when I come to Soelden," he said in an interview with his headgear sponsor.
At 36, he has earned the "old" status with 408 World Cup starts (including a record 136 consecutive races), but this is a man who hates not being in shape and who has a higher standard of what being in shape means than most. A master of unusual training techniques and concepts, he spent his summer jumping over badminton nets which are traditionally five feet high in the center of the court.
He says he's ready.
"My fitness is good. I wish I had more time, but that's the way it always is," Miller acknowledged.
His wife—volleyball competitor Morgan (Beck)—says she has never seen him as "fired up" as he has been leading into this race.
"I've been training with Ted and he's the fastest in the world," noted Miller. "I have good days. I definitely still feel competitive and I enjoy getting in shape. I just enjoy racing."
If Bode is pushing Ted in training, the U.S. has two skiers who can finish among the very best. With another making the top 10 as Nickerson suggests, it could, indeed, be a very good day for the Americans.
But there are concerns. Bode is coming off a devastating injury after all, and we can't expect that no one has made pace this summer in catching up to Ted.
"My knee is a little bit puffy right now," says Miller. Still, he adds, "It's better than it's been since 2001."
The decision to sit out the entire 2013 season was, he thinks, the right choice. "That took a lot of pressure off and let me take at look at the overall picture."
Miller suggests he is sporting a positive attitude despite not having a great past relationship with Soelden's race hill.
"Even when I was at my best I was always scared of this race a little bit. This hill is going to work you over pretty good."
Cole believes as long as Miller's setup is working in the conditions, "He'll be really fun to watch." That's a statement that has always rung true.
Ligety said his preparation has been "okay," adding, "It wasn't the most awesome summer of preparation in the world, but I'm feeling okay."
All reports from training camps indicate he is skiing giant slalom as well as he ever has.
There has been more snow ahead of the race than at anytime in the past decade at Soelden. The hill was injected mid-week, but warm weather is expected over the weekend which could make for a soft surface, the most difficult conditions possible for controlling the current incarnation of GS skis. Ligety, the defending GS title winner and Soelden champion, obviously mastered the new skis last season.
Miller downplays the issue of playing catch up, noting he is old enough to have raced on straighter skis as a youngster, an opportunity many of today's World Cup skiers never had.
The other factor is weather. Although there are no forecasts for significant weather, the mountains around the glacier have been known to create difficult conditions.
"Last year (for me) it was sunny in the first run. In the second run I had visibility of half a gate," recalled Jitloff. As for this season, "They tried to put a little water in it. Sometimes it works, sometime it doesn't. The hill is very challenging regardless of the weather."
Tommy Biesemeyer will have to work his way through the main pack if he hopes to score. With no GS scoring results to his name, he starts with a late number. Although Biesemeyer finished inside the top 15 in the 2009 Junior World Championships, he has focused on super G and downhill in recent years.
Robby Kelley gets his second start at Soelden. An ankle injury has slowed his training progress, but he's more or less healthy now and notes he has had some decent training in the Soelden Ice Box.
It will be the first World Cup start for Alaskan native Kieffer Christianson who said his strategy is as simple as possible, "Go as hard as I can." Christianson will be joined in his White Circus debut by Canadian David Donaldson, who last year skied for Middlebury College before placing second in the NorAm giant slalom standings and punching his ticket to the World Cup.
The North American contingent will be rounded out by Canadians Phil Brown, Dustin Cook, and Erik Read (the son of Crazy Canucks legend Ken Read). Of the bunch, only Dustin Cook has scored World Cup GS points, which he did so last year in Soelden by placing 22nd.
Austria's Marcel Hirscher, the runner up to Ligety in the GS standings last season and the GS champion in 2012, says he is ready, has been training well and is looking forward to the competition. "My setup is ideally suited for the current conditions at Soelden," he said several days ago from his training site on the Molltaler glacier.
Last season's runner up at Soelden, Manfred Moelgg, is battling back pain; although entered to start, he will have to make a decision on race morning if he will actually take the start or not.
Alexis Pinturault of France, the only man aside from Hirscher and Ligety to win a World Cup GS race last season, is another athlete with podium potential. His offseason was busy as he focused on building strength, not unusual considering the rising star is just 22 years old.
Photo: Bode Miller training in Soelden this week (credit: GEPA/Andreas Pranter)