April 5, 2011
/
McThoughts: Dealing with the Pale Blue Dot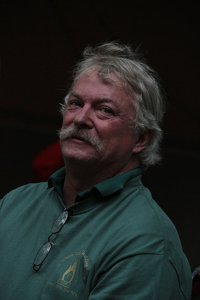 This pale blue dot is a water planet. We are water people, know it or not.
If our sport isn't the single best way to experience all our planet has to offer, puzzle me this: Is there another activity mankind can engage in that takes place not just on the surface of the earth, but on a shell covering of the very heart of life – water – in a state somewhere between its solid and liquid form and delivered to the site of engagement by its vapor state. That's maybe too deep for a ski column, but I constantly marvel at the variables in ski racing.
It's been a good snow year across the U.S. It's April and there is good snow cover in every ski region. Economically, emotionally, that has to be a good thing. There are ski areas extending their seasons, and those that aren't have die-hards skinning up to get a few more sets of tracks.
Some skinners are getting turned away. Did anybody else see the piece on the 78 year old man getting arrested (and sledded off the mountain in handcuffs) for skiing up hill at Jackson Hole?
No doubt there is a lot more than meets the eye to this story. This gentleman, Roland Fleck, is well known around town. He is one of the original investors of Teton Village, is a retired local doctor and his lawyer is his son. Fleck said he was skinning up the hill to watch his granddaughter race. The ski patrol, enforcing Wyoming state law, spent three and a half hours trying to get him to turn around before cuffing him and calling for the toboggan. No charges were placed.
My vote for U.S. Ski coach of the year goes to Forest Carey.
The men's Europa Cup squad had solid across the board success. We've all heard about Nolan Kasper, but seven guys tallied top five finishes along the way, the majority in technical events. Will Brandenburg posted a fifth at Pozza d Fasso in slalom. Will Gregorak took a second in slalom at Obereggen. Tim Jitloff got a fourth in GS at Kirchberg. David Chodounsky was fifth in slalom twice, one at Kranjska Gora and again in Obereggen. Eric Fisher won a downhill at Sarntal and Tommy Ford a GS at Meribel to complement a fourth in GS at Zuos.
Kasper was the EC star though with five podium placings, a slalom win at Zuos and the Europa Cup slalom title.
Great work men with so little recognition. Kudos coach for building and maintaining motivation.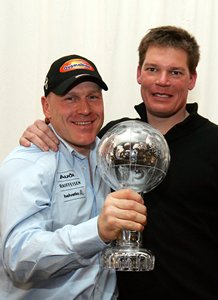 Speaking of due recognition, it was great to see Didier Cuche posting a public thank you to his Head tech rep Chris Krause after the last of the World Cup races. Cuche is class act.
Cuche, by the way, gets a vote for best run of the year – when it counts – for his "Man among men" performance in the Kitzbuehel downhill. The Hahnenkamm is special, the Streif is special. So is Cuche.
By the way Bode Miller was second in that race. It's his second trip as bridesmaid down the notorious Streif. He had some interesting things to say about the evolution of downhill and the lack of risk management inherent in today's ski racers. We'll talk about that down the page a ways.
Flurry of the Year… I'm thinking Ivica Kostelic with seven World Cup wins in the month of January. That's the time of year the World Cup is won or lost; not at finals, at least on the men's side.
Those screaming about the unfair policy of not having an extra "make-up" day at World Cup Finals should rethink. The FIS is too bound up in politics as it is. This (no make-up) policy is insurance against a political decision effecting a title outcome. Say two races need to be rescheduled, and remember there were three canceled at finals this season. Which race gets made up? More importantly, who makes that decision? And what kind of pressure could be applied to influence that decision? Be careful what you wish for.
By the way, if you don't think Ted Ligety is the best GS skier in the world, consider what Miller had to say in a little USST presser in Garmisch: "This is the first year I was shown how to ski by somebody on the team. Ted was bringing so much intensity to GS. He was skiing a different kind of a race than the rest of us were. It was an eye opener. It was a pleasure to watch and it got me fired up."
Bode always has interesting stuff to say. He talked openly about manipulating his SG start numbers before the Olympics and about the length of the World Cup schedule.
Is there a brighter light on the horizon than Mikaela Shiffrin? I think not. I'm hoping Mama Schleper and Resi Stiegler stick around long enough to show the youngster where the ropes are hidden around the World Cup circuit.
On the other end of the age spectrum, it's sad to see Spain's Maria Jose Rienda Contreras, France's Ingrid Jacquemod and Austria's Michael Walchhofer fold up the tents. It was nice, however, to see Walchhofer going out fighting. Thanks all of you for many great years of quality ski racing.
Seen Joe-Jay's The Thin Line? Outstanding footage nicely tied together. It is no coincident there is a focus on Kitzbuehel in this presentation of racers skiing at, and slightly over, "the edge." This is what Bode was talking about.
"I've watched old races," says Miller, "where there were just hay bales along the side and trees and picket fences and trees. You see the athletes are forced to make tactical decisions and risk management decisions that are critical to their life. … to their safety and they make those choices consciously and they decide what they are willing to risk and not to risk and what their ability will allow them to do and what their ability won't let them do. And all those decisions have real consequences; Right then in real life. It's one of the things that made ski racing and downhill so great in the past. The decision for risk management doesn't come down to the athlete anymore."
Because in this day and age safety is a major concern of those who oversee the sport. Lose a couple of top racers a season – as is the norm – and before too long there's nobody left and you ain't got a sport.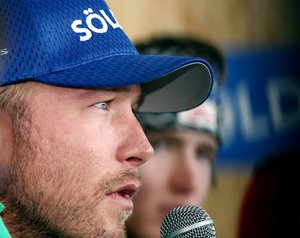 Bode maintains there is a place for that level of danger, but says mixing and matching uber safe courses and races like Kitzbuehel's Hahnenkamm downhill makes it difficult on racers, particularly young ones. "(Athletes) are use to being able to go out of the start gate and go 110 percent, go absolutely full throttle the whole way and hopefully make it work, but if it doesn't work … they are use to having the nets being very forgiving and having all the protection they need everywhere."
Then, after a series of all-out to the wall races they come into Kitzbuehel. "I think," Bode continued, "when you come up against a hill like this … where you are use to doing that where if you crash you just slide over and bump into the fence. This course chews you up real bad if you make bad choices."
Remember the Streif was an original World Cup stop. The course was grand-fathered. To their credit The Kitzbueheler Ski Club has made safety concessions. Many of them. But in Kitzbuehel they understand that our sport is conducted out there on the very perimeter of our existence, and making nature play by any man-made rules isn't going to happen.
Safe speed my friends. – Hank McKee