October 24, 2013
/
McKennis returns to snow, eyes Olympic berth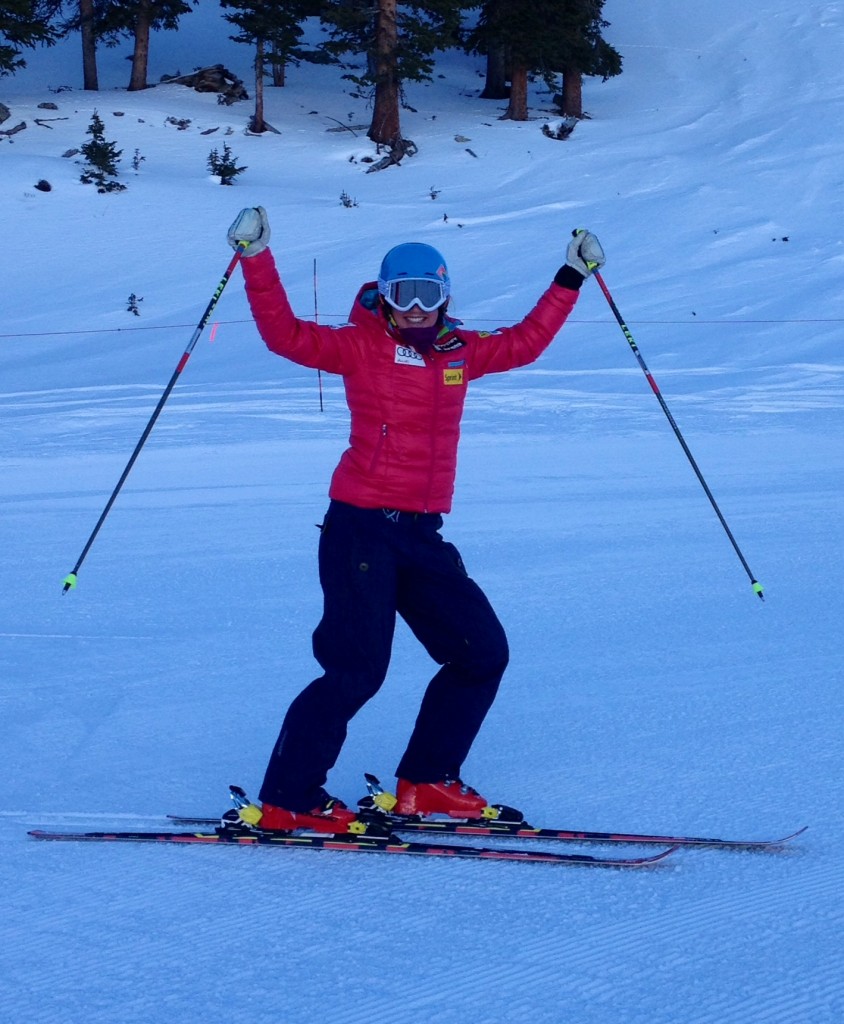 There's plenty of good news to go around for the U.S. women's alpine ski team, and not all of it is coming out of Soelden.
After a summer of rehabbing, last season's St. Anton champ Alice McKennis got back on snow a few weeks earlier than expected Wednesday. The 24-year-old, who fractured her tibia and shattered the tibial plateau at the Garmisch-Partenkirchen World Cup in March, took five runs at Colorado's Loveland Ski Area.
"Initially, right after the injury and after surgery, we were thinking November would be the timeline (to get back on snow), but I was able to make things happen sooner. That's always good," McKennis told Ski Racing on Wednesday. "My injury has healed really well. I couldn't have healed any better, so that really helps. This summer, I really stuck to the gym and single track. I didn't do much else but try to get in shape."
McKennis' surgery was performed by the women's alpine team physician, Dr. Bill Sterett of Vail-Summit Orthopedics, who gave the speed teamer the green light to return to snow. (Sterett also performed the surgery on Lindsey Vonn earlier this year.)
McKennis said she skied without pain and swelling: "It felt really good. I was a little nervous and uncertain how it was going to react. You can train all summer in the gym, but it's not that same as skiing. It was a really good feeling to get out there and make some turns and know that the plates and the screws and everything aren't going to really cause me any pain."
McKennis, like any U.S. athlete returning from injury, had to complete a series of tests and reach a certain level of strength before being cleared for skiing.
"The first couple runs, I took it pretty easy, skidded some turns and did a few drills," said McKennis. "The last couple runs I kind of let it rip, doing GS turns, linking them up top to bottom."
McKennis has said all along that her goals for the season haven't changed: qualify for the Olympic team, race a good race and hopefully capture a medal.
"I'm just going to be taking it one day at a time and see where I'm at," she said. "I don't know if Beaver Creek (on Nov. 29) will happen yet or if it will be Lake Louise (Dec. 6) or of it will be Val d'Isere (Dec. 14). I just had my first day on snow and I still have a lot of hurdles to overcome, so we'll just see how it goes."
McKennis expects to continue her training at Loveland for the next week or so. She's hoping to get back on speed skis at Copper Mountain not long after the team arrives in Colorado on Oct. 31 for its November camp at the Speed Center.
Photos: McKennis in last season's World Championships in Schladming (credit: GEPA/Mario Kneisl) and her return to snow at Loveland Ski Area.