January 3, 2010
/
McJames goes back-to-back in Nor Ams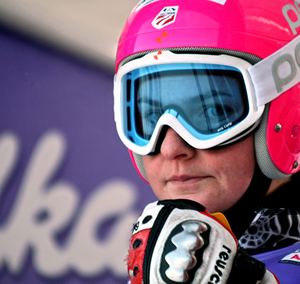 Megan McJames went back to back winning her second straight Nor-Am slalom at Quebec's Val St-Com Sunday (Jan. 3). Canadian Eve Routhier followed up a third place Saturday finish with a second Sunday with Oregon's Laurenne Ross taking the third step on the podium.
Swede Malin Hemminsson picked up fourth with a slew of Canadians taking the next five positions. Erin Mielzynski challenged McJames in the Saturday race but dropped to sixth Sunday.
It was a hard fought win for McJames as she had to come from sixth after the first of two runs, sitting .44 of second behind first run winner Ross. Only Routhier could stay close to McJames' second run time, but found herself five-hundredths of a second shy of the win.
Place
Val
St Come (CAN)
Discipline
Slalom
Date
02.01.2010
Category
Nor-Am Cup
Race codex
5360
Gender
L
Valid for FIS Points
YES
TD Name
Van Slyke Paul (USA)
Rank
Bib
FIS Code
Name
Year
Nation
Run 1
Run 2
Total Time
FIS Points
1
19
538284
MCJAMES Megan
1987
USA
50.92
43.67
1:34.59
9.99
2
2
106961
MIELZYNSKI Erin
1990
CAN
50.26
44.35
1:34.61
10.12
3
4
105615
ROUTHIER Eve
1988
CAN
50.45
44.50
1:34.95
12.27
4
11
537768
HITCHCOCK Katie
1985
USA
52.07
43.11
1:35.18
13.73
5
5
505681
HEMMINGSSON Malin
1985
SWE
51.42
44.24
1:35.66
16.78
6
1
106668
RYLEY Megan
1986
CAN
52.16
43.76
1:35.92
18.43
7
17
538573
ROSS Laurenne
1988
USA
52.66
43.29
1:35.95
18.62
8
7
106183
TERWIEL Elli
1989
CAN
52.78
43.45
1:36.23
20.39
9
10
539109
DELANEY Devin
1991
USA
52.32
44.16
1:36.48
21.98
10
13
538496
GHENT Erika
1988
USA
52.69
43.82
1:36.51
22.17
11
3
105649
RYLEY Kate
1989
CAN
52.86
43.74
1:36.60
22.74
12
120
538470
CONE Lindsay
1988
USA
52.88
43.92
1:36.80
24.01
13
12
107044
IRWIN Madison
1991
CAN
52.86
44.22
1:37.08
25.78
14
15
539379
KISTLER Lizzie
1992
USA
52.88
44.44
1:37.32
27.31
15
34
106942
IRWIN Stephanie
1990
CAN
53.20
44.58
1:37.78
30.22
16
26
538270
JANOWIAK Lyndee
1987
USA
54.02
44.34
1:38.36
33.90
17
18
107000
WHITNEY Victoria
1990
CAN
53.14
45.74
1:38.88
37.20
18
33
106988
STEVENS Victoria
1990
CAN
54.02
44.94
1:38.96
37.71
19
44
539628
BYRNE Greta
1993
USA
54.47
44.52
1:38.99
37.90
20
23
538514
HARTMAN Katie
1988
USA
53.46
45.81
1:39.27
39.68
21
20
538258
HAMMOND Courtney
1987
USA
54.52
44.83
1:39.35
40.18
22
30
106964
MOREL Catherine
1990
CAN
54.71
44.97
1:39.68
42.28
23
46
539457
MARNO Anna
1992
USA
54.92
45.07
1:39.99
44.24
24
75
539909
MOLTZAN Paula
1994
USA
55.85
44.16
1:40.01
44.37
25
28
306493
KANEKO Misato
1988
JPN
55.21
45.04
1:40.25
45.89
26
43
107092
THERER Mariannick
1991
CAN
54.77
45.71
1:40.48
47.35
27
57
107312
ROTH Julia
1993
CAN
55.62
45.82
1:41.44
53.44
28
35
538524
KECHIAN Valerie
1988
USA
55.60
45.85
1:41.45
53.50
29
25
106965
MORIN-PERRIN Marilou
1990
CAN
54.81
46.86
1:41.67
54.90
30
37
539128
KANTOR Jenna
1991
USA
55.57
46.55
1:42.12
57.75
31
41
539660
KIKUT Sara
1993
USA
55.56
47.13
1:42.69
61.37
32
53
539404
SAMUELS Lauren
1992
USA
56.89
46.03
1:42.92
62.83
33
60
539363
GHENT Abby
1992
USA
56.88
46.05
1:42.93
62.89
34
78
538471
COOPER Kirsten
1988
USA
56.58
46.50
1:43.08
63.84
35
51
106968
NADLER Rebecca
1990
CAN
56.14
47.02
1:43.16
64.35
36
36
107075
RIOPELLE Marissa
1991
CAN
56.02
47.24
1:43.26
64.99
37
50
107024
CAMPBELL Shannon
1991
CAN
56.57
47.58
1:44.15
70.63
38
31
539254
ROWLAND Amelia
1991
USA
56.69
47.59
1:44.28
71.46
39
32
535416
FUCIGNA Erin
1989
USA
56.83
47.54
1:44.37
72.03
40
70
539656
IDE Maisie
1993
USA
56.29
48.10
1:44.39
72.15
41
61
539386
MAIER Jacqueline
1992
USA
57.12
47.31
1:44.43
72.41
42
79
107100
WILLIS Alecia
1991
CAN
56.65
47.96
1:44.61
73.55
43
74
107306
MICHALIK Victoria
1993
CAN
58.59
47.16
1:45.75
80.78
44
71
538975
WALES Brooke
1990
USA
55.70
50.14
1:45.84
81.35
45
69
107027
DAVIES Tess
1991
CAN
58.09
47.78
1:45.87
81.54
46
66
539661
KIKUT Anna
1993
USA
57.95
47.97
1:45.92
81.86
47
40
107185
VALLERAND Laurence
1992
CAN
58.29
48.50
1:46.79
87.38
48
73
107179
LESSARD Katherine
1992
CAN
1:00.00
49.25
1:49.25
102.98
49
45
538289
PARK Bryana
1987
USA
58.19
52.68
1:50.87
113.26
50
76
107323
TURCOTTE Marie-catherine
1993
CAN
1:00.51
50.55
1:51.06
114.46
Disqualified 1st run
64
105281
IRWIN Mackenzie
1989
CAN
Did not start 2nd run
81
107255
BALIT Roxanne
1993
CAN
80
539161
REDDEN Kelsey
1991
USA
63
539623
BROWN Makenzie
1993
USA
62
107077
ROZINOWICZ Laura
1991
CAN
55
107217
KNOWLES Natalie
1992
CAN
47
535352
BIEDERMANN Natalie
1989
USA
42
538948
SCHOZER Christine
1990
USA
Did not start 1st run
21
106825
PREFONTAINE Marie-Pier
1988
CAN
Did not finish 2nd run
119
539122
HALL Gabrielle
1991
USA
67
539096
BYERS Felicia
1991
USA
65
107192
FREEMAN Sarah
1992
CAN
54
107204
SAUNDERS Jennifer
1992
CAN
49
107046
KITCHEN Emma
1991
CAN
48
539347
BERTHER Vanessa
1992
USA
39
539119
FUCIGNA Abigail
1991
USA
22
538787
RENDALL Annie
1990
USA
14
538855
FORD Julia
1990
USA
9
425707
BRUSLETTO Anne Cecilie
1988
NOR
Did not finish 1st run
118
107178
LAMOUREUX Emilie
1992
CAN
77
107121
PAQUET Florence
1991
CAN
72
107163
RYTZ Celine
1992
CAN
68
107156
MCLEISH Madison
1992
CAN
56
107337
PAQUIN-RICARD Claudia
1993
CAN
52
538909
MCDONALD Amanda
1990
USA
38
107061
MONOD Tatum
1991
CAN
29
537993
CROW Kara
1986
USA
27
538323
JONES Hayley
1987
USA
16
535585
STAPLES Kiley
1989
USA
8
415128
JARVIS Sarah
1986
NZE
6
107068
PHELAN Brittany
1991
CAN
Place
Val
St Come, QC (CAN)
Discipline
Slalom
Date
03.01.2010
Category
Nor-Am Cup
Race codex
5361
Gender
L
Valid for FIS Points
YES
TD Name
Van Slyke Paul (USA)
Rank
Bib
FIS Code
Name
Year
Nation
Run 1
Run 2
Total Time
FIS Points
1
3
538284
MCJAMES Megan
1987
USA
43.94
47.20
1:31.14
9.30
2
5
105615
ROUTHIER Eve
1988
CAN
43.90
47.29
1:31.19
9.63
3
10
538573
ROSS Laurenne
1988
USA
43.50
48.15
1:31.65
12.66
4
2
505681
HEMMINGSSON Malin
1985
SWE
43.76
48.26
1:32.02
15.09
5
6
106183
TERWIEL Elli
1989
CAN
43.79
48.42
1:32.21
16.34
6
7
106961
MIELZYNSKI Erin
1990
CAN
44.59
47.81
1:32.40
17.59
7
16
107044
IRWIN Madison
1991
CAN
44.77
47.64
1:32.41
17.66
7
13
107068
PHELAN Brittany
1991
CAN
44.41
48.00
1:32.41
17.66
9
1
105649
RYLEY Kate
1989
CAN
43.74
48.90
1:32.64
19.17
10
14
537768
HITCHCOCK Katie
1985
USA
44.28
48.90
1:33.18
22.73
11
12
538496
GHENT Erika
1988
USA
45.13
48.34
1:33.47
24.64
12
8
539109
DELANEY Devin
1991
USA
46.13
47.69
1:33.82
26.94
13
34
106942
IRWIN Stephanie
1990
CAN
45.36
48.71
1:34.07
28.59
14
21
106825
PREFONTAINE Marie-Pier
1988
CAN
45.15
49.07
1:34.22
29.58
15
9
425707
BRUSLETTO Anne Cecilie
1988
NOR
45.47
48.77
1:34.24
29.71
16
27
538323
JONES Hayley
1987
USA
45.86
48.47
1:34.33
30.30
17
17
538855
FORD Julia
1990
USA
45.13
49.26
1:34.39
30.70
18
4
106668
RYLEY Megan
1986
CAN
45.78
48.65
1:34.43
30.96
19
18
535585
STAPLES Kiley
1989
USA
45.48
48.97
1:34.45
31.09
20
20
538258
HAMMOND Courtney
1987
USA
45.95
48.83
1:34.78
33.26
21
15
415128
JARVIS Sarah
1986
NZE
46.21
48.68
1:34.89
33.99
22
52
538909
MCDONALD Amanda
1990
USA
45.94
49.11
1:35.05
35.04
23
25
106965
MORIN-PERRIN Marilou
1990
CAN
46.33
48.82
1:35.15
35.70
24
28
306493
KANEKO Misato
1988
JPN
46.45
49.06
1:35.51
38.07
25
44
539628
BYRNE Greta
1993
USA
46.77
49.07
1:35.84
40.24
26
33
106988
STEVENS Victoria
1990
CAN
45.49
50.43
1:35.92
40.77
27
46
539457
MARNO Anna
1992
USA
46.76
49.47
1:36.23
42.81
28
71
538975
WALES Brooke
1990
USA
46.39
49.93
1:36.32
43.40
29
23
538514
HARTMAN Katie
1988
USA
45.96
50.68
1:36.64
45.51
30
41
539660
KIKUT Sara
1993
USA
46.60
50.32
1:36.92
47.35
31
43
107092
THERER Mariannick
1991
CAN
46.83
50.28
1:37.11
48.60
32
38
107061
MONOD Tatum
1991
CAN
47.08
50.85
1:37.93
54.00
33
67
539096
BYERS Felicia
1991
USA
48.09
50.19
1:38.28
56.30
34
51
106968
NADLER Rebecca
1990
CAN
46.99
51.62
1:38.61
58.48
35
70
539656
IDE Maisie
1993
USA
48.61
50.20
1:38.81
59.79
36
53
539404
SAMUELS Lauren
1992
USA
46.77
52.17
1:38.94
60.65
37
29
537993
CROW Kara
1986
USA
47.36
52.43
1:39.79
66.25
38
72
107163
RYTZ Celine
1992
CAN
48.11
51.70
1:39.81
66.38
39
69
107027
DAVIES Tess
1991
CAN
47.81
52.23
1:40.04
67.89
40
50
107024
CAMPBELL Shannon
1991
CAN
48.28
51.92
1:40.20
68.94
41
36
107075
RIOPELLE Marissa
1991
CAN
48.24
52.19
1:40.43
70.46
42
62
107077
ROZINOWICZ Laura
1991
CAN
49.32
51.52
1:40.84
73.16
43
78
538471
COOPER Kirsten
1988
USA
48.32
52.83
1:41.15
75.20
44
45
538289
PARK Bryana
1987
USA
48.55
52.77
1:41.32
76.32
45
61
539386
MAIER Jacqueline
1992
USA
48.90
52.63
1:41.53
77.70
46
49
107046
KITCHEN Emma
1991
CAN
48.74
53.54
1:42.28
82.64
47
75
539909
MOLTZAN Paula
1994
USA
47.34
56.09
1:43.43
90.21
48
66
539661
KIKUT Anna
1993
USA
48.34
1:12.61
2:00.95
205.55
Disqualified 2nd run
65
107192
FREEMAN Sarah
1992
CAN
64
105281
IRWIN Mackenzie
1989
CAN
42
538948
SCHOZER Christine
1990
USA
Disqualified 1st run
74
107306
MICHALIK Victoria
1993
CAN
Did not start 2nd run
119
539122
HALL Gabrielle
1991
USA
81
107255
BALIT Roxanne
1993
CAN
76
107323
TURCOTTE Marie-catherine
1993
CAN
73
107179
LESSARD Katherine
1992
CAN
22
538787
RENDALL Annie
1990
USA
Did not start 1st run
35
538524
KECHIAN Valerie
1988
USA
Did not finish 2nd run
68
107156
MCLEISH Madison
1992
CAN
60
539363
GHENT Abby
1992
USA
57
107312
ROTH Julia
1993
CAN
55
107217
KNOWLES Natalie
1992
CAN
48
539347
BERTHER Vanessa
1992
USA
40
107185
VALLERAND Laurence
1992
CAN
32
535416
FUCIGNA Erin
1989
USA
26
538270
JANOWIAK Lyndee
1987
USA
11
539379
KISTLER Lizzie
1992
USA
Did not finish 1st run
118
107178
LAMOUREUX Emilie
1992
CAN
80
539161
REDDEN Kelsey
1991
USA
79
107100
WILLIS Alecia
1991
CAN
77
107121
PAQUET Florence
1991
CAN
63
539623
BROWN Makenzie
1993
USA
56
107337
PAQUIN-RICARD Claudia
1993
CAN
54
107204
SAUNDERS Jennifer
1992
CAN
47
535352
BIEDERMANN Natalie
1989
USA
39
539119
FUCIGNA Abigail
1991
USA
37
539128
KANTOR Jenna
1991
USA
31
539254
ROWLAND Amelia
1991
USA
30
106964
MOREL Catherine
1990
CAN
24
538470
CONE Lindsay
1988
USA
19
107000
WHITNEY Victoria
1990
CAN