January 10, 2010
/
McIvor, Kuhn win ski cross World Cup in Les Contamines; Puckett fourth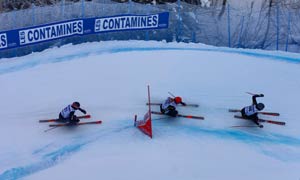 Canadian Ashleigh McIvor and Frenchman Xavier Kuhn won World Cup ski cross races today (Jan. 10) in Les Contamines, France. The event was originally scheduled for yesterday but thick fog forced officials to postpone the race until today.
Fellow Canadian Julia Murray, joined McIvor on the podium with a second-place finish. Austria's Karin Huttary (winner here in 2006) finished third, while six-time World Cup overall champion Ophelie David (three-time winner in Les Contamines) of France was last to cross the finish line in the final heat for a fourth-place finish.
"Yeah two Canadians," laughed McIvor after the race. "We did it last year, we had five Canadians on the podium, we pretty much swept it on the Olympic track so hopefully we can keep it up."
McIvor held strong all day, finishing second to ski cross legend David in both the quarterfinals and semifinals before claiming her first career World Cup victory. Murray also showed some grit as she was second to Huttary in the quarterfinals and semifinals before the Canadian duo teamed to top the fourth ski cross World Cup podium of the season as the sport makes its Olympic debut on their home turf a month from now.
Three more Canadian women, Kelsey Serwa (9th), Danielle Poleschuk (10th) and Aleisha Cline (12th), pulled in top-15 results.
American Caitlin Ciccone had a career-high finish in 23rd, but she was unable to make it out of the first round of final competition today.
David retains her lead in the overall World Cup standings, followed by McIvor, 53 points behind in second and Murray 87 points back in third.
Kuhn tallied his second career World Cup victory today as he powered through a talent-stacked final heat for the win. Canadian Stanley Hayer won both of his quarterfinal and final heats before coming in second in the final behind Kuhn. Last season's overall World Cup champ, the Czech Republic's Tomas Kraus (two-time winner here) battled with Kuhn in the last three heats and held on for a third-place finish.
"My previous victory was six years ago," Kuhn said on the Les Contamines website. "It's really pleasing one month away from the Olympics."
American Casey Puckett was second behind Hayer in both the quarterfinals and semifinals and led in the final heat only to fall in the last seconds, slipping to fourth. It was Puckett's seventh career top-five World Cup finish.
Canadian Christopher Del Bosco also made the top-ten with a sixth-place finish.
Switzerland's Michael Schmid (fifth today) now leads the overall World Cup standings with 295 points. Kuhn is second with 225. Puckett stands fifth with 143 points.
The World Cup ski cross crowd now heads to Alpe d Huez, France for a Jan. 13 race.
Click the attachments below to see today's full brackets.
Image by Lescontamines.com
Men's Results
Women's Results