September 14, 2009
/
Marshall returns to the Center of Excellence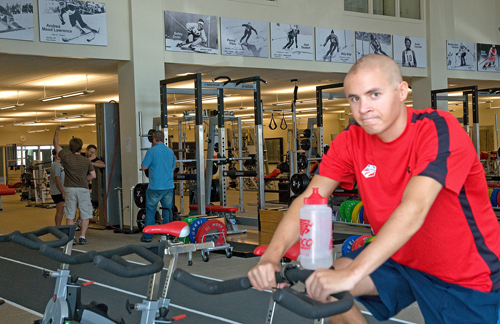 By USSA
Just seven weeks after suffering severe head trauma, the U.S. Ski Team's Cody Marshall (Pittsfield, VT) spent the last two nights sleeping comfortably in his own bed. For Marshall, it is one of many victories on his long road back to recovery. Wednesday, family members joined him as he returned to the Center of Excellence for a workout.
"I cannot explain how good it feels to be home," said Cody, while sitting on his deck Tuesday evening. "Seven weeks is a long time to be anywhere, but being able to walk out of the hospital on my own has everything to do with all amazing medical care I received and the incredible support from family, friends, teammates and people I'd never met. That's why I'm home."
"His smile was so huge when he walked out of the hospital. His doctor even made him cookies, which I'm told was a first for any of her patients," said younger sister Chelsea, who leaves this week for a women's U.S. Ski Team training camp in Portillo, Chile.
In addition to instantly recruiting a fleet of fans within University of Utah Hospital, where he was first admitted on July 15, Marshall's heroic recovery has inspired thousands through daily blog entries posted by Chelsea and family friend Draven Gagnon. And yet more followed via his Think Cody fan page on Facebook.
"He has absolutely amazed everyone with his recovery," said Chelsea. "His doctor said that she'd be amazed if he was walking at all in three months and here he is seven weeks later, walking out of the hospital. He's incredible."
Through procedures, surgeries and an uncountable number of tests, Chelsea was there along with Draven. Visiting hours became a constant stream of teammates and friends. Hospital staff continually popped by to see how he was progressing. Banners cheering Cody to recovery lined the walls of his room and his cheering section fueled Cody's will.
"Every day, there was someone there to help me, to get me laughing and just to take a walk down the hall," reflected Cody. "It wasn't easy in the early days. I've been told I wasn't the nicest guy to be around, but they kept coming back and kept pushing me to work hard. Now, I have to be careful about how hard I push. My mind definitely wants me to recover faster than my body. So I have to be smart."
Though some of the biggest hurdles have been conquered, Cody and family know he still has a long way to go. But as with any goal, there is a plan and Team Marshall has a good one that began first thing Tuesday morning.
"We know it's going to be a huge adjustment, so we've made him a very detailed schedule to stick to and that's going to help keep things on track," said Chelsea, whose mom arrived Monday to help with the transition.
His schedule includes the basics of three square meals a day, but it also includes rest time, trips to the Center of Excellence, the U.S. Ski and Snowboard Association's state-of-the-art training facility in Park City and even "hang time."
"Draven and Chelsea figured that having people stop by all the time was definitely not going to help me stick to a good plan," said Cody. "So they're making my friends schedule 'play dates.' It's pretty funny, but completely makes sense."
Like clockwork, the phone rang and teammates Hailey Duke (Boise, ID) and Jessica Kelley (Starksboro, VT) schedule the first block of hang time with Cody – a trip to Color me Mine Pottery in Park City.
"He wasn't that into it at first," blogged Draven. "I think he had more fun with us than he would like to admit too. He was stoked on his final product."
Wednesday's schedule called for his first trip back to the Center of Excellence since the accident and another step in the recovery process.
"Every day is a huge improvement for Cody and with every move his smile gets bigger," said Chelsea, "but I don't think I'll see him truly smile until he's back on skis. He knows how hard that's going to be, but if anyone can do it, Cody can. We've already seen his determination."
"I'm not setting any timetables," said Cody. "Every day is a new step and that's how I'm going to take it. So much of me wants to push it, but I know how much time everything is going to take. It's really all about small steps each day and working hard. It's what I have to do."
Continue to follow Cody's recovery at www.ThinkCody.com or communicate to him through Get Well Cody Marshall on Facebook.