May 20, 2011
/
Marolt Announces USSA Academy, Copper Mt. Training Center at 2011 Congress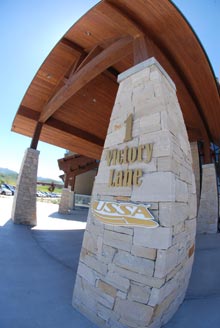 "All out every day, all out in every way, that's the way we want our athletes to compete and that's the way we want our organization to be perceived," said U.S. Ski and Snowboard Association CEO and President Bill Marolt Friday during his keynote address at the 107th USSA annual congress meeting at the organization's base in Park City, Utah.
USSA club leaders, coaches, officials, board members and staff came from around the country to be a part of the five-day block of meetings to discuss everything from rules and regulations to budgets and best practices.
Marolt's speech touched on the success of the recently completed 2011 season but largely focused on what moves will be made in the next calendar year, in which the absence of World Championships and Olympic events allows for more attention to infrastructure.
"Best in the world is still our mantra, best in the world is where we are going," said Marolt. "We enjoy the past, we learn from the past but best in the world is still on the horizon in the future. It's something that we need to work for every day, both here in Park City and in our 450 clubs."
As part of what he called investing in infrastructure, Marolt introduced to the organization's rank and file a plan to form a USSA Academy for junior student athletes in Park City as well as an on-snow training center to be established in Copper Mountain, Colo.
The USSA Academy, being modeled after programs utilized in skiing power nations like Austria and Norway, would bring together a small group of the country's most promising athletes from all USSA disciplines. The program, which would draw high school junior and senior-age athletes from the nation's clubs and academies, would be built in remaining space in the organization's cutting edge Center of Excellence.
"We believe that this is a necessary next step," said Marolt. "It's not meant to replace any of the existing programs, it's only meant to enhance. It's meant to bring the best youngsters together and train them together."
"We know that in order to have a well-rounded program, we have to have an educational element that's involved in our overall approach," continued Marolt. "We want to be academically based and athletically focused. It's something that we have thought about over a long period of time and we are ready to launch this next year."

Both Marolt and Vice President of Athletics Luke Bodenstiener are confident that establishing the USSA Academy will serve to support and improve the country's existing academy and club programs.
"We are tackling this project with the question of, 'how do we add to the system, how do we strengthen the overall system and provide something to the existing academies and clubs?'" said Bodensteiner, who met with several academy leaders today to discuss how best to establish the USSA Academy. "I am very curios to hear all the concerns but it is a great opportunity to get feedback and understand all the impacts and build the planning around that."
"If we are going to be best in the world and we are going to meet the challenge of what the Austrians do or the Norwegians, literally every country in Europe has gone in this direction," said Marolt.
The Copper Mountain facility would be a training center for athletes at many levels, where they would have a full downhill course complete with top-to-bottom snow making. The center would hopefully bolster the U.S. Teams' ability to train for speed events before the competitive season begins, as similar training opportunities in South America and New Zealand have been hampered by bad weather and low snow totals in recent years.
"We are close to putting that deal together, by November first we'll have an automated snow system, and all the necessary safety, communications and timing equipment to have a world-class downhill speed center like no other around," said Marolt. "What we will have will be a game changer, to have an opportunity to be on world-class snow by the first of November until the middle of December for the elite programs and then after that it will be totally for the development programs."
USSA staff will meet with board members this weekend to finalize plans to complete the Copper Mountain facility.
"That facility will provide incredible terrain in an early season situation," said Bodensteiner. "For the elite teams, it's a massive advantage but it will be amazing for a lot of development level kids and clubs."