January 2, 2010
/
Manninen wins in Oberhof, Spillane fourth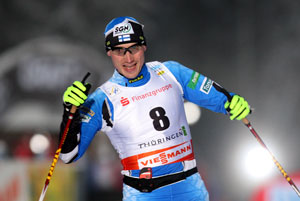 Nordic combined skier, Finland's Hannu Manninen won a World Cup competition today (Jan. 2) in Oberhof, Germay. It was the Olympic gold medalist's 47th World Cup victory and his third in Oberhof.
"I had an incredible start of the season," said Manninen who is in school to become a pilot and competing in limited event. "The snow was soft on the track, which is not perfect for me. But I tried to concentrate on my technique. And then I only wanted to get Jason.
Austria's Felix Gottwald (27th after the jumping portion) put down the fastest cross country time to claim second place, while the best jumper, French Jason Lamy Champuis was 12th in the cross country race, landing in third overall.
American Johnny Spillane, last week's Olympic Trials winner, was just off the podium in fourth. Spillane finished seventh in the jump and fourth in the cross country race. Teammate Bill Demong (13th after the jump) was right behind Spillane in the cross country race and finished eighth overall.
"Certainly we will trade every fourth for a medal in February," said U.S. nordic combined head coach Dave Jarrett of Spillane's third fourth-place finish this season. "He, and Billy [Demong, Vermontville, NY], both of them, put themselves in position to win. You can't ask for much more than that."
With four World Cup wins this season, Lamy Champuis maintains his lead in the overall World Cup standings, 157 points ahead of German Tito Edelmann in second. Gottwald is currently in third.
There will be another World Cup nordic combined competition in Oberhof tomorrow.
Image by Gepa