November 29, 2009
/
Manninen takes nordic combined win in Kuusamo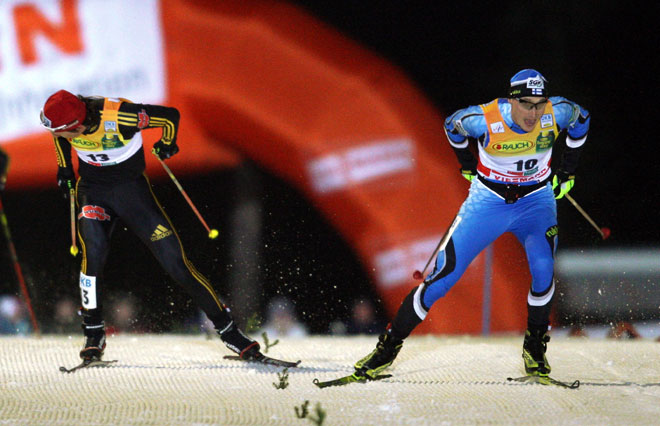 Finn Hannu Manninen won the second World Cup nordic combined competition of the season today (Nov. 29) on his home soil in Kussamo, Finnland.
A pair of Germans joined Manninen on the podium as Tino Edelmann and Eric Frenzel claimed second and third, respectively.
Manninen, who was in 10th place after the jumping, closed the 56 seconds gap on the track after 6 km. The last 4000 meters, he skied with yesterday's winner Jason Lamy Chappuis (FRA), Frenzel and Edelmann and Petter Tande (NOR). On the last uphill, Edelmann broke away and reached the stadium as the leader. His advantage, however, was not big enough to secure him victory. On the last meters, Manninen passed the German to win the 46th World Cup competition of his career.
"I feel very happy about, this is my 46th World Cup victory, maybe not the most important one, but a very special one," said the 31-year-old, who will be taking time away from competition to earn a degree. "Because of my professional education, I do not have that much time to compete, next time it will be in Oberhof in Germany."
"The Olympic Games are my big goal, and of course I would love good results in the individual events," continued Manninen. "But my focus is on the team competition."
Frenzel, who matched his third-place finish from yesterday, welcomed Manninen back to the sport with open arms even if he beat him today."I'm really happy about this first World Cup weekend. I did not expect to be on the podium twice, but I had really good races," he said. "From my point of view, it is very good for the Nordic Combined scene that Hannu [Manninen] came back so strong. He's a big name in our sport, spectators and media will focus on him."
Estonia Aldo Leetoja from was leading after the Ski Jumping portion. The Estonian athlete won the jumping with 137.5 m (146.2 points) in front of Frenzel (135.5 m/144.9 points) and Chappuis (136 m/143.7 points). Leetoja dropped from first to 33rd in the cross country race.
Fastest on the cross country track was Magnus Moan (NOR) in 24:19.3 who was 47th after the jumping and 28th overall.
Once again, the only North American representative was Canadian Wesley Savill who finished 49th.
With his victory today, Manninen grabbed the World Cup overall leader's yellow jersey.
The nordic combined men will now travel to Lillehammer, Norway for two World Cup competitions Dec.5 and 6.
Image by Gepa.
Rank Bib FIS Code Name Year Nation Result
1 10 19 MANNINEN Hannu 1978 FIN 25:33.7
2 13 351 EDELMANN Tino 1985 GER 25:34.9
3 2 1050 FRENZEL Eric 1988 GER 25:37.3
4 14 680 TANDE Petter L. 1985 NOR 25:53.2
5 3 610 LAMY CHAPPUIS Jason 1986 FRA 26:05.7
6 21 257 KIRCHEISEN Bjoern 1983 GER 26:22.1
7 9 215 CHURAVY Pavel 1977 CZE 26:22.8
8 19 8 STECHER Mario 1977 AUT 26:27.1
9 24 1029 PITTIN Alessandro 1990 ITA 26:32.4
10 7 590 RYDZEK Johannes 1991 GER 26:32.9
11 15 137 KREINER David 1981 AUT 26:33.9
12 8 217 HETTICH Georg 1978 GER 26:34.9
13 6 214 DENIFL Wilhelm 1980 AUT 26:37.5
14 4 198 TALLUS Jaakko 1981 FIN 26:44.3
15 11 1152 RYYNAENEN Janne 1988 FIN 26:46.7
16 16 683 RIAN Espen 1981 NOR 26:52.5
17 17 111 BIELER Christoph 1977 AUT 26:55.4
18 12 606 BRAUD Francois 1986 FRA 26:58.8
19 35 200 HASENEY Sebastian 1978 GER 27:01.2
20 31 1003 DVORAK Miroslav 1987 CZE 27:02.2
21 5 216 TAKAHASHI Daito 1980 JPN 27:03.4
22 32 1650 SCHMID Jan 1983 NOR 27:18.3
23 18 416 SLAVIK Tomas 1981 CZE 27:28.9
24 44 1660 WENDEL Ole-Christian 1992 NOR 27:29.0
25 41 349 HURSCHLER Seppi 1983 SUI 27:30.1
26 40 592 KLAPFER Lukas 1985 AUT 27:31.1
27 38 203 HEER Ronny 1981 SUI 27:32.6
28 47 973 MOAN Magnus-H. 1983 NOR 27:34.3
29 36 459 LACROIX Sebastien 1983 FRA 27:40.6
30 26 623 HUG Tim 1987 SUI 27:51.6
31 37 1164 FELISAZ Jonathan 1985 FRA 27:58.8
32 28 694 VODSEDALEK Ales 1985 CZE 28:05.8
33 1 1228 LEETOJA Aldo 1988 EST 28:10.9
34 30 419 KLEMETSEN Haavard 1979 NOR 28:23.7
35 39 609 LAHEURTE Maxime 1985 FRA 28:24.9
36 27 1059 REUSCHEL Sebastian 1988 GER 28:42.0
37 46 768 MINATO Yusuke 1985 JPN 29:01.7
38 48 1015 PICHLMAYER Marco 1987 AUT 29:01.9
39 34 1147 POCHWALA Tomasz 1983 POL 29:04.7
40 25 637 BRESADOLA Davide 1988 ITA 29:11.0
41 20 1473 ASIKAINEN Lauri 1989 FIN 29:15.9
42 23 357 SOBOLEV Ivan 1983 BLR 29:22.1
43 22 1474 TUPPURAINEN Ville 1988 FIN 29:52.7
44 33 1444 SCHMID Tommy 1988 SUI 30:10.7
45 49 705 KAEHKOENEN Ville 1984 FIN 30:21.7
46 43 1689 NABEEV Niyaz 1989 RUS 30:27.2
47 50 1410 BAUER Armin 1990 ITA 30:32.8
48 29 1469 MAKA Marcin 1985 POL 30:40.1
49 52 164 SAVILL Wesley 1989 CAN 30:49.4
50 42 1553 KUHLBERG Mikael 1990 FIN 31:35.1
51 54 1168 KARJALAINEN Joni 1987 FIN 32:22.6
52 55 1486 PIHO Kail 1991 EST 32:39.8
Did not start
53 1149 KOKSLIEN Mikko 1985 NOR
51 74 ACKERMANN Ronny 1977 GER
45 960 MASLENNIKOV Sergej 1982 RUS