July 30, 2010
/
Mancuso set to compete in World Heli Challenge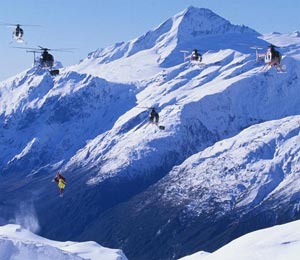 U.S. Ski Team on-snow summer camps in New Zealand begin early next week, but three-time Olympic medalist Julia Mancuso arrived a few days ahead of schedule to compete in the 2010 World Heli Challenge.
The World Heli Challenge, sponsored by Mancuso's new equipment providers Volkl/Marker, brings together 60 of the top skier and snowboarders from around the globe to the snowy southern hemisphere to compete in helicopter-accessed backcountry terrain. The goal is to find out which athlete is the best "all rounder" by combining their freeride and free style skills to showcase their overall talent.
Several other Olympians will join Mancuso at the event. Andy Finch (Snowboard Halfpipe, USA), Mitchell Brown (Snowboard Halfpipe, NZL), and Juliane Bray (Snowboard Halfpipe, NZL) will be on hand to show that they also have what it takes to rip it up with the backcountry specialists.
Having grown up in the powder of Lake Tahoe, Macuso is no stranger to big mountain skiing or competition. Just one month after capturing a pair of silver medals at the Vancouver Games, the 25-year-old entered the Nissan Xtreme competition in Verbier, Switzerland where she took third place. Two days later, she flew back to Lake Placid and nailed down her 11th alpine national title.
Organizers have scheduled an eight-day window (Aug. 1-8) for the two primary events – "Extreme Day" and the "Freestyle Day." Perfect weather is required to use three-four helicopters to airlift all competitors and officials into the mountains. The competitions will be held on the first two good weather days.
On Extreme Day, athletes will be riding big, steep mountains and dropping cliffs. The goal is to see how good a rider can "flash" it down the course – riding hard, fast, in control and utilizing the features of the mountain to provide a "wow" factor. The Freeride Day showcases an athlete's acrobatic and aerial skills. The scores from each day are combined to find out who is the best all-rounder of the event and a World Heli Challenge Champion.
Check back for more new and results.
Event Details:

Where: Mt Aspiring National Park with Back Country Helicopters, Wanaka New Zealand.

When: July 30th – August 8th
Schedule:
July 27th: World Heli Challenge qualifying Big Air at Treble Cone
July 30th : "Firestarter" Party, Lake Hawea Hotel 7pm till late
July 31st: Heli brief, welcoming dinner and bib draw, Lake Hawea Hotel
August 1st-8th: The first two good weather days will be used to stage the Extreme Day and Freestyle Day.