January 3, 2010
/
Majdic, Roenning win Tour de Ski day three, Newell eighth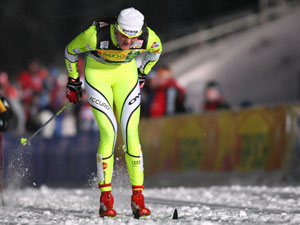 The FIS Tour de Ski continued today (Jan. 3) with the third leg of the eight-stage cross country skiing competition through three countries. Slovienia's Petra Majdic and Norway's Eldar Roenning took today's sprints.
Tour leader, Poland's Justyna Kowalczyk finished second ahead of Finn Aino-Kaisa Saarinen in third. Majdic now sits second in the overall tour standings, 27 points behind Kowalczyk.
Roenninig beat out overall tour leader, fellow Norwegian Petter Northug who finished second. German Axel Teichmann finished third.
American Andrew Newell led all North American racers in eighth place. Canadian Devon Kershaw followed in 16th.
"It's always good to be in the top 10, but it's not a good day unless I'm in the final," Newell said who lost a semifinal heat. "I think I was feeling a little bit tired today. I was slow in the qualifying rounds and picked it up a bit for the heats."
The Tour de Ski is an eight-stage event that crosses three countries over ten days. The overall winner gets 400 World Cup points and 150,000 Swiss francs (147,000 dollars). Competition continues tomorrow in Prag with a men's and women's sprint races.
Click here to go to the Tour de Ski website.
Image: Petra Majdic sprints to the Tour de Ski win in Oberhof. (Gepa)
Men's Results
Women's Results