December 19, 2010
/
Lindsey Vonn Named AP Female Athlete of the Year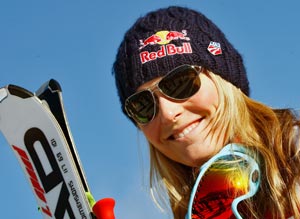 It was a good day to be Olympic gold medalist and three-time World Cup overall champion ski racer Lindsey Vonn. Today (Dec. 18) the 26-year-old, Vail, Colo. native grabbed her first World Cup downhill win of the young season in the morning and was named the 2010 Associated Press Female Athlete of the Year in the evening.
She is the first skier to be nominated, and therefore awarded the prestigous honor its 79-year history.
"Just being nominated means a lot to me but it's truly an honor to receive the award, especially knowing all the incredible athletes who have come before me to make sports so amazing for fans," said Vonn. "Honestly, when I found out, I was pretty speechless."
Created in 1931, the AP honor is the original Athlete of the Year award in America and is well known for recognizing both female and male athletes since its inception. This year, Vonn received more than double the number of nominations of any other female athlete.
The awards are voted on annually by a panel of AP sports editors from across the United States. Past winners include Joe DiMaggio (1941), Billy Jean King (1967, 1973), Michael Jordan (1991-93), Lance Armstrong (2002-05) and Serena Williams (2002, 2009).
Vonn's stunning year included capturing her first Olympic gold medal in the downhill at the Vancouver Games before adding bronze in the super G. She would go on to land an American record 11 World Cup wins in a single season en route to her third consecutive overall and downhill titles. Additionally she defended her title for super G and added a super combined title. To date, her career 35 World Cup wins is the most of any American, male or female.
Images by Gepa