October 27, 2013
/
Ligety takes third consecutive win in Soelden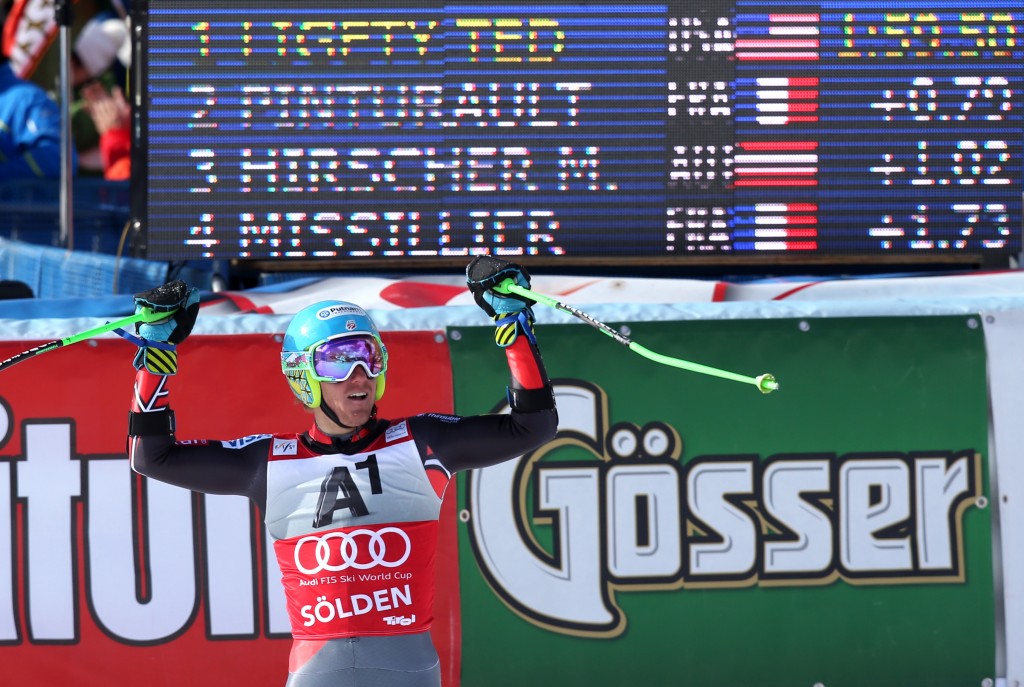 It was not as dominating a display as last season, but it was dominating enough for Ted Ligety to claim his third straight win at Soelden, Austria, on Sunday (Oct. 27). The snow was soft and beaten up, the wind was ripping sideways across the hill, and the French were on fire but none of that seemed to matter. Ligety went about his business, put amazing GS form to work, and came out with the first win of the Olympic season by a comfortable .79 of a second margin. With his third consecutive victory in the opening race of the season, Ligety tied the great Hermann Maier for the most wins at Soelden.
It was the 260th World Cup win for American ski racers and Ligety's 18th. He won here last season by more than two seconds.
The cream evidently rose to the top as the best three GS skiers of last season were again at the top of the finish order after each run. Alexis Pinturault stayed ahead of Marcel Hirscher with two dazzling runs of his own to collect second place, .79 back. Hirscher was 1.02 out and that was good for third.
The French seemed destined for big things mid-way through the final run, holding the top five placings with eight skiers left to start. Steve Missillier recorded the fastest second run on the day and found himself sharing the leader box with Aksel Lund Svindal up until the last three racers took control. The pair tied for fourth. Finland's Marcus Sandell was sixth.
With a forecast for a thunderstorm threatening the afternoon, many were keeping an eye on the clouds that swirled in. The rain held off, but the wind blew hard and laid gates over at times. Despite a heavy salting between runs, it wasn't cold enough (+12c) for the surface to set up making an always tricky hill even more difficult to read. It caught a number of skiers off guard. Felix Neureuther's binding released when he tried to pressure his ski in a hole.
The other North Americans in the second run fought with the hill a bit. Bode Miller finished 19th and Tim Jitloff 20th.
For Ligety, though, the Soelden hill felt pretty good despite deteriorating conditions in the afternoon run.
"This hill suits me well. I don't have to think about tactics too much as there is not much terrain. My first run was super smooth. The second run was bumpy and dark," he said. His preseason work had not answered many questions for him. "I was a little anxious coming in… you never really know. Last year I was faster in training, this year I've gotten beat a couple of times. It's nice to get some confirmation."
Jitloff appeared in line for a top 10 finish, sitting ninth after the first run.
"It's pretty disappointing. Ah 20th, yeah I am pretty bummed out. I went on my hip on the top there on that banana in that delay and basically that was the end of it for at least staying with it… I think with that kind of mistake and still be in 20th, that's not bad. I know I am fast enough right now where for me to be in the top 10 consistently isn't even an issue I don't think," said Jitloff. "I am very much looking forward to Lake Louise super G and Beaver Creek GS."
Miller, too, was disappointed, though he said it wasn't a huge concern to him.
"It's not where I wanted to finish… I was hoping to ski similar to how I have in training, sometimes it doesn't work out," Miller reasoned. "I'm skiing a lot faster than that in training. I'm not worried about it too much, but it would have been nicer to ski better."
Pinturault was happy with his two runs and hopes to carry the momentum into the rest of the season.
"A second is very good for the confidence," he said.
Hirscher also found confidence in the race and explained why the second run was particularly satisfying for him.
"This season much is expected of me. In the first (run) I have done real hard. But the second was a delight. The second passage gives me a lot of confidence. Now it's cool. Now I'm back on the podium," remarked Hirscher.
The Scoop
Men's World Cup Giant Slalom, Soelden, Austria, Oct. 27, 2013 (skis/boots/bindings)
1 Ligety, Head/Head/Head
2 Pinturault, Salomon/Salomon/Salomon
3 Hirscher, Atomic/Atomic/Atomic
4 Missillier, Salomon/Salomon/Salomon
4 Svindal, Head/Head/Head
6 Sandell, Fischer/Fischer/Fischer
7 Fanara, Fischer/Fischer/Fischer
8 Richard, Head/Head/Head
9 Faivre, Head/Head/Head
10 Schoerghofer, Fischer/Fischer/Fischer
Men's World Cup Giant Slalom, Soelden, Austria, Oct. 27, 2013… It is the first of 34 races on the men's World Cup schedule… The first of eight giant slaloms… It is the second race of the 2014 Cup season following a women's GS yesterday… It is the 31st Cup race hosted by Soelden, all of them October giant slaloms… 80 competitors, 26 countries.
It is the 18th career World Cup win for Ted Ligety, all in GS… It is his third win at Soelden matching the site record of Hermann Maier… He matches Tamara McKinney for fourth all time among U.S. skiers… It is the 260th US win… the 58th in GS.
It is the 15th career World Cup podium result for Alexis Pinturault… his seventh in GS… He matches his career besr finish at Soelden from Oct. 23, 2011.
It is the 84th career World Cup podium result for Marcel Hirscher… his 19th in GS… He matches his career best result at Soelden, from last Oct. 28.
It is the first scoring result for Bode Miller since Feb. 11, 2012 when he was fourth in DH at Sochi… It is his worst of nine finishes at Soelden, a race he won in 2004… Tim Jitloff is one placing behind his career best at Soelden, a 19th from last season.
France leads the men's Nations Cup 253-137 over Austria… The U.S. is third with 123pts.
Photo: Ligety in the finish area after second run (credit: GEPA/Markus Oberlaender)